While yours truly was busy bumbling about the streets of lower Manhattan, Ducks fans back home were treated to the first of the Rink Tour speaking series. Joffrey Lupul and Ryan Carter spoke in front of an audience of Duck fans and youth hockey players at the Huntington Beach Inline rink about their experiences playing in college and junior hockey leagues.

The following pictures and story graciously provided by my Ducks Twitter pals @HillerNtheNet and @SKeleven, respectively.

Lupul played junior league games with the Alberta Medicine Hats. He talked about long bus rides and a packed schedule of 75 games per year that didn't leave much time for school. (Click thumbnails for larger pics)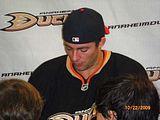 On the opposite end of the spectrum, Carter's early hockey career consisted of college league involvement with Minnesota State-Mankato. Playing only 40 games a year, players had more time to focus on school and classes.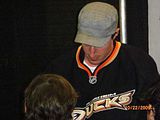 Many of the kids in the audience also got a chance to ask Lupes and Carts a few questions. And, as always, the boys were nice to sign autographs for everyone.




To read more about the event, please check out SK's blog post.

Can't wait for more public appearances and insider info from future Rink Tours!