The Anaheim Ducks Rinks Speaking Series continued with installment #2 this past Tuesday at the 949 Roller Hockey Center in Irvine.




This particular speaker series would focus on the shooter/goalie relationship, and would feature special guests Brian Hayward (hosting), Corey Perry, and Pete Peeters.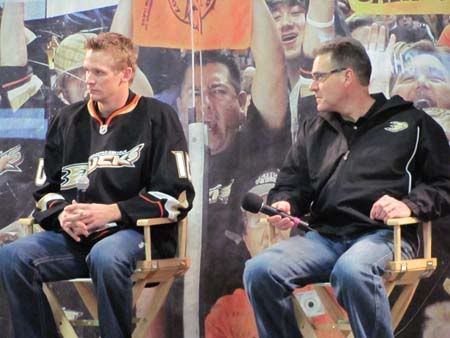 There was a modest crowd for a Tuesday night and, as the clientele were primarily youth hockey players and their parents, the discussion was geared towards the play of the game. Hayward did most of the talking, explaining the unique relationship between the shooter and the goaltender, and how that relationship has changed drastically over the decades.

Pete Peeters shared his experience as a goalie, but also as a goalie coach. However, he didn't reveal too much about his strategies for coaching J.S. Giguere and Jonas Hiller.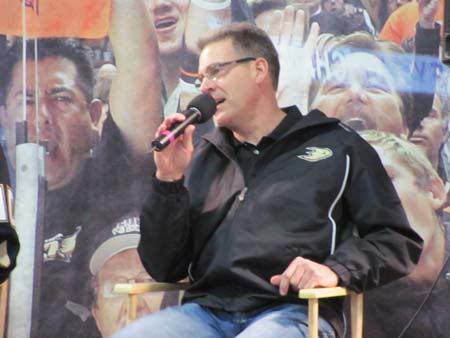 Peeters did say he wanted to see our goalies being more aggressive in their creases

Hayward opened the floor to questions from the audience. This is always amusing, especially in audiences largely comprised of kids. A few highlights (quotes are approximated as I didn't have a recorder on me):

Question for Corey Perry: "How many fights have you been in?"
Perry paused, then looked at Peeters: "Pete, you start." After the laughing subsided, he smirked, "Probably ten in a year."

Question for Perry: "What's your favorite shootout move?"
Perry's answer: "Going really wide with the puck, almost all the way out to the boards, and then coming in at an angle. I like it because it increases the number of possible moves you can make as you approach the net."



"I've always played that kind of game, right in front of the net."

For the record, Perry says he was indeed pushed into Miikka Kiprusoff during the third period of the Ducks vs. Flames game last night. The incident ended in Kipper angrily whacking Perry with his glove. Yours truly doubts there isn't a goalie in the league (besides Hiller and Giguere) who doesn't hate Corey Perry.



Question for Perry: "Do you like starting fights?" Hayward: "Of course he does!"

After the Q&A session, Perry, Peeters, and Hayward hung around to take pictures and sign autographs for all of the fans in attendance. The next installment of the Rinks Speaker Series is next month.