As a hockey fan in general, it's always fun to have an Eastern Conference visitor. You get to see star players that you might not have ever seen live on the ice before, and may not see again for some time. You also feel a little less pressure knowing that two points are up for grabs but, if you don't get them, they aren't falling into the hands of division rivals.



Let's also not forget the surprising fan showing that almost always presents itself at the Ponda. Look at all those Devils' jerseys

Myself, I was thrilled to have an opportunity to see "winningest" goaltender Martin Brodeur. Not exactly a spring chicken anymore, Brodeur might possibly be hanging up the skates soon. I wanted to be sure to get some good shots of him beforehand.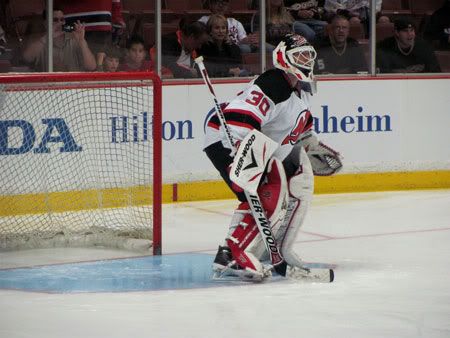 Almost as if he knew what I was up to, Brodeur gave me some beauties



Zack Parise didn't disappoint either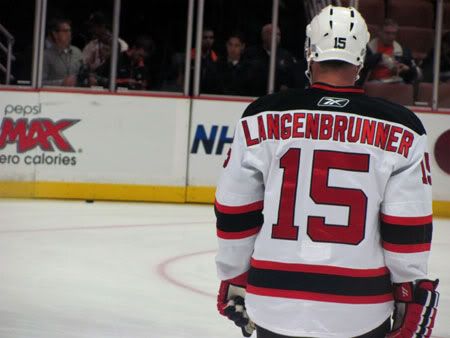 2010 Olympic Team USA captain Jamie Langenbrunner would tally a goal that I'm sure Hiller would pay to have back

Going into this game, I was hoping our boys would be able to steal two points against our struggling visitor. The Devils are going through their second worst start in franchise history... perhaps they'd gift wrap a few for us? After our Ducks had finished their 10-day road trip with an incredible win in Dallas (5-2, with goals going to Teemu Selanne, George Parros, Corey Perry, and two for Bobby Ryan), I thought we were playing much better now than when we'd started.

Well, considering how bad we were at the beginning of the season, I suppose that's not saying much. It also doesn't help that the Ducks are riddled with injuries. Andy Sutton is still out, Cam Fowler was a healthy scratch, and Dan Sexton and Matt Beleskey would probably be out another couple of games.

Still, one can hope.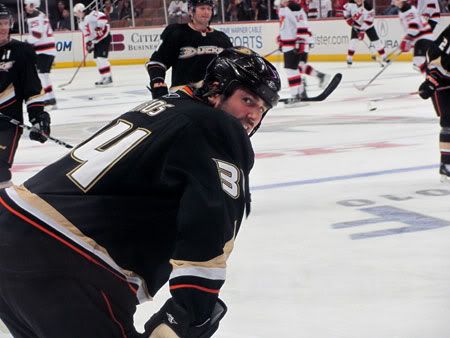 In Beleskey's absence, Aaron Voros played alongside Getzlaf and Perry and had a number of excellent scoring chances

I wasn't particularly thrilled with how our boys played the first half of the game. They seemed sort of slow and sluggish... why do I feel like I've said this before?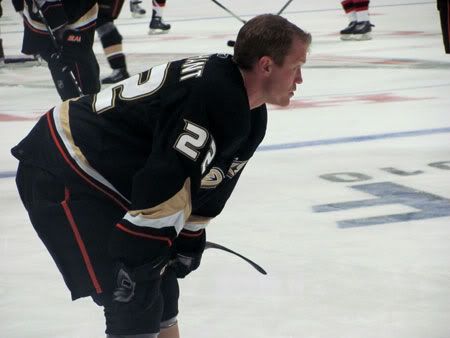 With all of the penalties the Ducks get, prime penalty killer Todd Marchant is worth his weight in gold

Coach Carlyle has also been putting Bobby on the penalty kill. An interesting idea, I must admit I like how it's turning out. Bobby has an aggressive style on the pk, often getting his stick in the way of passing lanes. I just wouldn't want him out there so much on the pk that he has no energy to generate goals.



Bobby's pass through the crease just misses connecting with Selanne

In the second half of the game, the Ducks came alive and we actually got to see some good play.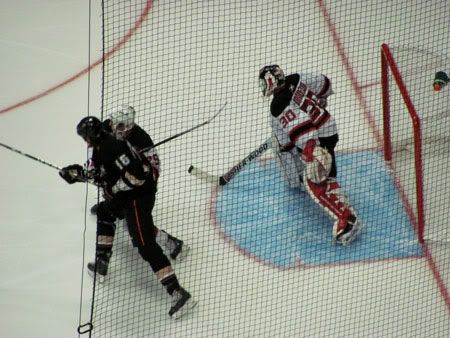 Parros putting his own pressure on the Devs



Andreas Lilja and Toni Lydman helping Hiller keep his crease clear

I do like what I see with our newest veteran D-men. Lilja and Lydman appear to be steady, dependable guys on the ice, and I'm sure they have plenty of experience to share with our rookies in the locker room.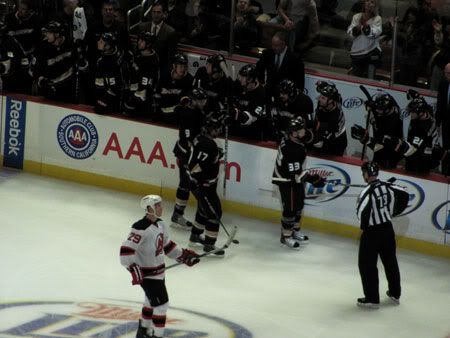 Jason Blake celebrating his goal, and the Ducks' only tally

Peppering Brodeur with shots didn't do the trick (SOG: 28-27, Ducks), the veteran netminder came up big... with a little help from his posts. And the Devils were able to slip their own couple of goals behind Hiller (Langenbrunner and Patrik Elias). The Ducks fought hard for over 10 minutes to net that equalizer, but would inevitably fall 1-2 to the Devils. On the bright side, we were able to keep salary cap buster Ilya Kovalchuk off the board too.



Ducks top RPG line was effectively kept quiet

I'm trying to believe that there is a reason why Carlyle won't start with or keep Bobby on that top line with Getz and Pears. He started off on the second line with Teemu and Saku Koivu, and was bumped up for the final minutes of desperation. Is it that he doesn't want to have the RPG line together? Is he taking money on the side? Is he afraid they'll lose their potency like the way I fear caffeine tolerance from drinking too much recreational coffee? ???

Here's hoping our boys will fare better in their contest at San Jose tonight.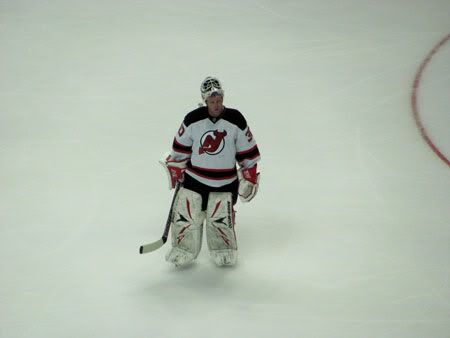 It was nice seeing you, Brodeur, but you don't have to bring yourself and your winningest ways back here anytime soon!