The last 24 hours have been nothing but a whirlwind for the Anaheim Ducks and their fans. Who would believe we'd follow up last night's win against the Montreal Canadiens with an official announcement that coach Randy Carlyle was fired and freshly-relieved ex-Capitals coach Bruce Boudreau hired in his place?

And that Bruce was already in Anaheim to lead the team on their first practice the next morning??

Wow.

The practice was open to the public and, since I didn't have to be at the job that pays the bills, I grabbed my camera and headed down to Anaheim Ice. The ABC and NBC newsvans in the parking lot were a tip off that the press conference that would follow the practice would be a big deal. Indeed, there were quite a few media people milling about the rink, and only a handful of fans.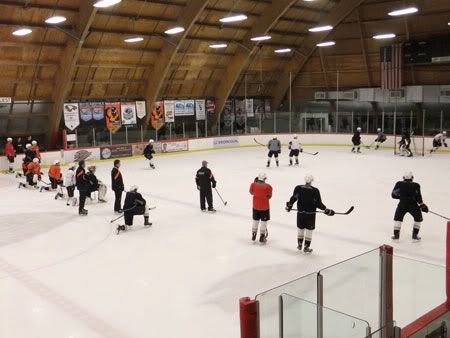 Boudreau's first practice with the boys at Anaheim Ice

My first order of business, making sure Bobby Ryan was still on the team!



Ryan Getzlaf (left), Nate Guenin, and Bobby

Boudreau had Bobby back on a line with Getzlaf and Corey Perry, and a second line consisting of Saku Koivu, Teemu Selanne, and Matt Beleskey.

For now, I suppose the Bobby Ryan trade rumors will die down. GM Bob Murray will see what Boudreau can do with the players. But if we can't get some wins, Bobby might end up back on the trade block. Even he agreed that, with his multiple-year contract, he's more trade-able than guys like Getzy or Corey Perry. Personally, I think Bobby is the more versatile player as well, and many teams would love trying him out on their top lines.



The practice session had Boudreau addressing a lot of the players in small groups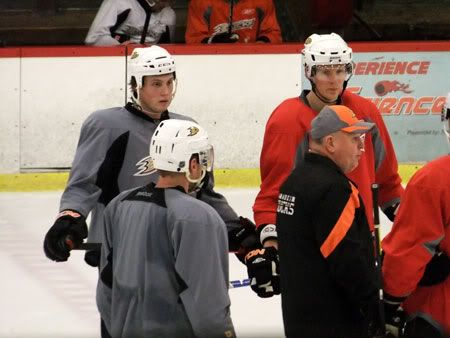 Ducks bring on assistant coach Brad Lauer (far left) who was the Syracuse Crunch's assistant coach




I like how vocal Boudreau was with the players. It definitely sounded like there was a lot of teaching, directing, COACHING, going on.



Goalie coach Pete Peeters worked individually with Jonas Hiller (and his black mask)...



... and backup Jeff Deslauriers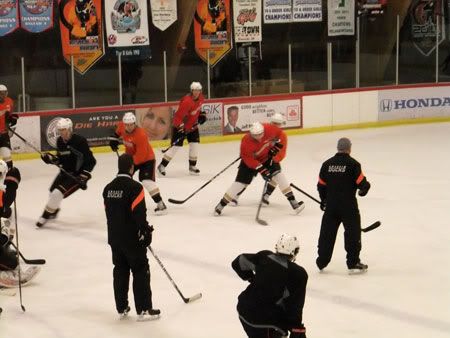 At the end of practice, the guys were actually laughing and cheering and having some fun. Look at those smiles!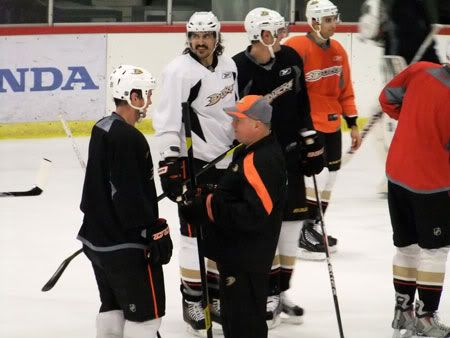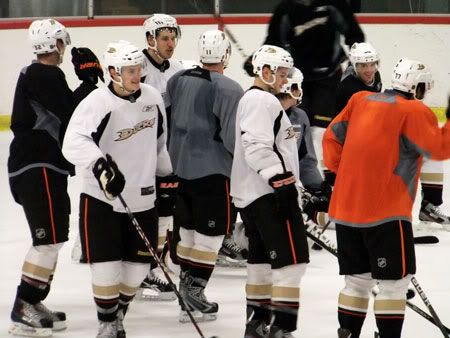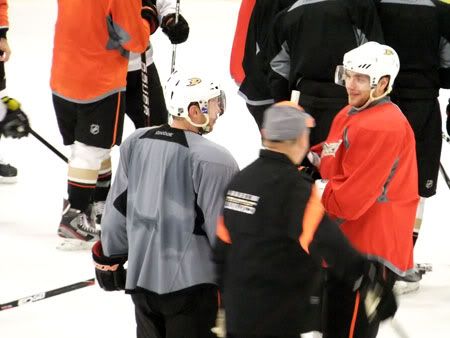 I feel hopeful, for the first time in a long time. Can't wait to see what a new coaching staff can do for our players.