When the Stars get a fluky puck past Jonas Hiller a mere 13 seconds into the game, you kinda know things might not go the Ducks' way. Throw in a lackluster effort and an underrated Stars team flying on the shoulders of a hot goalie in Kari Lehtonen, and it was pretty much doomed from the first puck drop.

And don't even get me started on the officiating!

Believe it or not, there were some notable moments in tonight's game. We'll try to focus on those.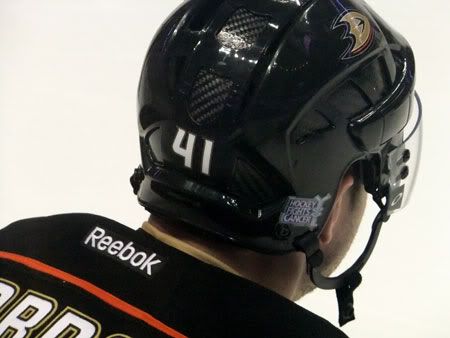 It was Hockey Fights Cancer night at the Ponda, and the Ducks wore special stamps on their helmets in support for cancer charities. Thanks, Andrew Gordon, for modeling



Cue the ceremonial puck drop

Francois Beauchemin looked no worse for wear after taking a puck to the visor and luckily ending up with only a compression laceration.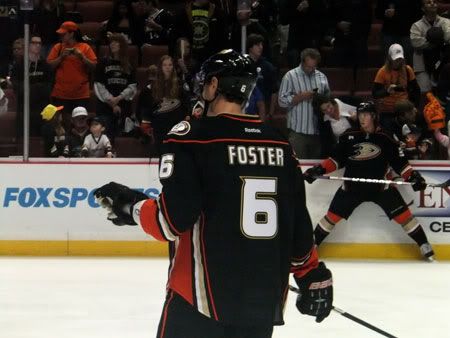 Defenseman Kurtis Foster from Edmonton had been cleared for play.

He'd be a healthy scratch in tonight's contest, but it was great to see him out there. I'm definitely curious to see what this guy can do.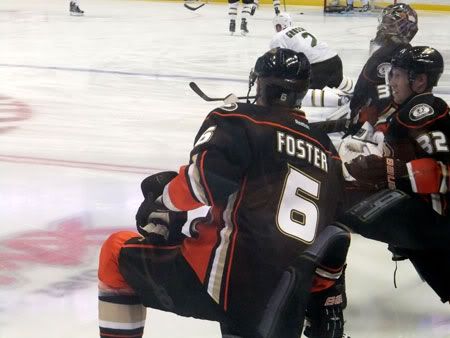 A long awaited Duck goal was waived off when Perry was penalized for goaltender interference

Our boys actually got many opportunities to score. They were outshooting the Stars from the beginning, but just couldn't get anything past Lehtonen.

I have to admit, I was impressed by this goalie.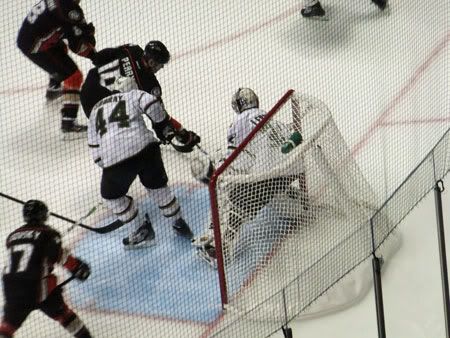 Lehtonen's impression of a stone wall. For what it's worth, Perry was the only Duck goal of the game



Ryan Getzlaf also impressed with some fancy stickwork

I do think Getzy looks a heck of a lot better this season than last. More fit, more determined, and with a new sense of maturity, he seems more suited to captain this team. Maybe being a new daddy has something to do with that.

Anyway, the winning streak had to end some time. The Ducks have still broken franchise records and started things off on a good note. Let's forget this one and move on to Phoenix!