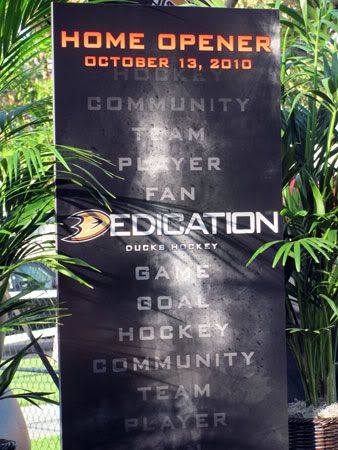 Let's be completely honest here. Considering the Ducks' rough start to the season, going 0-3 thus far, I wasn't too sure if I wanted to see our boys get their butts handed to them on home ice. Especially not after all of the pomp and circumstance that goes into the pregame Red Carpet Ceremony.

I remember last season's home opener, getting all pumped up during the Red Carpet Ceremony, only to watch the Ducks humiliatingly drop that game to the San Jose Sharks.

But, a true fan sticks with their team, even in the worst of times. Especially in the worst of times.

So I drove out to cheer on my boys as they walked the red carpet. I had my camera, but didn't bring anything for anyone to sign. I doled out high-fives and fist-knocks instead.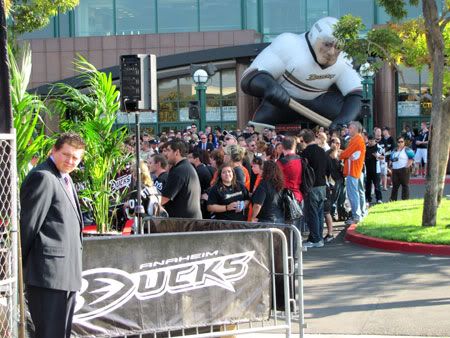 The crowd is ready to make their Ducks feel like movie stars

One thing I definitely appreciated this year, the weather was sunny yet on the cooler side of summer. Last year, we melted like snowballs in hell. I can only imagine how uncomfortable the players were in their ties and three-piece suits.



The first to address the crowd, George Parros

A DJ from a local country music radio station helped Kent French emcee the event.



Parros signing autographs



Next up, Todd Marchant



Marchant signing autographs



Jason Blake



Lookin' sharp, Matt Beleskey and Bobby Ryan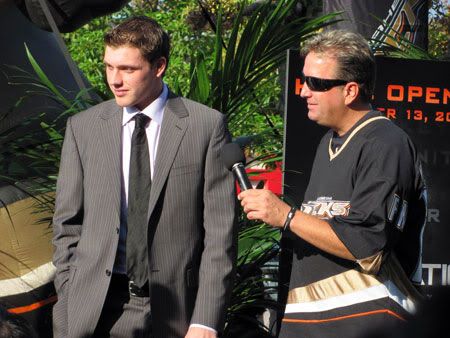 Somebody hand Bobby a pair of those free Ducks sunglasses



Lubomir Visnovsky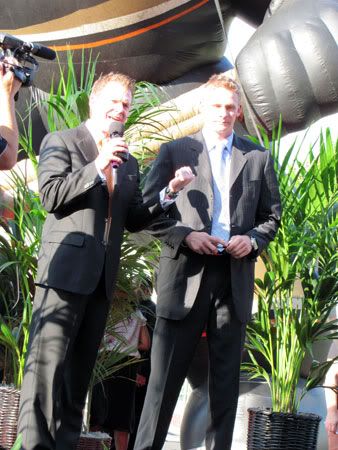 Corey Perry



Yay, Dan Sexton would be playing tonight! He said he was excited to walk his first red carpet



Luca Sbisa was also going to get his chance to play tonight



DJ: "So, I gotta ask ya, who are you wearing?"
Luca: "Gap!" (he was just kidding)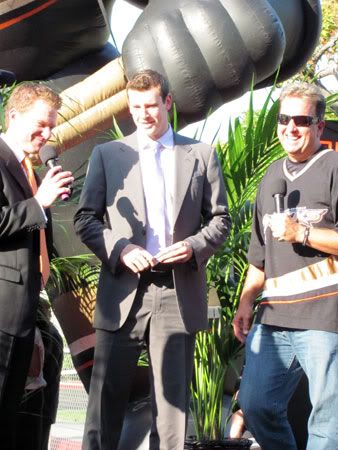 Brendan Mikkleson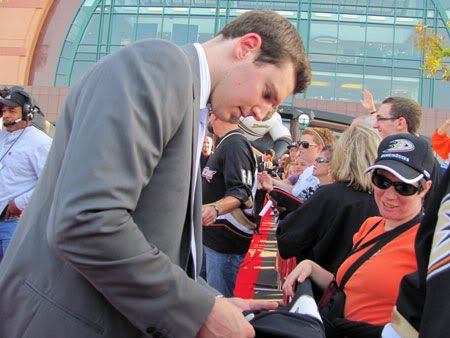 Mikkleson signing autographs



Alternate captain Saku Koivu



Rookie Cam Fowler made an entrance, driving one of Teemu Selanne's toys, dressed up in a chafeur's cap. Teemu and Ryan Getzlaf rode in the back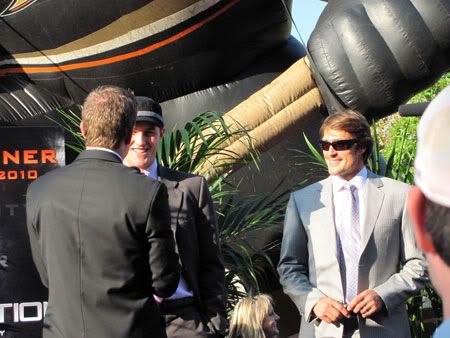 Fowler took the veterans' hazing in stride



Fowler approaching a crowd eager for his autograph



Getzy signing autographs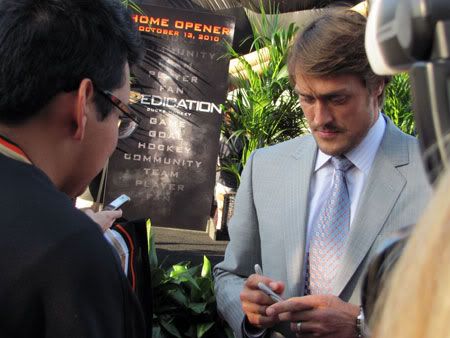 Making a fan's day never seems to get old for Teemu Selanne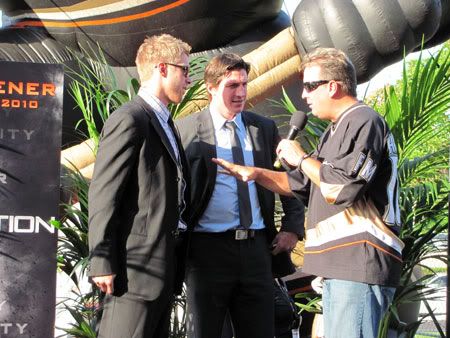 Healthy scratches, but still good sports, Brett Festerling and Ryan Carter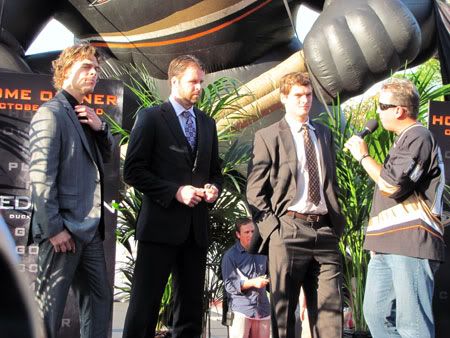 Los Tres Guapos, Jonas Hiller, Paul Mara, and Sheldon Brookbank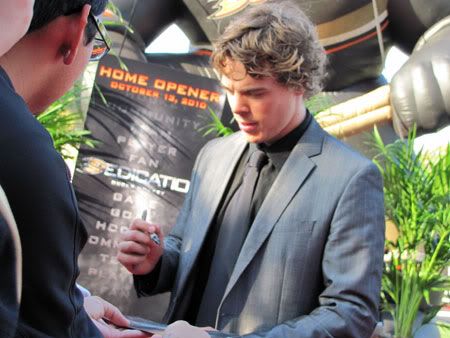 Stating that his long hair bothered him under his mask, Hiller donned a shorter style for the home opener



Sheldon Brookbank signing autographs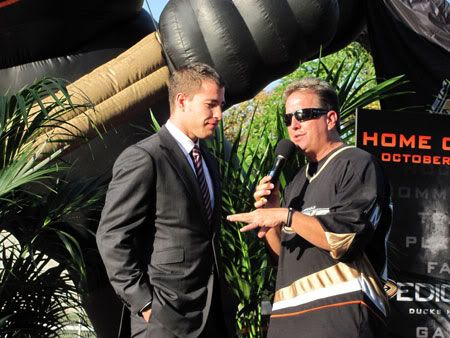 Last, but not least, the other masked man, Curtis McElhinney



McElhinney signing autographs

As for the game, things started off rocky. Ducks took an early lead with a bid by Getzlaf less than three minutes into the first. But hearts would sink as our boys gave up two goals in 17 seconds less than two minutes later.

Was this the same disjointed team that had miserably lost the first three games of the season?

Towards the middle of the game, guys started showing up... and it was glorious!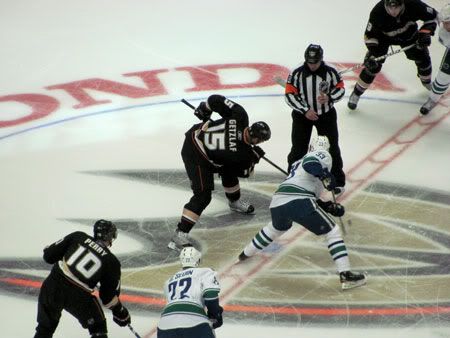 Our big line reaffirmed their place as one of the top lines in the NHL

The equalizing goal (by Corey Perry) and the game winner (by Bobby Ryan) were beautiful displays of perfect passes and timing. THIS is what this team could do when they play like we know they can. Every Duck fan left that game with the thought that maybe the season wasn't looking so long after all.

More game observations: (again, I'm no expert, these are just casual opinions!)

- Looks like our team consists of more guys than just Saku Koivu and Jonas Hiller. Getzlaf earned four points in this game, including his one goal. Each member of the RPG line got a goal, as did Selanne.

- With Bobby's first goal of the season, I get to fire up the ole Bobby Ryan goal tracker in the sidebar. What'll it be this season, Bobby? 40 goals? 50?

- I don't know why Sexton gets scratched for so many games. The guy has speed and a good shot, why not give him more opportunities to play? He had a number of goal chances during this game, I want to see more of him.

- Luca Sbisa stepped up. I have to admit, I haven't been too impressed by what I've seen by him so far. Tonight, he delivered an excellent hip check, made his presence known, and had good anticipation of puck placement.

- As always, I continue to be impressed by Cam Fowler. How is it that an 18-year-old rookie skates and sees the ice like someone much older and experienced? He is so poised and calm under pressure. Made a few honest mistakes, but otherwise, incredible for a 2010 draftee.

- Hiller was a tad shaky at first, looking like his reactions were maybe half a second too slow. But he picked things up when the rest of the team arrived, and stayed strong through the end.

- A much better SOG disparity this time. For a brief second, I believe Ducks actually outshot the Canucks. Briefly.



Looking forward to seeing much more of Perry in the opposition's net

Goooo Ducks!!!