Earlier in the season, yours truly was blessed with the tremendous opportunity to ask Anaheim Ducks winger (and personal favorite) Bobby Ryan a few questions. Thanks to various Duck friends, fans, and Twitter pals who also submitted questions for me to ask Bobby. And, of course, very special thanks to Bobby for generously donating his time and patience.

This is Part One of a two-part interview in which Bobby shares all things hockey and non-hockey. Enjoy!

Ducks54: Do you have any pet peeves? And if so, give us a few examples.

Bobby: I have a million pet peeves, but the biggest one is loud chewing and breathing! There are minor ones like traffic and slow drivers in a passing lane. Those really set me off too!

Ducks54: Where do you see yourself five years from now? Would you still want to be with the Ducks?

Bobby: I still see myself in the NHL and hopefully competing for a Stanley Cup. I'd prefer to still be in Anaheim, but I don't want to get too far ahead of myself.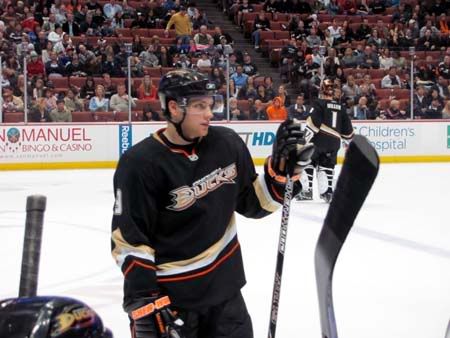 Focused on the game, Bobby Ryan listens to the coaching staff during a television time-out
Ducks54:
Who in the NHL have you, or do you, measure yourself up against?
Bobby:
I've always tried to compare myself to Todd Bertuzzi growing up, but I kind of like the Rick Nash comparison better. I think we're both big guys who use our bodies to create room, and help stickhandle through traffic areas.
Ducks54:
Who's your favorite goalie to shoot against? Who's your least favorite?
Bobby:
I think my favorite is [Evgeni] Nabokov. He's a great goalie, but I've had some success shooting on him in the past. Hopefully that stays true, because it's always nice to score on the Sharks! My least favorite is Manny Legace. He's impossible for me to score on.
Ducks54:
How do you get so much elevation on your backhand?
Bobby:
Backhands are really only mastered through practice and routine. I can give you one hint, it's easiest to start with the puck in the middle of the blade, and roll it towards the front to get it up. Be careful not to roll your wrist too much. People tend to think it's a very fragile shot, but the more power you put into the flicking motion, the more height you will get.
Bobby Ryan is named the 1st star of the game versus the St. Louis Blues, January 7, 2010
Ducks54:
Have you seen any good movies lately?
Bobby:
I don't see many movies in theaters anymore, but I do love spending a night in to watch a movie. I was given
Blind Side
on DVD; that was a great story with good acting. I also really enjoyed
Invictus
with Matt Damon and Morgan Freeman.
Ducks54:
What kind of music do you listen to?
Bobby:
If you were to ask the guys, they would laugh because my music taste is considered off the wall. I try to throw a little bit of everything in there. Country, rock, and anything acoustic. I can't stand rap music unless it's right before a game. My favorite artists are Matt Nathanson and Ray Lamontagne, and I'm really liking the new Dashboard Confessionals CD.
Ducks54:
What's the hardest thing about being a pro hockey player?
Bobby:
The travel and, for lack of a better word, the fame. The travel is tough on your body and can be mentally exhausting at times. And you're away from the people you want to spend a lot of time with. The fame, if you can call it that, isn't always fun. I'm a quiet and private person so I like to keep to myself. I don't always enjoy hockey conversation once I leave the rink. But in California, you do get a certain level of anonymity that's nice to have.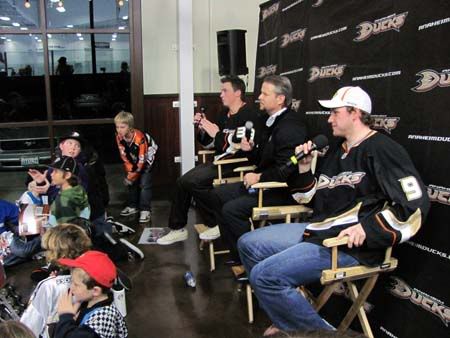 Matt Beleskey, John Ahlers, and Bobby Ryan answer questions from the audience during their Rinks appearance December 14, 2009
Ducks54:
Who is your favorite team to play against, as far as getting a good, challenging game going?
Bobby:
I think I'd have to say San Jose, because you know it's always going to be a tough, tight checking game. The rivalry between us is so intense, it's nice to have some bragging rights if you're the team in the lead!
Ducks54:
You changed your number from 54 to 9. Did you know about the franchise history with #9 (Paul Kariya) and was it a consideration when you made your number change?
Bobby:
I think it was always assumed that I wanted number 9. I knew about Paul and what he did in Anaheim. I wasn't really concerned with it. Before a game last year, Bob Murray came in and said, "You're wearing nine tonight." I just kind of said, "ok." It's nice to wear a number you've always worn, but at the same time, I was fine with 54 and would have kept that one if needed be.
Please stay tuned for Part Two of this interview, coming shortly!