I have a coworker whose father has been a Ducks season ticket holder since day 1. He doesn't go to games anymore, but he still has his seats which get divided up by various family members at the beginning of every season.

My coworker graciously allows us to buy occasional seats at face value. Tonight's game against the Toronto Maple Leafs (aka the Anaheim Ducks of Toronto) is the first of six that I'm splitting with another coworker. I chose this game for one reason: Matthew Lombardi. Haven't seen Lombo live on the ice in almost two years (he spent last season with the Nashville Predators and, thanks to a concussion he received in early October, he missed all of his team's games against the Ducks).

And I was stuck with tickets to every Predator-Duck game.

So now Lombo is with the Leafs and he's recovered from that concussion. BUT, he suffered a shoulder injury last week and has been out on IR. ARGH.




One of these days, Lombo, I WILL see you again.

At least reason number two for getting this game was still valid: my seat buddy is a big Joffrey Lupul fan. Loops didn't leave the Ducks on a good note so we're expecting him to pour the heat on tonight.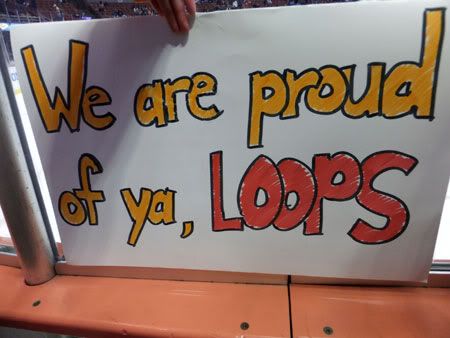 It's amazing what kind of season Lupul has had with the Leafs. He went on record and exposed the cold reception he'd received from Coach Carlyle upon returning to the Ducks' lineup after his back surgery and blood infection. We knew he'd have plenty to prove tonight.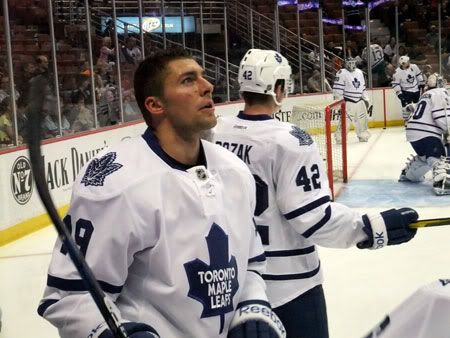 Please Loops, have mercy



Lost, also, in the Lupul trade was promising rookie Jake Gardiner. I'm still upset about that, the kid had major potential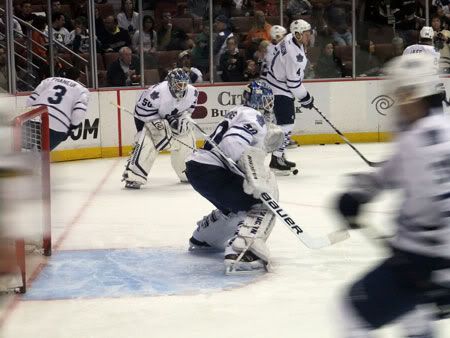 Leafs goalies, rookie Ben Scrivens and veteran Jonas "The Monster" Gustavsson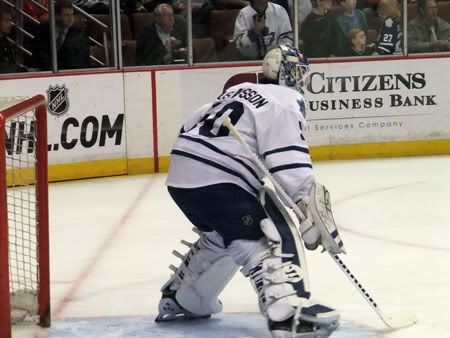 Of course, we'd get The Monster tonight

We badly need a win. The Ducks are on a six-game losing streak and you can feel the tension on the bench. The boys started the game determined, and we even scored first.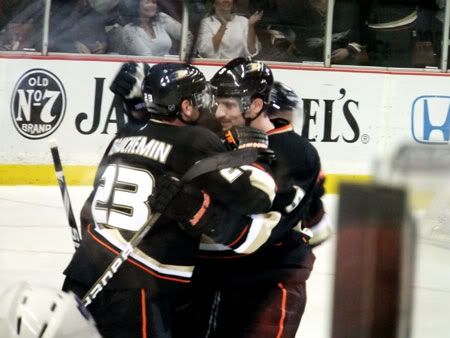 Ducks celebrate after Francois Beauchemin's winning rocket down the slot



Playing aggressively the entire night, Lupul threw his weight around as he checked and pushed Ducks on their way back to the bench



Rough night for Sheldon Brookbank who took a puck to the face and got tripped and run over behind the net

Once the Leafs started scoring, a dark cloud came over the Ducks' bench. It was as if the players were collectively saying, "Oh dear God no, not again..." You could see the disappointment on their faces, in their body language, in the lack of energy.

It was heartbreaking.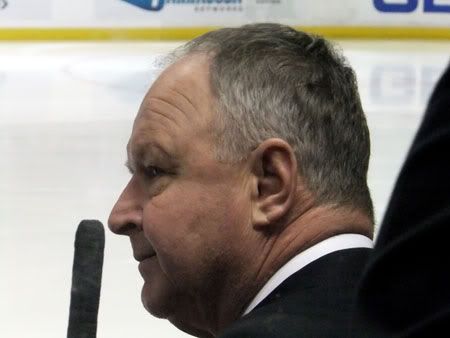 Feel free, Ducks fans, to print this one out and fit it to your favorite dartboard, punching bag, etc...

Honestly, and this is just my opinion, I'm not a GM or coach nor do I ever want to have that kind of job hanging over my head, but I don't believe anyone on the bench is hearing Carlyle anymore. He was remarkably quiet during this game. I've previously seen him yelling, barking orders, planning plays during commercial breaks and the like. Tonight's game was different.

On the other hand, I loved how assistant coach Mike Foligno would pat guys on the shoulder after they got off the ice. He would lean his head to them and give them a few words when they took a seat back on the bench. Whether it was encouragement or constructive criticism, it just looked like a connection with someone who cares.

This is the guy I want to be our head coach. Look what he did with our PK, imagine what else he could do.

Our boys look lost and disheartened. They need guidance.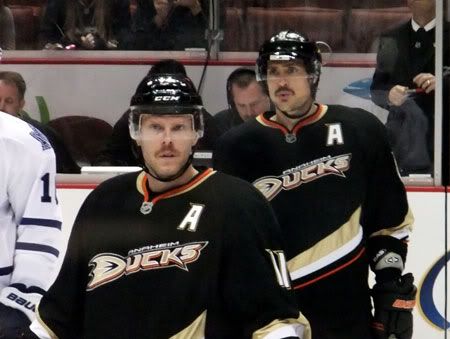 Teemu Selanne deserves better in his final season



Bobby Ryan: I guess I'm the pink elephant in the room...



Corey Perry's absolutely beautiful top shelf snap shot goal was easily lost in the Ducks' defeat

I don't know, Ducks fans. Something needs to happen, and I really don't believe it involves trading off our multiple-year 30+ goal scorers. But that's just me.