Our hapless Ducks went into tonight's contest against the Vancouver Canucks with the loathsome record of 3-6-1, second worse in the Western Conference. Having sat through three gameless days with the bad taste of Monday's 6-3 loss to the Toronto Maple Leafs lingering in their mouths, our Ducks sounded determined to turn things around.

As a fan, I can say, "Oh, I've heard that before..." and roll my eyes. But, as a TRUE Ducks fan, I can say, "Okay boys, we still believe in you, the season is still young, let's fight for this..." and then pray that we come out of tonight with a win.

The season is only young for so long, of course, and our Ducks do need to be playing better if they expect to get anywhere near playoff contention. While it's natural to feel angry and frustrated, I'd say these are the times that are the most important to show our support for our boys. After all, anyone can support a winning team. Only loyal fans stick with a losing team.

It was with a certain amount of anxiety that fans filed into the Ponda Friday night, Halloween Eve. Would our boys leave dressed as game winners? Or would they drop yet another game and fall officially into last place (the Minnesota Wild won their game that night so a loss would drop our Ducks to the bottom)?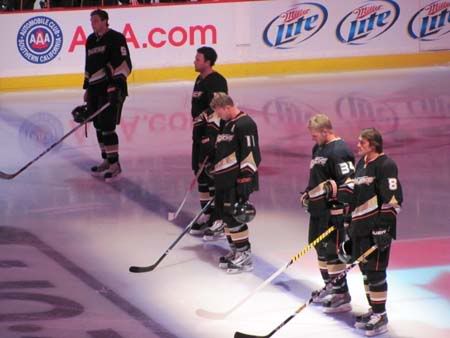 Duck's starting lineup during the National Anthem, probably saying their own prayers under their breaths.

The night started off bleak, with the Canucks finding the net a mere 66 seconds after puck drop. They would score again for a 2-0 lead later in the first period.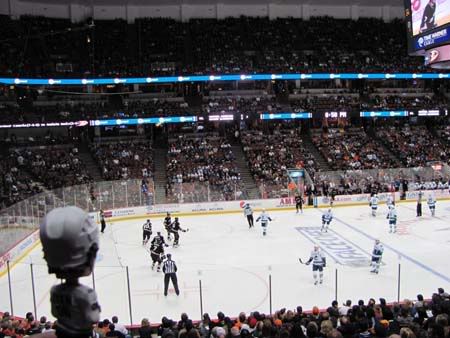 Bobbyhead surveys the miserable scene from the 224B Suite Box

And then, miracle of miracles, our boys decide to show up. Jonas Hiller would pull his game together to stop every remaining Canuck shot on goal, Corey Perry decided to add to his point tally as lead scorer for the team, and our fourth line rallied to put some points on the scoreboard too.

Perry's first goal would come towards the end of the first, as Joffrey Lupul shot a tight pass to him at the top of the slot. Converging on the net, Perry wristed the puck past netminder Andrew Raycroft.

Our Ducks would blow the game wide open in the second, with big George Parros and Mike Brown scoring their first goals of the season. Georgie's goal came from a bid on net by Ryan Carter, thankfully back on the ice since his foot injury. George was right in front of Raycroft and, falling through the crease, pushed the rebounding puck twice, the second time past the goaltender.

Mikey's goal came off an odd-man rush. He, along with Carts who assisted, sped towards Raycroft and cleanly netted the puck with a neat backhander. A nice career-first shorthanded goal for Mikey, scored against his former team.



Mike Brown, I repeat, one of the best things we ever picked up from Vancouver

Perry would put in his second goal of the night before the period's end with a tip-in in front of his favorite spot in the crease. My boy Bobby Ryan would grab an assist on this one, and then put in his own goals in the next period. Captain Scott Niedermayer grabbed the second assist, his official 700th NHL point. We fans gave him a standing ovation.



The large number of Canuck fans before us sat begrudgingly as Duck fans jumped to their feet to celebrate another Duck goal

Bobby's first goal came off a beautiful cross-slot feed from Ryan Getzlaf during the power play. Bobby quickly converted with a slap shot that beat Cory Schneider, who took over for Raycroft at the start of the third. His second goal came less than three minutes later, with Perry lending the assist. Bobby caught a rebound off Schneider and was able to wrist it over the netminder's pads. See, good things happen when you hang around the crease!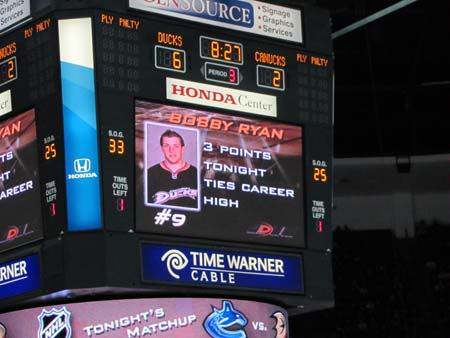 Yours truly is personally VERY happy to see Bobby add to that goal tally, and judging by the huge grin on his face after, I don't think I'm the only happy one!

By this time, the Duck victory was safely in the bag, but just to be safe, the Ponda thought it might help out with a fluke goal that sealed the Canucks' fate, 2-7. Lupes would send the puck along the glass and into the Canuck zone and Schneider, expecting to move things along behind the net, left his crease to meet the puck. A strange bounce off a stantion angled the puck directly at an open net. Lupes would get credited with the goal, one of the strangest ones I've ever seen live.

But we'll take it!



Bobbyhead kickin' it on the suite couch. Scoring two goals and an assist in one game is tiring! (photo courtesy of @HillerNtheNet)

It was like our boys could do no wrong, at least for the 2nd and 3rd periods. The Duck faithful fans in attendance were strongly rewarded for their loyalty, and we were more than happy to be there. Now, if our boys could only use this newfound energy to springboard a winning streak?



Ducks celebrate a long-awaited win with second star of the night, Jonas Hiller



First star of the night, Bobby Ryan