After a grueling work shift at the job that pays the bills, I was greatly looking forward to ending my night at the rink.

With the Ducks looking to nab every point possible in a tight Western Conference race, a game against the bottom-dwelling Colorado Avalanche is a potential gift. Of course then, when you remember that the Ducks have a nasty habit of losing against teams they shouldn't lose to, you kinda get that lump in your throat.

Bottom-dweller or not, Ducks are gonna have to bring their game!



The Ponda makes a doozy of a margarita!

Best part of that margarita, you can buy it in the collectible shaker and then bring back the shaker for discounted refills! Unfortunately for me, multiple margaritas make for a very buzzed blogger. Luckily, most of the pictures were salvageable!



Bobby Ryan on one of many goal opportunities tonight

Ducks in the first period were nothing to write home about. They were looking flat-footed and uninspired. The Avalanche got two past goaltender Ray Emery, taking a 2-0 lead into the locker room at the 1st intermission.



Trying to get a fire lit under his teammates, George Parros lands a few haymakers on David Koci

The Ducks probably got a good talking to by coach Carlyle because they came out with a vengeance for the second. Passes were connecting, the forechecking presence was there, and the scoring lines put on the pressure. Finally, payoff.



Anaheim Ducks GOAAAAAALLLLLL!!!

The Ducks would score three goals (a Teemu Selanne goal sandwich with a bit of Jason Blake in the middle) during the second, before the Avs would answer back with a goal of their own. The score was 3-3 going into the 2nd intermission.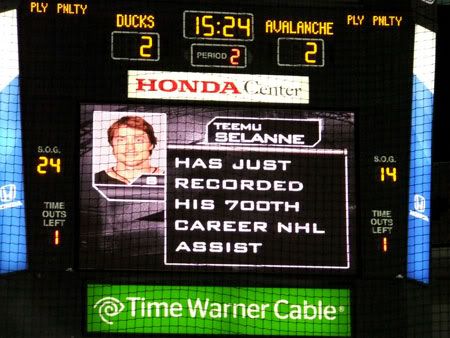 Just another milestone for the Finnish Flash

3rd period and a 20-minute hockey game between the Avs and the Ducks. Cam Fowler puts the Ducks up one early on in the period, himself recording a record nine goals in the season by a rookie defenseman. Five minutes in and the Ducks are awarded a power play for an Avs' "too many men on the ice" penalty. Everyone wanted to say it, "give the puck to Selanne!"

Apparently, the Ducks were saying it too.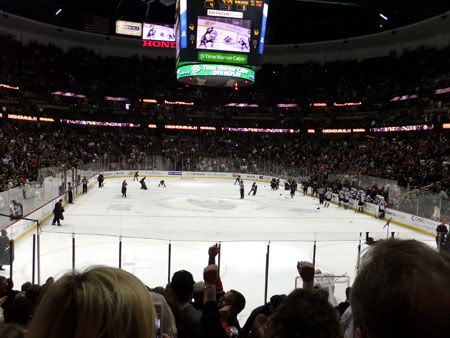 Third goal and HAT TRICK for Teemu!

What a season for hat tricks! I've actually been in attendance for a record number this season, two for Corey Perry, one for Lubomir Visnovsky, and now one for Teemu Selanne. It's the 22nd of his career, but his first for me.

And this guy is thinking of retiring?!?!?

Avs get one more but are unable to equalize before the period ends. Ducks snatch another two points for the playoff race.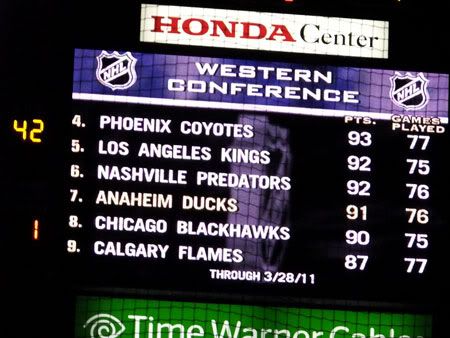 In this tight of a race, losing is just not an option



But the man of the hour is Teemu Selanne, 1st star of the game, and 40-year-old phenom