Since we've got a break in the action, I figured I'd take the time to finish up Part 2 of my NHL Awards adventure.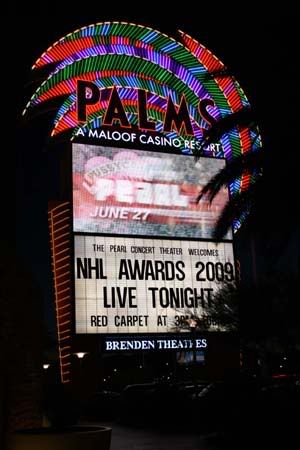 If you never got a chance to read Part 1, or if you don't remember Part 1, here it is again. Heck, even if you do remember reading it, it's worth a click just to look at the pictures of all the amazing hockey players on the red carpet again!

So, when I left off, my new Ducks pal Polka Dot and I had just been offered two tickets into the exclusive after party. We would never have been able to afford the $500 price tag for a single ticket into the Awards Ceremony and the after party, but here we were, Lady Luck on our side, being offered free admission into the party by a friendly suited stranger.

Let me just say, it pays to be a girl in the hockey world. If we'd been two guys standing there, I don't think we would have been nearly so lucky. We thanked the gentleman and excitedly showed Mr. Dot, who had just returned from the scene of the Awards Theater to let us know which stars were heading our way.

"You guys should go!" he exclaimed. I had dinner reservations for later but heck, this was wayyy more exciting.

Before heading into the party, the three of us stood along the walking route for the hockey elite to get to the party from the Awards Theater. We got a number of autographs this way, and were able to speak to a few of the players and coaches. Nik Backstrom, Kris Versteeg, Dan Bylsma, Andy Murray, Bobby Ryan... all were very sweet about having their paths interrupted by fans.

After everyone seemed to have left the theater, Mr. Dot wished us a good time at the after party and kissed his wife goodbye. Polka Dot and I still could not believe our luck as we flashed our tickets at the bouncer and went behind the velvet ropes. The party was huge!

While the indoor part of the club was being prepared, the guests loitered outside, talking and having drinks around the pool. There was a live band I've never heard of, some small Canadian group.




Polka and I spied the Stanley Cup, kept out of harms way on a table in the middle of the pool. I wonder whose idea that was.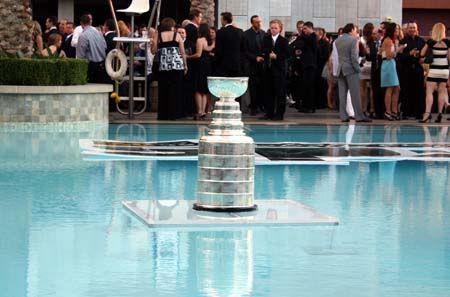 It was a little harder to recognize the players amongst so many other men in suits, but we were able to get a few more autographs from the ones we did recognize. Todd McLellan, Mike Richards, and Tim Thomas were all awesome. We saw Ovie, but couldn't get close enough to him for an autograph. The guy had swarms of people around him the whole time.

I bumped into fellow blogging buddy Adam Brady and asked him to introduce me to Frenchie. We also met the Element camera guy, who recognized me from the DiPenta Lasagna Fundraiser. Adam mentioned that both George Parros and Chris Pronger had been in Vegas the night before, but said he wasn't sure if they were still in town.

The inside of the club opened up and the crowd outside thinned out a bit. Before joining them, I approached Bobby Ryan and his date. How sweet is this, Bobby brought his mother as his date! Bobby seemed a bit flustered, anyone and everyone wanted to talk to him (not fans, but other hockey players and execs in suits). I decided not to add to the commotion, but I did ask his mother for a picture of her and her son. She happily obliged.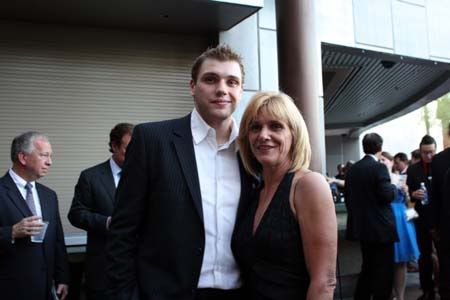 Inside, Polka and I were astonished to find tons of food set out on tables along with an open bar. There was prime rib and shrimp cocktail, among other gourmet edibles, and top shelf libations at the bar. No wonder those tickets were so expensive!

The award trophies were displayed along one wall, under huge televisions screens playing game highlights.




The only lighting in the large room came from these screens, so there wouldn't be anymore autograph signings. We barely recognize some of these guys in broad daylight, more or less in the dark! Polka and I filled plates with food and retreated to a corner to have dinner on a riser. Who else would be eating there but Sharks coach Todd McLellan. So yes, we had dinner with Todd, Jack Adams award nominee.

After watching the scene for a bit, Polka and I decided to call it a night. But what a night it was! Rubbing elbows with famous hockey players, making new friends, and eating free food... we couldn't ask for anything more.