As part of the Anaheim Ducks Rinks Tour speaker series, hockey superstar and all-round fan favorite Teemu Selanne was on hand tonight at the Artesia EastWest Ice Palace to speak on the topic of playing in the Olympics.

Teemu, who hasn't been on the Ponda ice in front of fans for some time, was right at home answering questions from fans and interviewer Dan Wood.



It was the largest turnout I've seen for a Rinks Speaker Series yet!

After the Q&A, which included some really good questions (and answers), a few autographed Ducks items were handed off to fans answering trivia questions correctly. The night finished with Teemu signing autographs and taking pictures with all of the fans in attendance.

(And believe me, there were LOTS of fans in attendance!)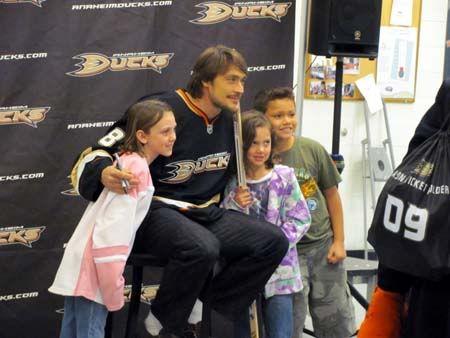 Here's a taste of the Q&A. Please note, yours truly did not have a recorder so the questions and answers are paraphrased as accurately as my hand could write in frigid ice rink temperatures.

Dan: Is it hard playing against your teammates in the Olympics?
Teemu: It can be, especially when you have to play against (Corey) Perry and (Ryan) Getzlaf... all the yapping you hear in the locker room...!

Dan: How do you adjust when, one moment a guy is your opponent on a different NHL team, and the next, he's your teammate on an Olympic team?
Teemu: It's not hard, it stays on the ice. There are no hard feelings, at least not for long. But at first, it was different. I saw two big guys drop the gloves in this league, then go out after the game for beers! *laughing* In Finland, we don't fight.

Audience question: What Finnish athlete did you learn the most from?
Teemu: Jari Kurri for hockey...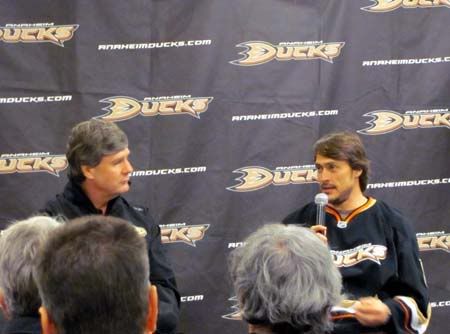 Audience question: Are you playing tomorrow?
Teemu: Not sure yet, I went to the Doctor today and he gave me the green light... maybe not tomorrow, but hopefully Saturday.

Audience question: Are any of your kids going into hockey?
Teemu: You never know, they're having fun now, but the middle one has a passion for it... *shrug* I drive them to the rink and laugh at them on the ice.

Audience question: Do you get paid to play in the Olympics or is it just pride?
Teemu: I think we get paid 25 dollars a day... *smiling*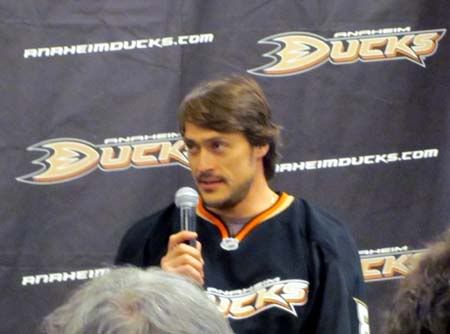 Dan Wood: Do you remember the first time you played against Wayne Gretzky?
Teemu: It was 1991 in the Canada Cup... I remember looking at him at the faceoff... *starry expression* 'Can you sign an autograph?'

Audience question: Why do you like playing hockey?
Teemu: I started because my older brother and my other friends played it, and it was fun. I still enjoy playing... that's why I still play.

Audience question: Could you please not retire?
Teemu: I was supposed to retire five years ago! One more, one more... it's got to end somewhere.

As much as we love Teemu and know he deserves retirement after giving so much to the Ducks, to our community, and to hockey itself, I'm sure I'm not alone when I say I hope he doesn't retire anytime soon! We're so lucky and blessed to have a professional athlete who is this devoted, this classy, this INCREDIBLE here in Anaheim.