Today marked the "unofficial start" of hockey season with the 13th Annual Fedorin Cup. Training camp is only weeks away, followed shortly by the preseason. By the looks of the impressive showing at Anaheim Ice this afternoon, I think I can safely say that Ducks fans are ready!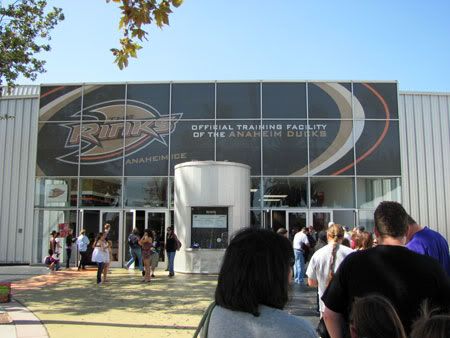 Waiting at will call

Established originally in 1998 in memory of Eric Fedorin, a Californian hockey player whose life was cut short by brain cancer, the Fedorin Cup game raises money for cancer charities. Hockey pros of the past and present play a friendly game of puck, prizes are auctioned and raffled off, and hockey fans gather in the spirit of giving and preseason excitement.

Let's check out the pictures!



Standing room only at Anaheim Ice, tickets were completely sold out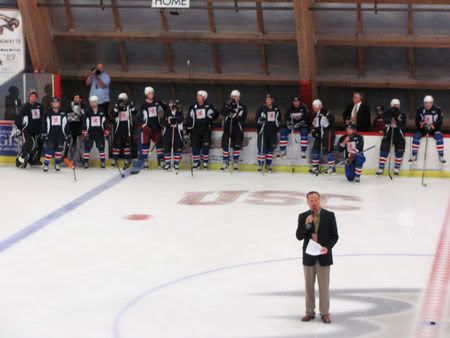 Team USA, captained by Todd Marchant, consisted of notables like Bobby Ryan, Jason Blake, Mike V., and Luca Sbisa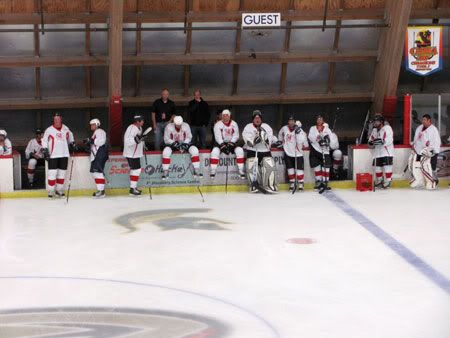 Team Canada, captained by Ryan Getzlaf, consisted of notables like Joe DiPenta, Sean Pronger, and Dustin Penner

Bobby, Getzy, and Todd Marchant are repeat players, always good to see them again. As well as Phil Hulett, who lent his PA prowess as Master of Ceremonies once again. New to the game were Jason Blake and Joe DiPenta, kudos to them for lending their time to such a good cause. Teemu Selanne had been verified for the roster as well, but I understand he's still in Finland. Apparently, he RSVPs every year in anticipation that he might be in the country in time for the event.



Luca Sbisa, who may end up shouldering many of the defensive responsibilities for the Ducks this season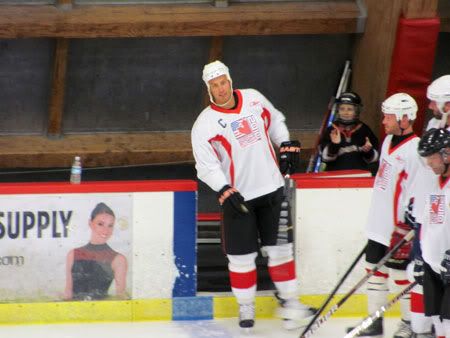 Ryan Getzlaf, captain of Team Canada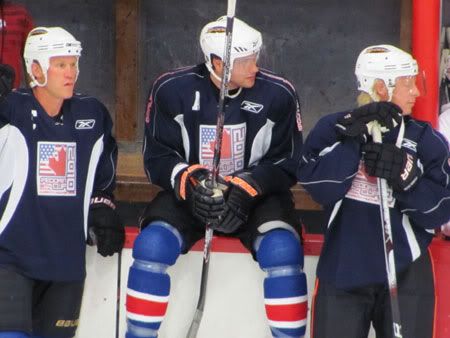 The starting forward line for Team USA: Marchant, Bobby, and Blake



The ceremonial puck drop between Marchant and Getzlaf



Ex-cup winning Duck, Joe DiPenta, who recently signed a contract with AHL team the Syracuse Crunch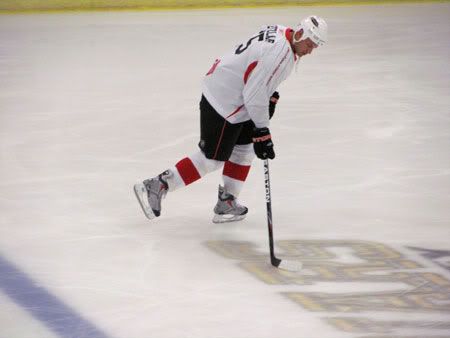 Getzlaf skating with the puck



Marchant engaging in some friendly trash talk



Silver vs Gold... I mean, Bobby vs Getzy at the faceoff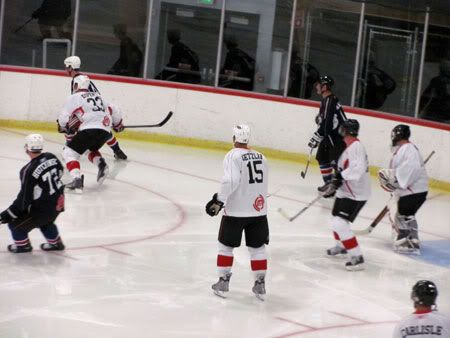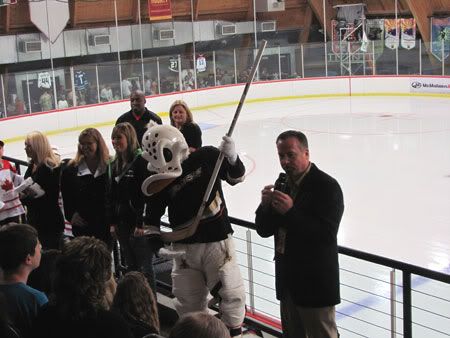 Phil and Wild Wing auctioning off a hockey stick signed by Ryan Getzlaf



Getzlaf sneaks one by Team USA Goalie, Adam Lawrence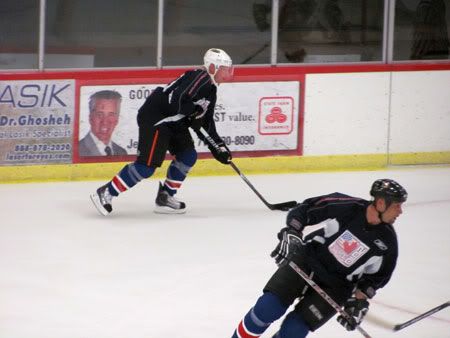 Blake taking the puck up ice

There was some impressive skating and stick handling during the game, but nothing too physical. All in all, a very good-natured game. I was particularly impressed by the skills of sisters Annie and Alison Pankowsi, both playing in their first Fedorin Cup. Always good to see the girls rock the boys on the ice! Team USA fell behind in the first half, only to bounce back in the second and tie things up before the final horn sounded. Oh boy, a shootout! (surprise surprise!) A quick wrister by Getzy would settle the game with a Team Canada win.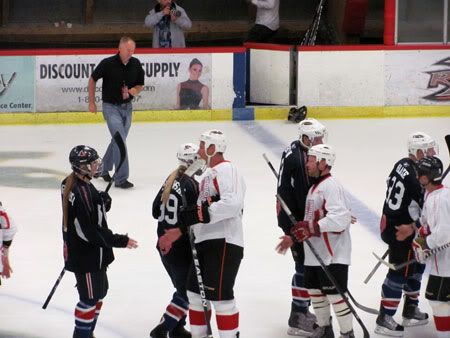 The ceremonial handshake



A smashing success, the Fedorin event raised $10,000 for Hockey Fights Cancer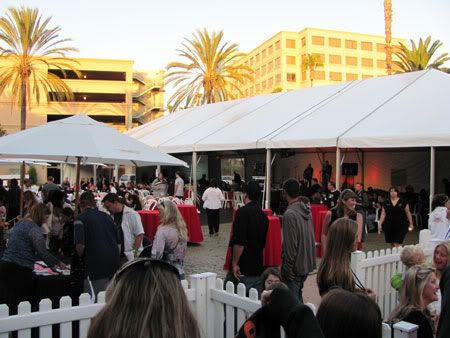 After the game, the event would transition into a dinner and casino night for the players and VIP attendees

But not before fans got a chance to get pictures and autographs!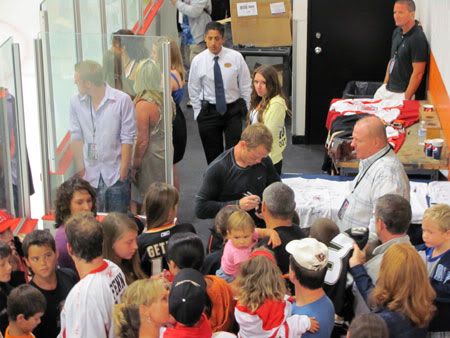 Marchant tackles a sea of hockey fans wanting autographs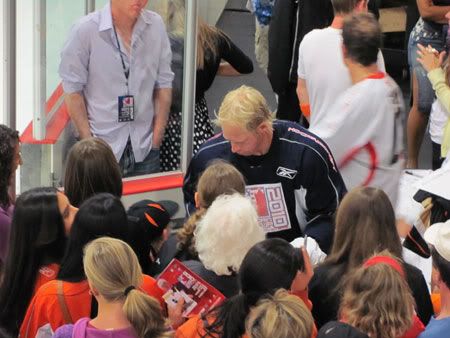 Blake joins the fray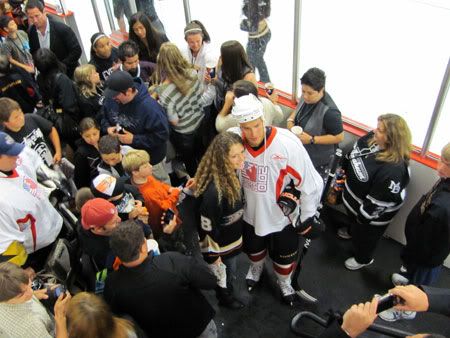 Getzlaf posing for a fan picture



DiPenta signing autographs

Great job, guys! Can't wait to catch you at training camp!