First, a warning. The following post is going to be really heavy on the photos, so if you're cursed with a slower internet connection, you might want to give it a few minutes to load.

When I wrote the second to last post, I had no idea the day would hold as many great surprises as it did. I navigated the shuttle and monorail systems of Las Vegas to get myself to the Rio casino, and then walked the rest of the way to the Palms, where this year's NHL Awards ceremony was taking place.

It was HOT out, but it's June and we're in the middle of the desert. What do you expect? There was a red carpet ceremony planned before the awards show. Fans were invited to show up to see their favorite players and give them some good old-fashioned star treatment and, since the red carpet wasn't an outrageous 500 bucks a head, yours truly intended to be there right up against the barricade.

I did get a great place to stand. I was in the shade (which made for some bad lighting photo-wise, but nothing a little Photoshop can't correct) and right across the red carpet from Frenchie, my blog buddy Adam Brady, and the Element "camera crew."



The Red Carpet before the stars/players arrived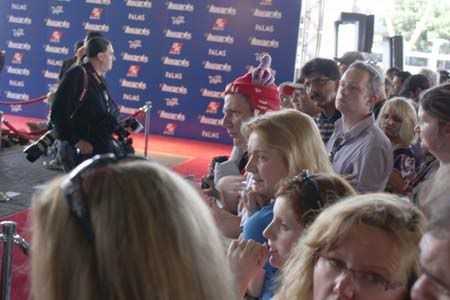 Fans anxiously awaiting

Thank goodness there was a Master of Ceremonies. He announced the players and stars as they arrived. As much as I know and love my Ducks, some of the other hockey greats are a little less recognizable to me. After all, I'm from SoCali where there's practically no hockey coverage in the media... the average resident barely recognizes a hockey puck, more or less a hockey player.

For as close as I got to some of the players, I wished I had something for them to sign. A lot of these guys are current hockey greats. Especially living in SoCali, I'll probably never get a chance to see them up close like this ever again. I did what I could, and put Rebel to work. (I hate to say it, but I have to. Please don't use any of my pictures without my permission/giving credit, thanks!)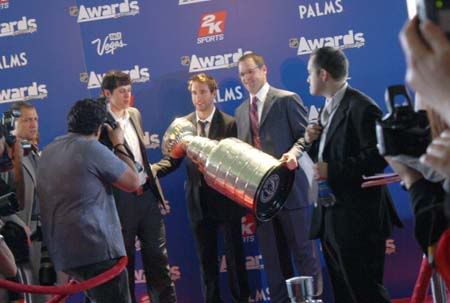 Pittsburgh Penguins Evgeni Malkin, Max Talbot, and coach Dan Bylsma - 2009 Stanley Cup winners!

These guys needed no introduction. Ex-Duck Dan Bylsma, now the coach for the Pittsburgh Pens, held the Stanley Cup out for the fans to see. This is the first time I've ever seen the cup in person, how awesome is that! I didn't get to touch it, but that's okay. I approached Bylsma, sans Cup, later in the day for an autograph. I congratulated him on doing such a great job with the Pens, and told him I'd liked him as a Duck too... it was icing on the cake that he'd get his name on the Cup. He laughed as he signed and gave my arm an affectionate nudge afterwards.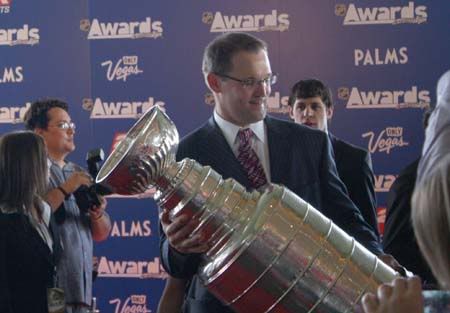 Penguins Coach Dan Bylsma and Lord Stanley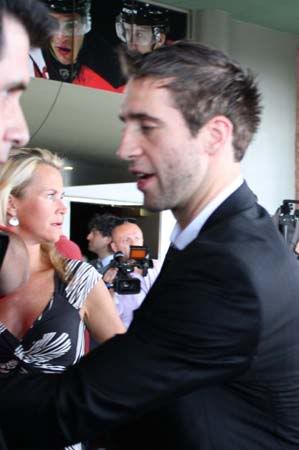 Penguins man of the moment, Max Talbot

Max was the nicest guy, jumping over velvet ropes and camera cables to sign autographs for the Pens fans standing next to me. There were two adorable little boys in Penguins t-shirts, which he signed as the boys were lifted over the barricade. Max is a little hard to recognize without his playoff beard, but this is the guy who scored the winning goal against the Detroit Red Wings in that final game 7. He snatched the Stanley Cup right out of their greasy mitts... and that makes Max all good in my book!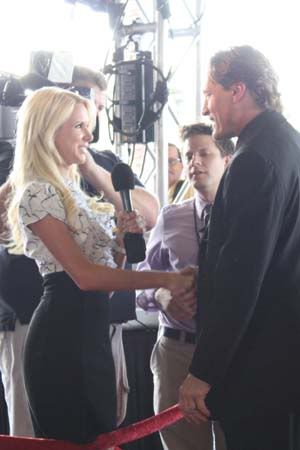 San Jose Sharks Jeremy Roenick

Roenick was high-exposure during this year's awards. He heavily promoted them beforehand, and even threw a pool party for fans and players after awards day. My Ducks stole what might have been his last chance at a Stanley Cup title, having knocked them out of the playoffs in the first round. I feel a little bad for Jeremy because a Cup would have been a nice way to end a 20-year NHL career, but if my Ducks hadn't knocked the Sharks out, someone else would have.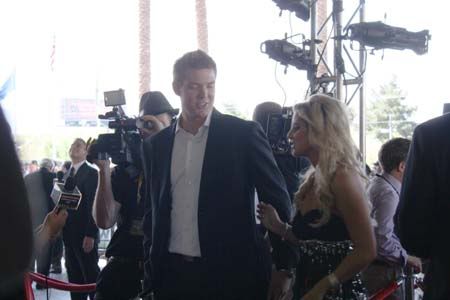 Columbus Blue Jackets hot rookie goaltender, Steve Mason



Who is the guy in front, anyone know? The guy behind him, in the purple tie, is Chicago Blackhawks rookie Kris Versteeg, and behind him, Boston Bruins goaltender Manny Fernandez

Both Mason and Versteeg were nominated along with my favorite boy Bobby Ryan for the Calder trophy (best rookie) this year. As much as I wanted Bobby to win it, I kinda knew Mason would take it home. Both Bobby and Versteeg knew this too, saying they didn't have speeches prepared. Mason, on the other hand, whipped his out.



Boston Bruins other goaltender, Tim Thomas

Tim and his counterpart Manny Fernandez were awarded the Jennings Trophy for letting in the fewest goals this season. I believe Tim also took home the Vezina, for best goalkeeper. He was super nice when I approached him for his autograph later in the day.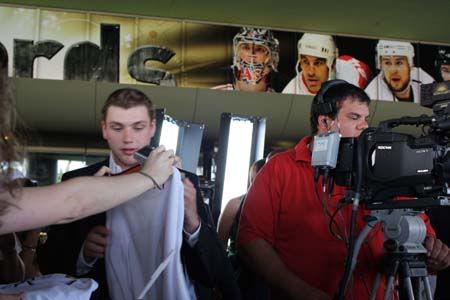 My favorite hockey player, Bobby Ryan

The jersey Bobby's signing has a little story... I'll get to it later. Nominated for the Calder, I noticed how friendly Bobby was, doing every interview asked of him and jumping over ropes and cables to sign things for the fans. I think it took the boy over fifteen minutes to walk the entire red carpet. Good job, Bobby, enjoy this moment. You earned every second of it!



New Jersey Devils left winger Zach Parise

Parise was nominated for the Lady Byng Memorial trophy, which goes to a player exhibiting "sportsmanship and gentlemanly conduct." I always find this laughable. Gentlemanly conduct? We're talking about hockey, right?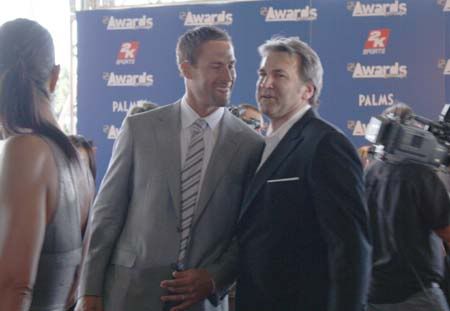 Edmonton Oilers Ethan Moreau (left, in the grey suit)

Moreau took home the King Clancy Memorial trophy, awarded for leadership qualities and for being a huge contributor to the community. I don't know much about Moreau, but just the fact that he won this trophy speaks volumes about his character. A Duck has never won this one, but I'd love to see it happen.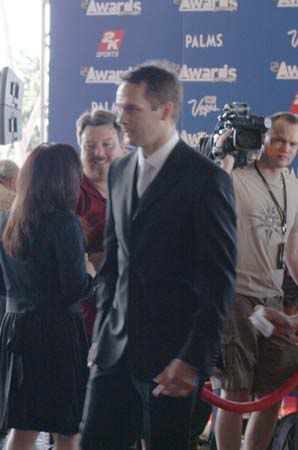 Minnesota Wild goaltender Niklas Backstrom

Nik Backstrom was nominated for the Vezina along with Mason. Another really nice guy, he went out of his way to sign an autograph for me later that evening. As I thanked him, he smiled and said it was neat to see so many fans come out. Too bad he didn't win. I love finding out just how down to earth some of these hockey players are. Here they are, incredibly talented athletes, and yet they are so humble and sweet when you meet them in person. I don't think any other sport can boast that about its players.



Vancouver Canucks goaltender Robert Luongo

Luongo was one of ten finalists, and the winner, for the Scotiabank/NHL Fan Fav award. This is the first-ever fan chosen award for the best overall player in the league. I'd love to see a Duck be at least one of the ten finalists for this one too.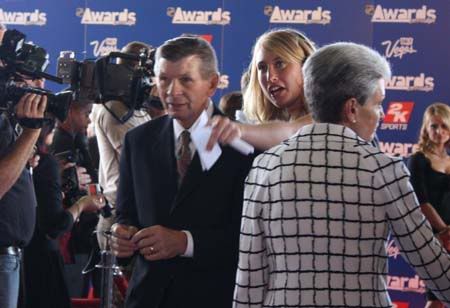 Old-time hockey legend Stan Mikita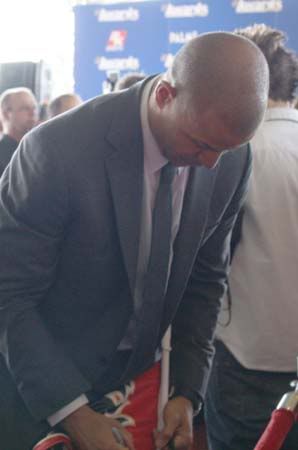 Calgary Flames captain Jerome Iginla

Taking home the Mark Messier NHL Leadership award, Iginla was another one of those nice guys who took a long time to get down the red carpet because he stopped for so many fans wanting autographs and media wanting interviews.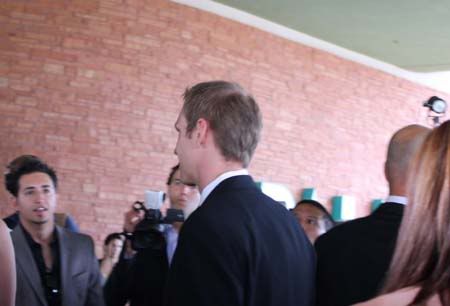 The back of Detroit Red Wings' captain Niklas Lidstrom

Like any other place, there were tons of Wings fans in attendance. They screamed mercilessly for Lidstrom's attention, but he quickly walked the red carpet with his family in tow. I was lucky to get this shot. Lidstrom's avoidant behavior stood out in stark contrast to that of the awesome players before him who had jumped over camera equipment to get to the fans. He was nominated for the best defenseman Norris trophy, but I believe Boston Bruins Zdeno Chara won, snapping Lidstrom's three-year reign.



Boston Bruins defenseman Zdeno Chara



Director Jerry Bruckheimer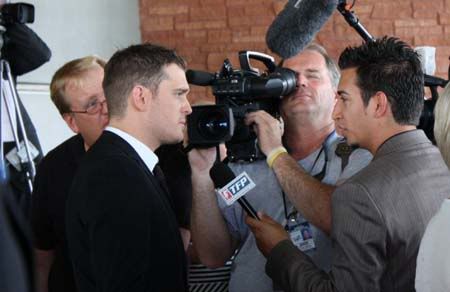 Singer Michael Buble



Battlestar Galactica actress Tricia Helfer

There were a number of non-hockey stars in attendance as well. They justified their presence by claiming they were huge hockey fans. I don't know about you, but I just can't see Chaka Khan banging her fists against the glass at a hockey game.



Boston Bruins coach Claude Julien



San Jose Sharks coach Todd McLellan

McLellan and Julien, along with St. Louis Blues coach Andy Murray, were all nominees for the best coach Jack Adams award. Like Bylsma, I got a chance to talk to both McLellan and Murray later on in the day and, like Bylsma, both were simply awesome guys. McLellan put a conversation on hold to greet me, sign an autograph, and ask me if I was having a fun time. Murray, while signing autographs, thanked each of us fans personally for even asking him for an autograph! "It's an honor to be asked, thank you!" he smiled broadly.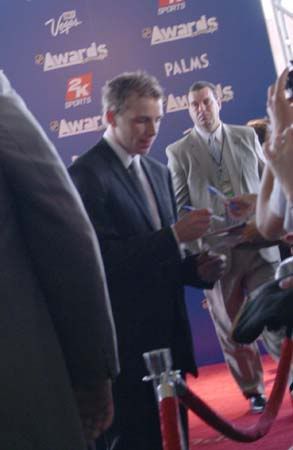 Chicago Blackhawks Patrick Kane

Kane was on hand to help present the Calder trophy, which he won last year. He sang the praises of teammate Kris Versteeg, but we know Mason won that one. Even so, Versteeg, Mason, and Bobby Ryan all got places on the 2008-09 All-Rookie team.



Hockey legend Sergei Fedorov

Arguably Russia's greatest hockey player, Sergei Fedorov took plenty of time to sign autographs and do interviews. The red carpet ceremony had started to wrap up by the time Fedorov made it to my part of the carpet. I overheard a young boy and his father talking excitedly about possibly getting Fedorov's autograph while they stood behind me. I turned, "Hey, give me your book, I'll try to get him to sign it."

"Really?" the boy's eyes widened.

"That's awfully sweet of you, dear," his father said.

"No problem! We're all fans of these guys." After Fedorov finished a short interview with the camera crew closest to us, I started calling his name. Hearing me, he came over and started signing a t-shirt held out to him by a fan near me. He took the book I held out next. I thanked him, he smiled, and I returned the book to the boy. His father thanked me and asked who my team was. "Oh, I'm a Ducks fan, but I love hockey in general. This is totally awesome, to have all these players here." He wholeheartedly agreed and wished the Ducks luck next season.



Washington Capitals superstar Alexander Ovechkin

Bringing up the rear with much fanfare was Alex Ovechkin, who totally racked up at the awards. He ended up taking home the Lester B. Pearson award (most outstanding player), the Maurice "Rocket" Richard trophy (highest goal scorer), and the Hart trophy (MVP). Ovie was always surrounded by throngs of people, I never got close enough to even ask for an autograph.

After the red carpet ceremony, I spent some time inside the Palms casino loitering about the entrance to the Pearl Concert Theater where the awards show was taking place. Other loiterers were being rewarded with ticket opportunities, although I'm unsure of how they managed to get so lucky. I struck up a conversation with another loitering girl, and we agreed that they should at least sell the remaining tickets at a huge discount. Wouldn't the show look that much more successful with all of the seats filled?

I spied a Ducks jersey in her arms. This was the very jersey I caught Bobby signing on the red carpet. Turns out, my new friend Polka Dot is a Ducks fan living with Mr. Dot in Vegas. You don't often find Ducks fans outside of SoCali, not nearly as often as you'll find non-Duck fans living in SoCali. She and her husband are both super cool, and I spent most of my afternoon with them, waiting for the awards show to let out so we could go hockey star searching again.

Standing outside the Rain Nightclub, scene of the after party, Polka and I were approached by a guy in a suit. "Do you have tickets to the after party?" he asked us.

"No, and they're not selling them even though other people are saying they are," we answered.

"Do you want my tickets?" We looked at him, eyes wide and mouths open. "I have two tickets, you can both go," he continued.

"No way! Thank you so much!" We were stunned. Just like that, no strings attached, yours truly got into the after party.

To be continued...