This was an incredible day for myself, as well as my Ducks. Having spent about seven hours at the Ponda that day, I never got a chance to post about it, and there was some pretty cool stuff that went down. So, for the sake of documentation, here we go...

There was a little blurb on the Ducks official site announcing that a local television morning news show would be present at the Ponda on that early Tuesday morning, before Game 6 of the Ducks/Wings series. They wanted to have a fan showing and, as an incentive to get our butts out of bed and over to the Ponda decked out in our Duck garb by 6am, they would be raffling off tickets to that evening's game.

I already secured a ticket through one of my hockey buddies for the game but, given I didn't have to work and thinking it might be a fun little Duck event to partake in and blog about, I put on my Bobby Ryan jersey and my autographed Duck hat, and trucked over to the Ponda with my trusty Canon Rebel in tow.

There were only about 30 of us present. Made me think my odds would be pretty good at scoring one of the raffled pairs of tickets. We were led onto the Ponda ice, where four of us were chosen to be human pucks in a race for tickets. The rest of us sat in the player benches and provided a cheering soundtrack. At one point, we started up a rousing rendition of "Detroit sucks!" to which the reporter joked, "Oh, apparently they've been there."

That was pretty awesome. Hell, it was awesome just being on the ice, sitting on the benches and in the penalty box, feeling the chilly air.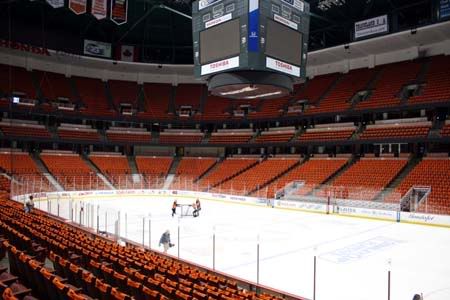 The Ponda, awaiting another gripping playoff game



Duck championship banners shot from center ice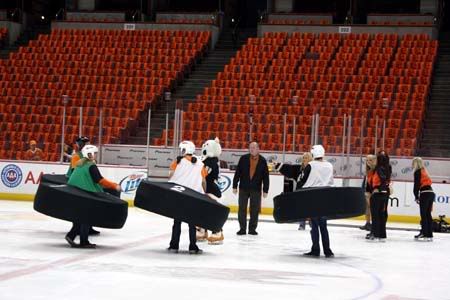 Human pucks racing for playoff tickets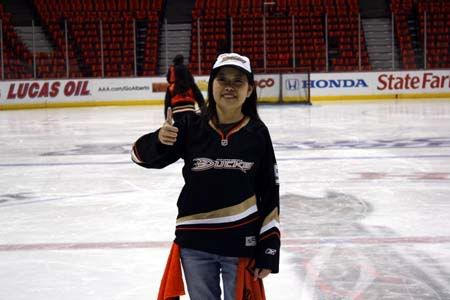 Yours truly standing at center ice

After the Ponda ice clip had been shot, the television crew ushered us outside where we would do some fillers for the next two hours of morning show. The first would feature us whacking an octopus pinata with a hockey stick. There were tickets, candy, and Ducks keychains inside.



You are toast, Detroit octopus!

The second bit, which never actually aired, would feature the fans playing a tabletop hockey game. At this point, I was content to stand back and chat with the other fans who also had no desire to make any more cameo appearances on the morning news.



Delay of game penalty to anyone who pitches the puck onto the asphalt!

It was a fun rally and I met some great fellow Duck fans. Oh, and I'd managed to score one of those raffled ticket pairs. Now I just had to find someone who wanted to come with me at a moment's notice. After the filming was over, I joined a few of the other fans on the South side of the Ponda. We wanted to see who would show up for the morning's voluntary practice skate. It was mostly black aces, but hey, we were treated to one Bret Hedican showing up for treatment.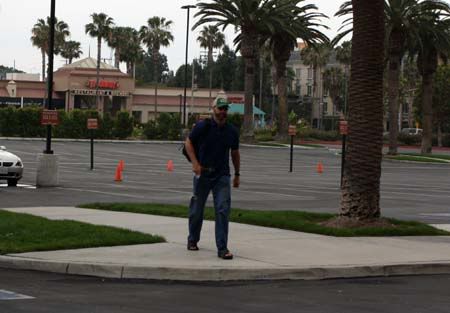 Bret wouldn't play this game, or any others in the series, as he's been day to day with back spasms

We asked him if he was feeling better. He answered, "Eh, some days are worse than others." He signed my hat and the jerseys of my new Duck friends before going into the Ponda.

We were also blessed with the presence of Petteri Nokelainen, also showing up for treatment. He was on his cell phone as he approached, talking in Finnish. He signed a shirt and my hat as he talked. I wished him luck in tonight's game and he paused his conversation to look at me, smile, and say "thank you" before heading inside.

After hanging out and chatting a bit longer, we Duck fans eventually decided to disperse. We'd spent nearly five hours of our morning at the Ponda, time to get a few things done before returning for the monumental game ahead!

This is Game 6 in the conference semifinals against the Detroit Red Wings, who lead in this series 3-2. Our boys MUST win this one, if they intend to take the series back to Detroit for a game seven. Luckily, our boys have a good record at winning game sixes at home.

The game opens with hard hits and no clear advantage for any team. Teemu Selanne has an extra spring to his step, an extra glint to his eye. Our boys make some great shots on net in the first period, even making Osgood cough up a few rebounds. The forechecking pressure is on, and our Legion of Doom line of Bobby Ryan/Corey Perry/Ryan Getzlaf is looking good tonight.

Our PK kills off the first Red Wing power play, after a stupid "too many men on the ice" call. Then, it's our boys' turn with the man advantage. Hudler knocks the puck over the glass and gets a delay of game call. We, too, cannot capitalize.

My boy Bobby Ryan leads the first period with shots on the Detroit net. None of them have gone in yet, but he's creating some good chances for himself. I'm just glad he's looking a lot better than he had earlier in the series. Whatever injury he's nursing must be healing.

We go into the first intermission on another Duck power play and still tied 0-0.

That power play goes empty, but it's followed quickly by another as Kronwall bails out a misplay by Osgood with a pitch over the glass. This one is good. Getzlaf takes the puck down deep into the Red Wing zone, fires back to Chris Pronger at the point, who shoots quickly across the slot to the Captain. He winds up and fires it at the net. Getzlaf is there to catch the rebound and knock it in.

First goal of the game goes to Anaheim. We fans shout our approval. I'm enjoying this game so much more than game 4, which I was also in attendance for. Of course, it helps when the tickets are free... but also, because there aren't three rows of disrespectful WingDing fans behind me. Instead, I'm surrounded on both sides by some of the Duck fans that I had the pleasure of spending the morning with. The few WingDingers in our section were couples. Respectful hockey fans that didn't scream obscenities about the Duck players when children were within earshot.

Good defensive plays too by our boys. One of the best ones was Ryan Whitney, who cut off the shooting lane of an odd-man rush by sliding on his belly a la Pronger and stripping away the puck with a perfect poke check. The boy is definitely picking up good pointers from his blue-line partner!

Geezus, and how impressed am I again by Jonas Hiller? He's sharp tonight, he's on his game. And he's as calm and as cool as a cucumber the whole time. MVP for the Ducks, no doubt about it.

Andrew Ebbett makes the big mistake of a retaliatory crosscheck, and our Ducks have to pay for it with another Red Wing power play. Luckily, no goals.

An amazing highlight reel play at the second period happened while our boys look like they were pushed back on their heels. Perry makes a diving play to intercept a shot on Hiller but ends up in the net himself. After the puck is cleared away and taken back down into the Detroit zone, Perry speeds back to his usual place in front of the opponent's goal crease. Getzlaf passes to Bobby, who passes it back to Getzy. He winds back and fires a slapshot from the blue line, which goes into the net off a shaft redirect from Perry's stick.

Ducks go into the second intermission up 2-0.

The third period sees a lot of play in the Anaheim zone. Our boys are having a hard time clearing. I'm praying we can just hold on to this lead. Hiller steps up his game too, as if the boy could do any better than he has already this game.

There's penalty after penalty, creating a couple of 4-on-4s, but no goals for either side. Until a tripping penalty against Ebbett puts the Wings on a power play that they're able to capitalize on, with only 2:25 left in the game.

Damn. Just like that, they steal away Hiller's shutout. Don't give up another goal, boys. No OT, we have to end this in regulation!

With less than a minute left, the Wings net is empty. The crowd is on their feet and screaming, "Let's go, Ducks!" There's one last bid by the Wings with Hiller making what would be his last beautiful save on home ice (*sniff!*). And, at the final horn, a big fat line brawl "reminiscent," as they say, "of old time hockey." Even the Captain threw fists with Datsyuk.

Now there's something you don't see everyday!

Unfortunately, it would be the last game of the season for our Ducks, but it was a good game, a great one to win for the fans at home, and a proud one to end an otherwise tumultuous season with. Go Ducks!!