On Saturday morning the news broke that Jonas Hiller had been signed to a 4-year contract extension. This would keep him in Anaheim through the 2013-14 season at $4.5 million per year. Reasonable, considering the young netminder is only going to improve with time and had already shown such promise in last season's playoffs.

Ducks fans everywhere would rejoice, as the future of Ducks goaltending appeared to be in safe gloved hands. It was a little obvious that Hiller had unofficially taken over the number one goaltender position for the Ducks; he has been the primary starter since the beginning of the year.

24 hours later, J.S. Giguere would receive the call that he'd been traded to the Toronto Maple Leafs for goaltender Vesa Toskala and left winger Jason Blake. Jiggy was sent back to the hotel from morning practice to pack up his things.

J.S. Giguere was no longer a Duck, an era in Anaheim Ducks history had ended.

Yours truly was shocked but not completely surprised at the news. It saddens me greatly, yes, because this is the Jiggy that carried an Anaheim Ducks team to the 2003 playoff finals. This is the Jiggy that brought home a Conn Smythe trophy despite being on the losing team. And this is the Jiggy that would make sure his team would lift Lord Stanley, on home ice, in 2007.

On a personal note, Giguere was the first Ducks player I came to recognize as I used to passively listen to radio game broadcasts in my early days as a hockey fan. He wasn't just a Ducks player, he was THE Ducks player. The man had been the face of the franchise to me, and his quiet congeniality during interviews with the media was something I had grown fond of.

In person, Jiggy was exactly that. A fan favorite, the superstar was always humble, always smiling, always agreeable to pose for a picture or sign an autograph for a fan. I'm going to miss having him playfully shoot pucks against the glass at us during warmups at the Ponda.

Thank you for everything you've done with this club, J.S. The Ducks would be nowhere near anything without your perserverance, your passion, your faith. We wish you the very best of luck in Toronto, and we hope to see you on Anaheim ice again soon.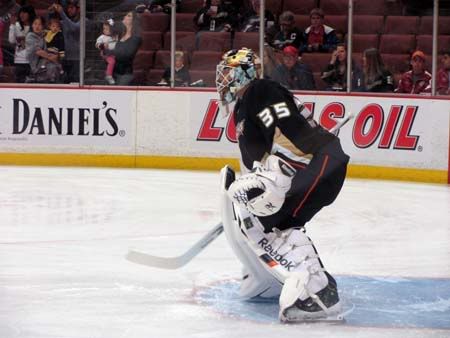 The Anaheim Ducks' J.S. Giguere 2000-2010