The next morning, we headed out early to the Palms hotel to check out the scene for that afternoon's red carpet ceremony. Having been to the NHL Awards two years ago (that post is linked in the side bar), I remember having to get there early in order to secure a spot against the barricade that wasn't in the blistering sun.

Today's 110-degree forecast made that even more imperative!



Setting up the live video feed area of the red carpet



Players and celebrities would walk the carpet to the Pearl Theater for the awards show

Only a small group of fans and autograph hounds were present and we were able to grab some limited edition merchandise as well as awesome spots for the red carpet.



Limited edition NHL Awards pucks, mini trophies, hats, and other merch for sale



Deb Placey and Jeremy Roenick getting ready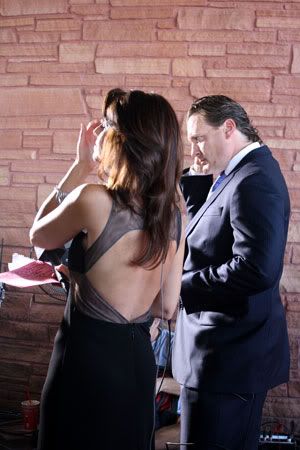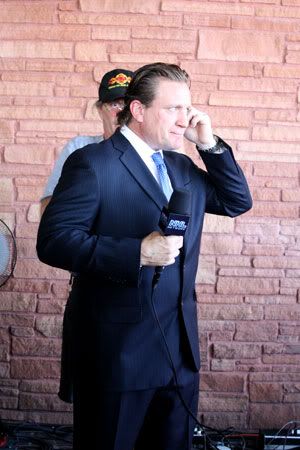 JR getting mic'd up



Makeup touches for Deb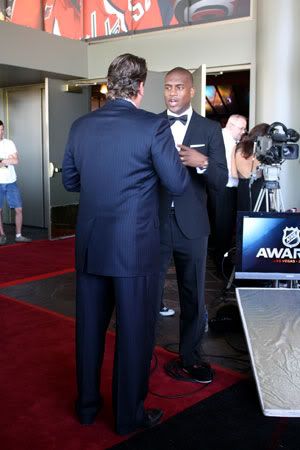 JR and Kevin Weekes



JR with his JR-cam: "Can I just get a little respect?"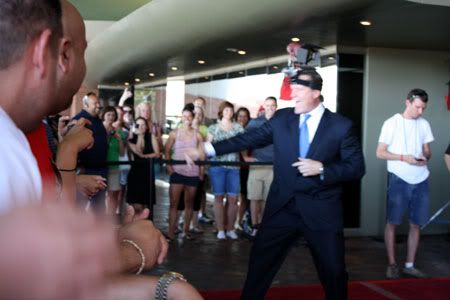 A blurry shot of JR entertaining us with some air guitar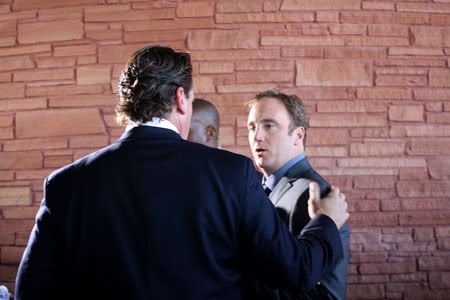 Host Jay Mohr being pulled in for a few words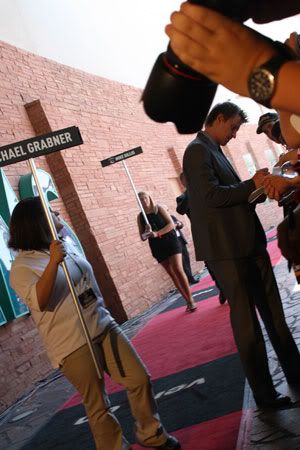 First to reach us, best rookie Calder nominee Michael Grabner of the New York Islanders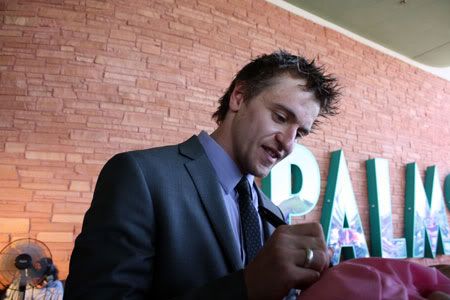 Another Calder nominee, San Jose Sharks' Logan Couture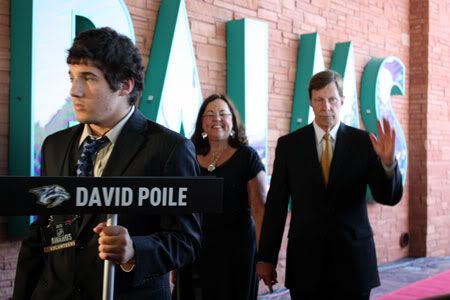 Nominated for GM of the year, Nashville Predators' David Poile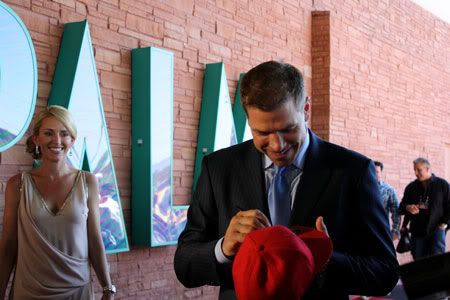 King Clancy Memorial Trophy winner (for leadership and humanitarian contributions) Doug Weight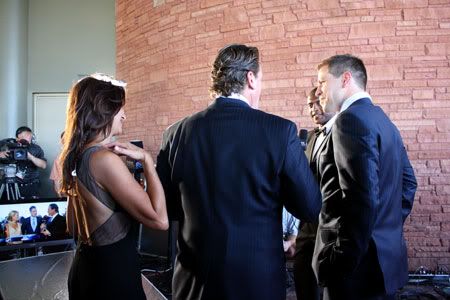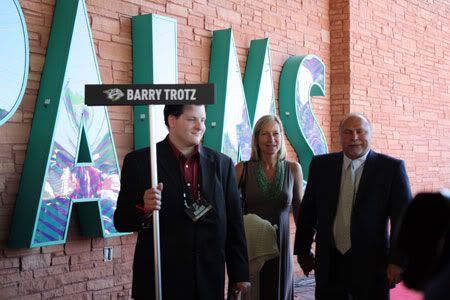 Jack Adams Award (best coach) nominee Barry Trotz of the Nashville Predators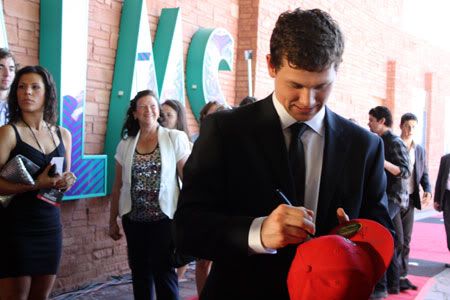 Carolina Hurricanes' Jeff Skinner, the actual Calder winner



NHL Foundation Player Award winner, Dustin Brown



Norris Trophy nominee Shea Weber

We'd seen Shea at the blackjack tables the night before. Recall I nearly got myself kicked out of the casino for taking pictures around the tables.



My buddy: "How was the blackjack?" Shea: "Not good, man."



Ted Lindsay Award nominee Steven Stamkos, for the most outstanding player as voted for by fellow players



This kid will never wash his arm again. For the record, Stamkos got Mom's blessing before he inked the arm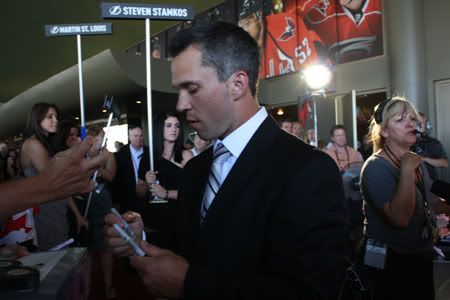 Stamkos' teammate, Martin St. Louis, winner of the Lady Byng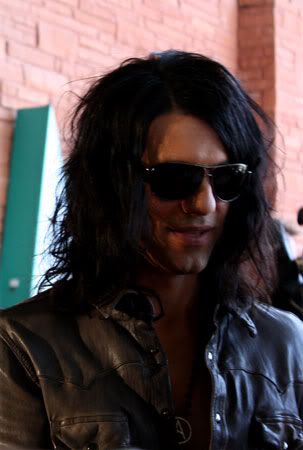 Magician and presenter Criss Angel... who I think kinda looks like Alice Cooper, but maybe that's just me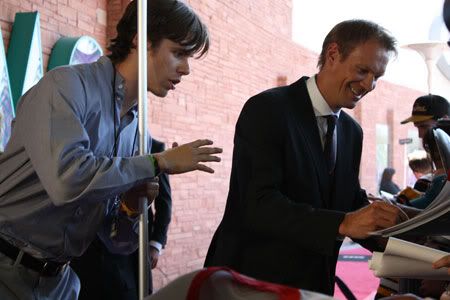 Norris winner and Mark Messier nominee Nicklas Lidstrom... and a volunteer who undoubtedly wants Nick's autograph too



Nick's -insert synonym for "perfect" here- family watching him sign autographs



Mister and Missus Ryan Getzlaf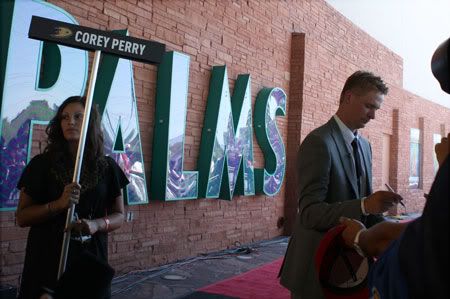 Woo! Our very own Rocket Richard and Hart Trophy winner, Corey Perry



Mark Messier and...



... Jack Adams winner, Pittsburgh Penguins coach Dan Bylsma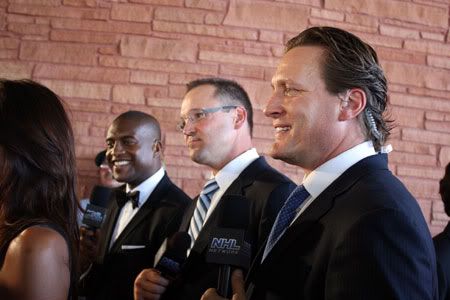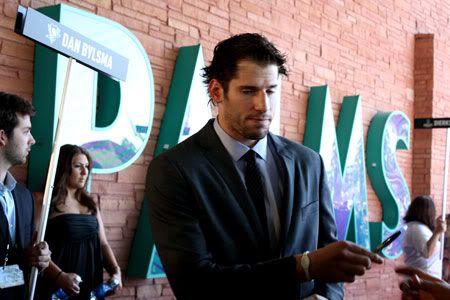 Selke award winner Ryan Kesler looking a little worn out from the previous night's events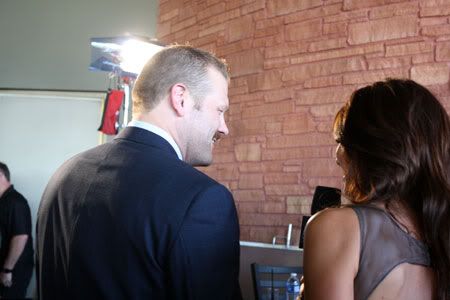 Vezina winner, and my personal favorite, Boston Bruins' Tim Thomas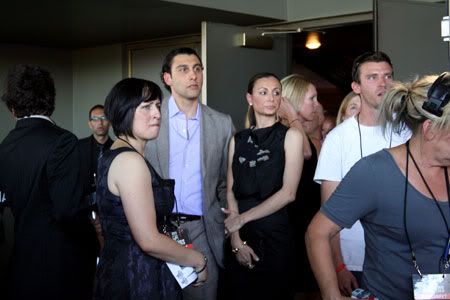 Vancouver Canucks goaltender Roberto Luongo getting caught "outside the paint"

Luongo actually got booed on the red carpet. Not sure if Canucks fans were doing the booing, but it could've also been the loud Red Wing fans near us.



The other half of the William Jennings Award winning tandem, Cory Schneider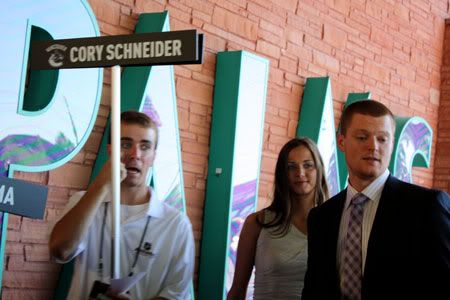 Mark Messier leadership award winner, Zdeno Chara



Vezina award nominee, and official nemesis of Ducks fans everywhere, Nashville Predators' Pekka Rinne



The Ted Lindsay award which, upon second inspection, I'm noticing the broken hockey stick held together with tape!

We were coming up on 4pm now, and the awards show would be starting. It was definitely a relief to get out of the heat and into an air-conditioned theater!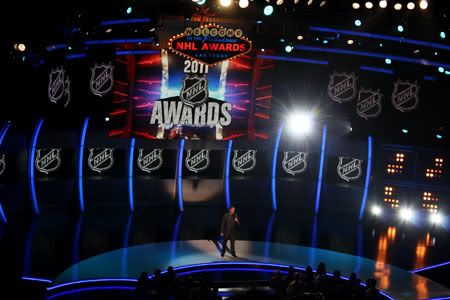 Despite the box office's claims of the show being "sold out," there were a lot of empty seats. We, the audience, were encouraged to cheer/yell/scream and provide an enthusiastic backdrop for the show. "You can't be too loud," they told us, but looking around the audience which consisted primarily of teammates, family, and industry folk (not fans), being too loud wasn't going to be a problem.

I managed to get Rebel's zoom lens into the theater, so my shots could be close-ups. But, the downside is that getting a non-blurry shot at full zoom without a tripod would be difficult. Bear with me! Got a bunch of pictures, but we'll focus on the highlights.



Musical act Dierks Bentley rocked the stage



Dan Bylsma, as he wrestled the Jack Adams award away from presenter Donny Osmond: "It's not the dancing award"



Jeff Skinner, looking all of 12 years old, was awarded the Calder trophy for best rookie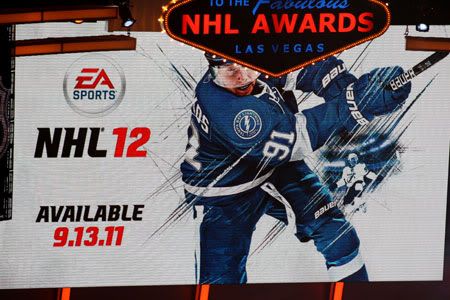 The cover for EA Sports NHL 12 was revealed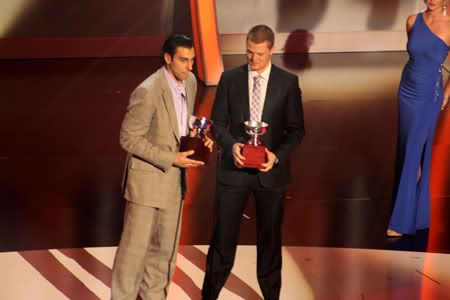 Roberto Luongo and Cory Schneider were awarded the Jennings for their outstanding play during the regular season



Our very own Corey Perry received the Rocket Richard for the most goals during the regular season

My apologies for the blurry Perry pics, I was kind of busy screaming and cheering every time Perry's (and any other Duck for that matter) name was announced.



Ian Laperriere received the Masterton trophy, winning over our goaltender Ray Emery



Stanley Cup champions, the Boston Bruins, represented by Thomas and Chara



Thomas also walked away with the Vezina for best goaltender

And the big one...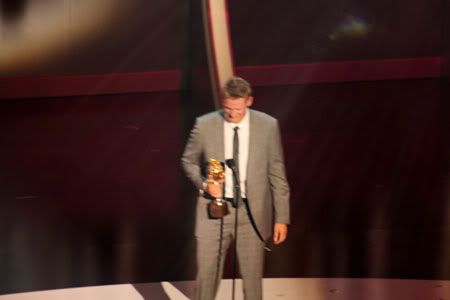 Corey Perry won the Hart trophy for Most Valuable Player!! Again, I apologize for the blurry picture, but I was screaming my head off the instant Corey's name was announced

Perry was visibly choked up as he received his Hart. His parents, brother, and other extended family members were there to share his moment of glory. Such a huge step for Corey, for the Anaheim Ducks, and for California hockey in general! Me and my fellow Duck friend couldn't stop yelling in celebration. This was a moment for all Ducks fans.

Way to go, CP! You EARNED this!!

We were more than ready to celebrate Perry's win at the cocktail reception that followed. Guests were herded into the pool area adjacent to the Rain Nightclub. An open bar and hors d'oeuvres awaited.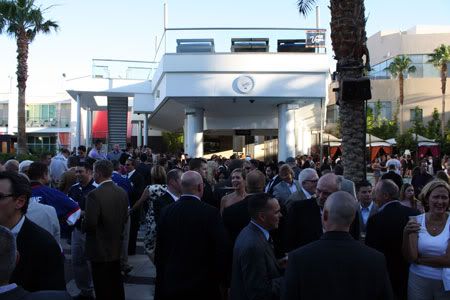 EA Sports NHL 12 coverboy Steven Stamkos signing autographs

Stamkos found himself stuck in a part of the pool area where he was surrounded on three sides by water. Not the best place to be, he was trapped by continual groups of fans looking for autographs and pictures. Kudos to him for being friendly and engaging throughout the onslaught.

Poor guy. I think he should've just jumped in the pool and swam to freedom.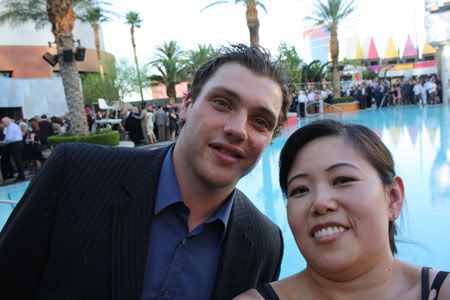 Bobby Ryan was in attendance to support linemate Perry, and to debut the newest installment of Ryan vs Ryan with captain Getzlaf

Bobby inquired about my summer. I told him I liked watching the Stanley Cup Finals and all, but it wasn't the same without Ducks hockey. He agreed and said he thought the team was much better than getting knocked out in the first round. "The suspension didn't help," he added.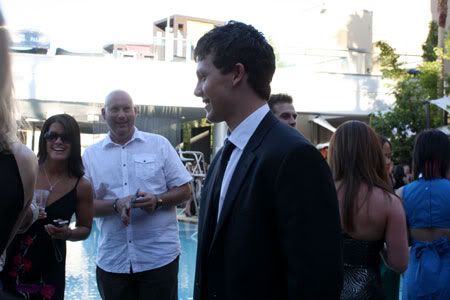 Jeff Skinner looking a little nervous, did someone card him at the entrance??



Ex-teammates Dan Bylsma and Ian Laperriere both took home hardware, the Jack Adams and Masterton respectively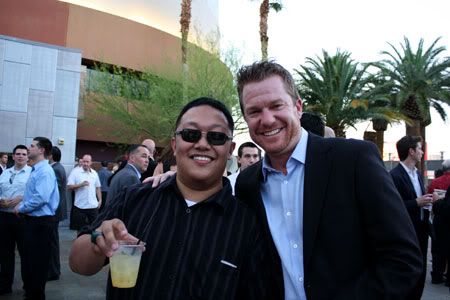 Ducks Kent French posing for pictures with fans



Lord Stanley chillin' in the pool

A woman did attempt to swim out to Stanley, but she was stopped by security before she got halfway there. Kinda didn't blame her. It was damn hot, and that water looked so good.

All in all, another awesome event for players and fans alike. Here's hoping they continue it as an annual occurrence in Vegas. I know I'd love to come back next year.