Welcome to Part Two of an exclusive interview with Anaheim Ducks winger Bobby Ryan. Click here for Part One of the interview, in case you missed it.

Ducks54: Do you and the guys enjoy the signs that fans bring to warmups?

Bobby: We love the signs people bring, especially the creative ones. We'll acknowledge those and hassle teammates about them. It's nice to know you have an effect on someone's day, in whatever way.

Ducks54: Who is typically your roommate on the road? Do you have any crazy road roommate stories you can tell us?

Bobby: Last year it was George Parros. This year, it's been a rotating system for me. I started off with Loops [Joffrey Lupul], but when he went down, I was with [Kyle] Chipchura, then [Matt] Beleskey, and then back to being with George. We've got the best room in the NHL! We have an ongoing wrestling match with Brooky [Sheldon Brookbank] and [Ryan] Getzlaf (they're roommies) and that's been in the process for over a year. I think we have the upperhand cuz George is always nice to have on your side during a fight!


Teemu Selanne and Bobby Ryan speak at the inauguration of the Corona Inline Rink February 16, 2009
Ducks54:
I understand you play the guitar. Which songs/artists do you like to play, or do you write your own stuff?
Bobby:
I picked up guitar in juniors and taught myself through books and online programs. I've only recently developed an "ear" for picking up tempos and chords in songs. I don't write a whole bunch, I usually just try to stick with what's catching my ear on the radio, and some classics. My favorites to play are Bob Seger, Pearl Jam, and a bit of Nickelback. I also like to play country if I'm hanging out alone or playing in front of people.
Ducks54:
If you got stuck having to drive to a game in Phoenix with two of your teammates (that's six hours of straight driving in the same car), who would your roadtrip buddies be and why?
Bobby:
My two choices would probably be George [Parros], and either [Brett] Festerling or Boynts [Nick Boynton]. George has that upbeat style so he would provide the jokes. And I think Boynts and I would balance him out with our humble sarcasm. We'd be bringing him back into the car as he had his head out the window screaming the lyrics to John Michael Montgomery's "I Swear" to passing cars. Fest would be my bubble choice because we've spent a lot of time together doubled up on the bus in the minors and had fun. But then again, he's also a loud breather… and you remember how I feel about loud breathers!
Ducks54:
Do you have a favorite charity that you would like to represent or be a spokesperson for?
Bobby:
I did Points for Cancer years ago in juniors but haven't picked it back up yet. Companies in Owen Sound donated money for every point I accumulated during the season and it all went to research in the area. I think if I did anything, it would be something along those lines.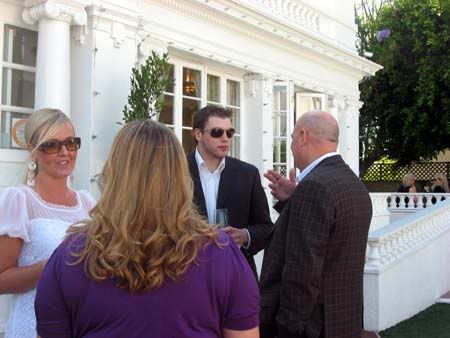 Bobby Ryan generously donating his time to meet with fans for the 2nd Annual Joe DiPenta Lasagna Fundraiser on June 4, 2009
Ducks54:
You recently bought a house in Newport. How is it being a homeowner in Southern California?
Bobby:
I love Newport Beach, and being a homeowner is a lot of fun. The house was very bare all summer long, but it's getting there. Luca [Sbisa] and I really did a good job of making it a bachelor pad, but Danielle moved in and put some touches on it to make it a "home." We've really enjoyed the weather and the view. It's been nice to sit on the patio and eat dinner. Big difference from Owen Sound or Maine, where you had to eat inside with a jacket on to keep warm.
Ducks54:
If you weren't a pro hockey player, what would you be doing for a living?
Bobby:
I was always very interested in architecture. I loved designing how I'd wanted my home to be when I was 17, 18 years old. If hockey hadn't panned out, I think I would have gone to school for a degree in that field.
Ducks54:
Do you have any pets? If so, what kind?
Bobby:
I don't anymore. I had a Siberian Husky named "Blades" but I moved out West and Mom ended up babysitting for three weeks. Now it's turned into three years and he's become a spoiled brat and Momma's boy. So I let him stay home with my mom and enjoy the cold weather in New Jersey. I'm an animal person all around and love cats. We have looked into rescuing two recently. I think I will probably have them by months' end if all goes well!
Ducks54:
Who is your favorite current NHL player?
Bobby:
Without a doubt, my favorite to watch play is [Pavel] Datsyuk. To me, his skill level is far ahead of anyone's in the league. What he can do with the puck is incredible! If you haven't seen his [breakaway] goal against Chicago, you should take a look...
Ducks54:
What would you say are the advantages of playing hockey in a small hockey market like Southern California? How about the disadvantages?
Bobby:
Like I said earlier, I think the advantages are that certain level of anonymity. You can do things without being in the media spotlight all the time. That being said, we draw great crowds anyway, so the games are always loud and the crowd is with you. I think a disadvantage might be that California has so many things to offer, it's a bit easy to get sidetracked into the lifestyle. But we also have a coach who doesn't take many days off, so he keeps us in check!
Bobby Ryan is, so far, the only American-born Duck to win an Olympic medal