A lot has happened between the pipes since the last game I attended! For one, check out the new goaltending tandem for the Anaheim Ducks: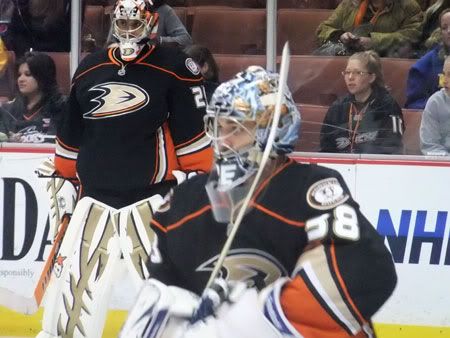 Introducing, starter Dan Ellis and backup Ray Emery

Yup, THAT Dan Ellis. And yes, THAT Ray Emery.

With all due respect to former Ducks goalie Curtis McElhinney, we need someone who can stop pucks and we need him NOW. There's no timetable as to how long it will be before Jonas Hiller is ready to play again, and the Ducks are steadily losing ground in the playoff race.

Ellis flew in the night before and had maybe two practices at best with his new team on Ponda ice. Nonetheless, he would be starting in tonight's game. Needless to say, lots of Duck faithful would be very curious as to how well he'd do.



You can put a Ducks' jersey on him, but his mask still screams "Tampa Bay Lightning"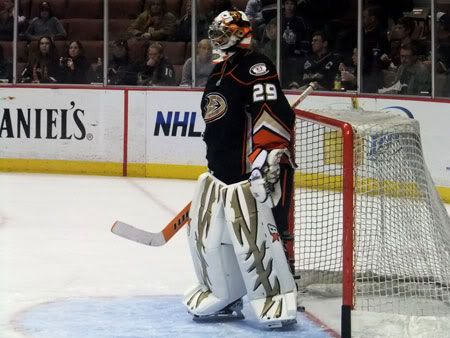 Emery remains up from the AHL just in case, but I'd much prefer to see him get more conditioning before he has to take over the net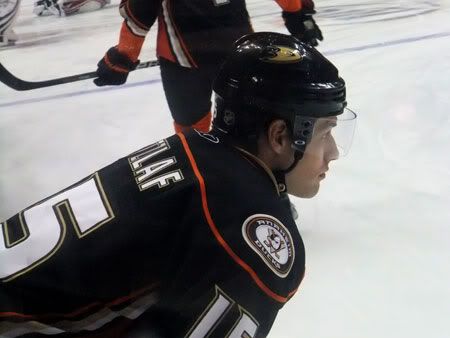 Also back in tonight's game, new daddy Ryan Getzlaf

Pretty soon, he'll be coming to the rink just to get some rest away from the screaming baby!

Ellis came up big on the first few saves. I started to feel that maybe we'd be okay. A few things I noticed about him. Ellis is much more expressive on the ice. He talks to the defense and directs play. He looks much more comfortable in his puck handling skills. He also rallied the boys a number of times, slapping his stick on the ice for momentum. I'm hoping the team develops a chemistry with him.

I thought our offense played well. The Ducks earned their chances to pepper Wild goalie Jose Theodore.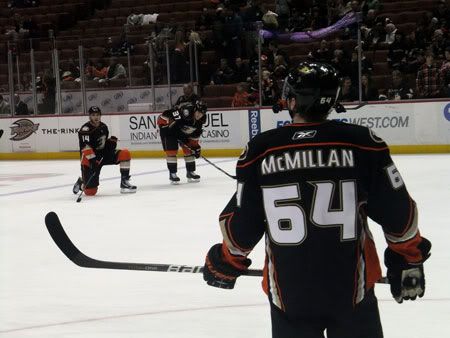 Rookie Brandon McMillan. Keep an eye on this kid



There was no way defenseman Toni Lydman could stop the bids on net from a 2-on-1 that led to the Wild's first goal early in the first

As it became apparent that Theodore was nothing short of on fire tonight, coach Carlyle started to mix up the lines.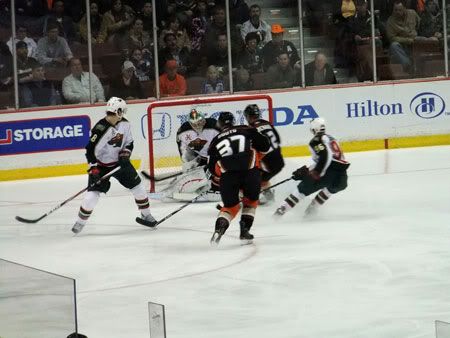 Theodore on "forcefield mode"



Ellis in position

The Wild held the lead for a good 25 minutes of play until finally, Bobby Ryan got one under, and behind, Theodore.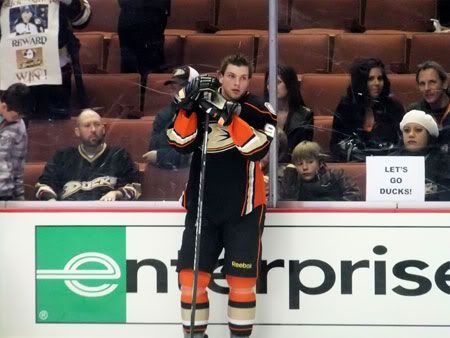 Bobby would score his 100th NHL goal tonight, tying up the game, and becoming (I believe) only the 6th Duck to break the 100-goals mark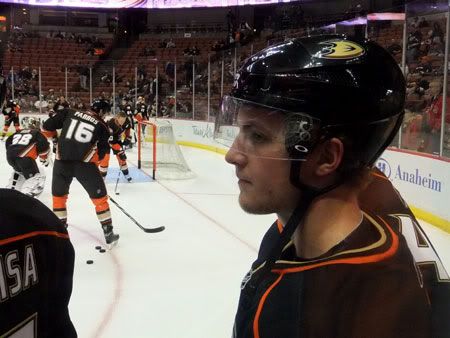 Cam Fowler, up close and personal

In the third, the Wild would take the lead again with a little over five minutes left in regulation. As our Ducks put 30, 35, 40 shots on goal, those two points felt like they were slipping away with each passing second.



At the 18:00 mark, Francois Beauchemin netted the equalizer

Fans were treated to five minutes of overtime and, when it looked like we'd get the chance to size up Ellis in the shootout, the Wild stole it all away and brought the game to an abrupt halt. With only six seconds left, a major fumble on the part of the Ducks defense resulted in a puck behind Ellis.

Well, at least we got a point. But more importantly, I do feel that things will improve with a capable goalie between the pipes.

Bring on the Avalanche!