Nothing all too remarkable about this game... Ducks didn't show up to play until the 2nd period, after the Sharks had already put three goals on the board. Although, it didn't help matters much that the first Shark goal got past Jonas Hiller only 14 seconds into the game.

Yes, 14 seconds. It was gonna be one of those games.

You could see it too, Hiller wasn't on the ball. He looked slow and sluggish. After the game, the news was released that Hiller wasn't feeling well. Fatigue and dizziness would take him out of the next couple of games.

Luckily, backup Curtis McElhinney was able to stop the bleeding. The Ducks turned up to play, with goals from Joffrey Lupul, Cam Fowler, and Bobby Ryan bringing the Ducks within one. But bringing the equalizer just wasn't in the cards tonight. Our boys would lose this one 3-4.

I'd paid good money for great seats in the lower bowl, so at least I have a few good pictures to show for it!



Jason Blake, Luca Sbisa, and Teemu Selanne waiting for the puck drop



Corey Perry trying to get one past Sharks' netminder Antti Niemi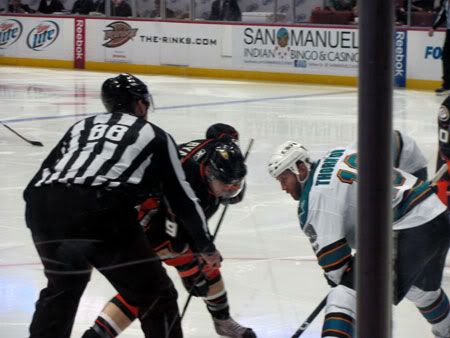 As center, one of Bobby Ryan's new tasks is facing off against some of the league's best centers at the faceoff dot



Curtis McElhinney, taking over for Jonas Hiller after the 3rd unanswered Shark goal in the 1st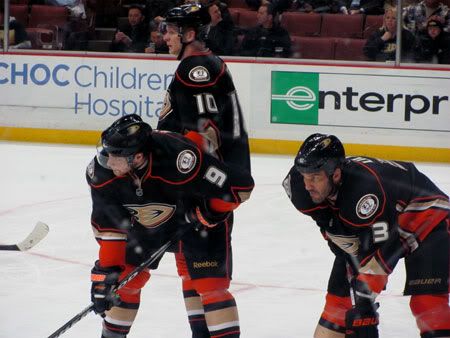 Bobby, Perry, and Andreas Lilja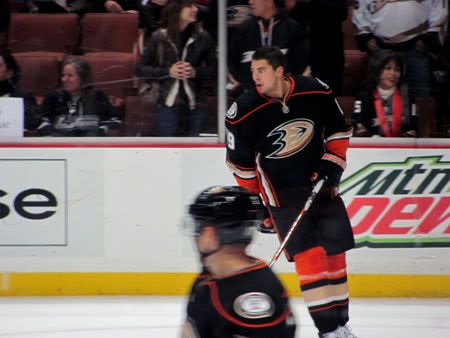 Joffrey Lupul was credited with the Ducks' first goal of the night



And Cam Fowler got the second

The next time I splurge for awesome seats, I'd really appreciate a win!