There was an excitement in the air as nearly 1,000 fans gathered early Sunday morning at Anaheim Ice to get a glimpse of the new 2009 Anaheim Ducks. This would be the first time many of Bob Murray's off-season acquisitions would be seen wearing a Ducks logo, and the fans were very curious indeed.

A roar erupted as the first players appeared on the rink. Bobby Ryan, J.S. Giguere, Scott Niedermayer... Surely, on the opposite Olympic rink, Ryan Getzlaf, Jonas Hiller, Teemu Selanne and Co. were getting the same rousing welcome. There was more applause for our notable newcomers Joffrey Lupul and Luca Sbisa on the NHL rink, and ex-Habs captain Saku Koivu on the Olympic rink.

Our boys opened with practice drills. They'd been divided into color groups, characterizing different lines. Later, they participated in two 40-minute scrimmages, during which they were divided into a white-jerseyed group and a black-jerseyed group.

In between the pipes, Jonas Hiller faced off against J.S. Giguere (the goaltender battle of the century). Timo Pielmeier, Justin Pogge, Marco Cousineau, and J.P. Levasseur rounded out the netminders.

After the scrimmages, there were more speed drills and skating laps. Even the goalies did laps in their full gear, pads and all. Looked like one heckuva workout!

Allow me to share a few observations/opinions about opening day and our new Ducks.

Regarding goaltending:

- Jiggy was looking pretty strong in goal. He's a man fighting for his job, that's for sure. Hiller held his own, and between them, they let in an equal number of goals (I believe it was just one each) for the day.

- Yours truly couldn't attend camp after day one (unfortunately, Duck blogging does not pay my bills), but had a Duck buddy armed with a texting cell phone to provide news and tidbits. Supposedly, Jiggy was more off his game on the second day, letting in five goals.

- Timo Pielmeier, one of the pieces of a trade made between the Ducks and Sharks back at the deadline, was looking very good in the crease. Good thing too, we lost both Travis Moen and Kent Huskins to the Sharks in that trade. Nothing against Justin Pogge, who is expected to take the #3 goaltender position, but yours truly thinks Pielmeier should get it.

Regarding defensemen:

- Luca Sbisa once again didn't disappoint. This kid is amazing out there! He's confident, poised, and exacting in his decisions on the ice. I'm very excited to see how he will be tomorrow night in the Ducks first preseason game.

- Steve Eminger, picked up as a free agent, looked good as well. I saw some solid skating and good speed.

- Brett Festerling was out there hitting everything that moved.

- James Wisniewski looked grittier than ever.

- Ryan Whitney appears to have picked up quite a few pointers from sharing the blue line with Chris Pronger last season. I'm excited to see just how much he's learned (hopefully, he didn't pick up Prongs' nasty elbow habit).

Regarding forwards:

- Evgeny Artyukhin lives up to his name as a BIG MAN. According to the roster, he clocks in at a monstrous 6'5" 254lbs, and he looks every bit of that on the ice. He was a steady skater with the puck and a solid wall in the corners. Guys were literally bouncing off of him trying to knock him away from the puck.

- Erik Christensen and Ryan Getzlaf played little, if any, game time during the scrimmages. Both are healing from summer surgeries.

- Saku Koivu. What can I say about Saku except that I was impressed and also not surprised. I already love the fact that we have him for a whole year.

- My boy Bobby Ryan, back again with those beautiful hands.

And now for some pictures!



Mike Brown and Arty



Jiggy in net



Shooting exercise



Justin Pogge in net



Saku!!



Getzlaf



Skating drill



Todd "The Warrior" Marchant



Hiller, ready to rock and roll



Corey Perry and Hiller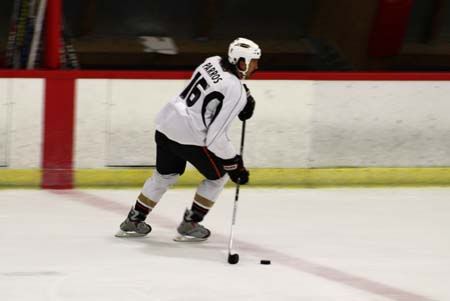 George Parros



Wiz



Getzy up close



Selanne up close



Look at those big grins!



The guys watch and listen as a play is diagrammed



Hiller up close



Bobby skidding to a halt



Ryan Carter



Petteri Nokelainen



Oh Captain, my Captain...



Joffrey Lupul



Carter screening Pielmeier



Lupes, Koivu, and Selanne... our possible new second line??



Saku giving Bobby fashion tips? Probably not...



Saku and Ebbett doing the tango at the faceoff dot

Training camp also serves as one of the best ways to meet the players.



"Bobby, Bobby!"



Ryan Whitney

But in some cases, it's more of a Duck Drive-Thru.



Erik Christensen



Mike Brown



Andrew Ebbett



George Parros

And in some cases, you get lucky.



Selanne and a fan



Hiller and yours truly

Hockey preseason starts Wednesday night at the Ponda. See you there? Go Ducks!!