He might be busy getting worked in training camp, but ex-Duck-ex-Flyer-now-reDucked winger Joffrey Lupul made the time tonight to be interviewed by the OC Register and maybe about 100 readers who came to the Meet & Greet.



Lupes is the one on the left

The modest attendance made for an extra special intimate event for those who did show. Joffrey answered questions from OC Register columnist Jeff Miller, and then questions from the audience. Yours truly had one for him: "You don't know who you're going to be skating on a line with, but rumors have it that you'll be matched with [Teemu] Selanne and [Saku] Koivu. How do you feel about that?"

Joffrey: "As long as they speak English... I'm fine with it."

The crowd laughed and he cracked a smile.

Joffrey: "Seriously though, I think that would be great. I've played a lot against Saku, since he was in the Eastern Conference with us [Flyers] and he's going to be a fan favorite. He's not a big guy, but he plays well and the fans here are going to love him. And Teemu, I mean, he's amazing. I'd be honored to play alongside him. Especially since this might be his last year. Hopefully not, but I think he mentioned something about that. He's an incredible player, and he just keeps getting faster. I feel like he's a lot faster now than he was three years ago when I was last here."

(My quotes are approximated, I didn't have a recorder with me, nor did I take any notes. Just fiddling with the camera---in this case, Baby Rebel---is challenging enough for my multitasking abilities.)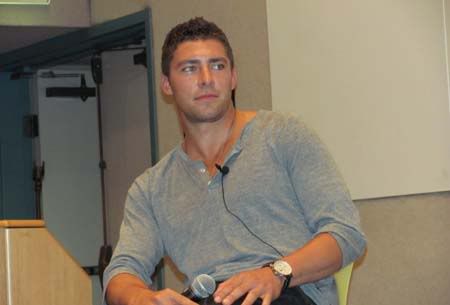 Joffrey's answers were fun and lighthearted, he did well. I can imagine it might be a little intimidating to do such an interactive interview before the season even starts, with a new team. I say "new" because, as Joffrey pointed out, only five of the guys on the team were here when he last was: Ryan Getzlaf, Corey Perry, Scott Niedermayer, Teemu Selanne, and J.S. Giguere.

He spoke about his feelings regarding getting traded back to Anaheim (to say he's okay with that is definitely an understatement), his earlier hockey days (he started playing at the age of 4), his enthusiasm for the season ahead with the Ducks, and some of the things he does in his spare time (he loves music and plays the guitar).

After all the questions had been answered, Joffrey took the time to sign autographs and take pictures with any and all of the fans that wanted to.




Again, another awesome Duck player who turns out to be a really nice guy. You can check out the Q&A interview from the OC Register here: http://www.ocregister.com/articles/ducks-player-first-2568026-laughs-play