Anaheim Ice was this afternoon's location for the start of the Ducks rookie camp. Ryan Getzlaf participated in some of the early drills, testing his skates on the ice after sports hernia surgery earlier in the summer. Even if he doesn't play in the preseason games, I'm hoping Getzy will be back in top form by opening night.

Some notables graced today's rink, including Matt Belesky, Peter Holland, Luca Sbisa, Matt Clark, Nicolas Deschamps, Mike Mitera, and Timo Pielmeier. Yours truly didn't see enough of the camp to make any assessments on our Ducks' future prospects, but those with something to say about Sbisa echoed my previous Fedorin sentiments: The kid looks great out there. Can't wait to get him out on the ice with our Ducks.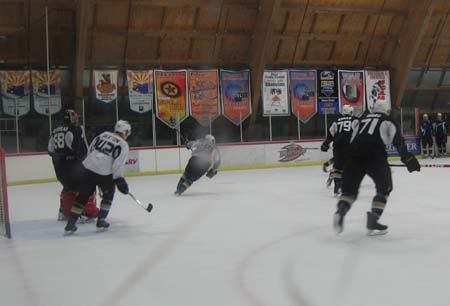 Just when you thought GM Bob Murray had finished his offseason moves, he goes and pulls a few more. Most likely, to answer the Ducks' lack of left wingers, Murray traded Ducks right wing Jason Bailey for Ottawa Senators' left winger Shawn Weller. I don't know anything about either of these players, except that neither has broken into the NHL yet.

The Ducks might also pick up left winger Kyle Calder of the LA Kings. Calder signed a pro tryout agreement with the Ducks which will allow him to attend practices and prohibition games. Hmmm... a King in Duck Country, eh?

Lastly, Murray signed defenseman Steve Eminger to a two-year contract. According to the Ducks big wigs, Eminger is a good player..., despite the fact that he spent the duration of the 2009-09 season in three different jerseys. Sounds a little like a guy nobody wants. I hope I'm wrong about that.

How many defensemen do we now have competing for only a handful of slots? And how many of these guys have ever played together before?

Competition at training camp is going to be fierce, and after the dust settles, there had better be a lot of gelling between the players who make the roster. I don't want to jinx anything, but I'm thinking this is going to be a good year for our Ducks. And based on the crowds that were present today at rookie camp, I don't think I'm the only one!

Next stop: Training camp starts next Sunday at 9:45 at Anaheim Ice.