Yours truly had been originally planning to race home after work today, and plant myself in front of my computer to type up this post as I listened to the radio feed of the game. Neither team is televising this game, and it would have been interesting to write a picture-less post without a visual reference.

But I'll have to save that experience for a different day, as a Duck buddy of mine came up huge with an extra ticket only a few hours before the game.

You've probably guessed that the Phoenix Coyotes are one of my significant other teams (the Pittsburgh Penguins being the other), so any matchup between a significant other and my spouse team is sure to be met by mixed feelings. But my Ducks severely need points right now, and the Phoenix Coyotes have a few to spare (I'm doing a double take just typing that sentence).

So, let the anthem of this game be "Let's Go Ducks!!"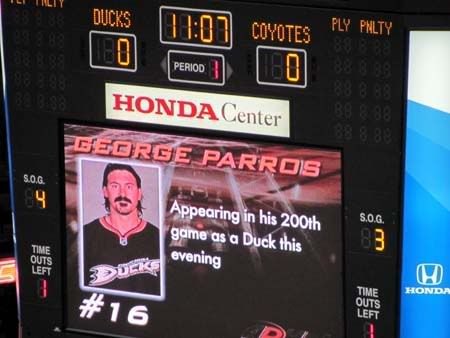 'Stach power!

As the game is starting, it's noted that Kyle Calder is out with a bloody eye injury obtained during practice when he took a puck to the face. His vision is intact but he's expected to be out 2-4 weeks. Consequently, Matt Belesky is back out with the boys.

As a whole, our boys don't seem to be playing with as concerted an effort as they did in Friday's remarkable contest against the Chicago Blackhawks, but they putting in some good effort. I thought our defense looked a little clumsy out there against one of the Coyotes' top lines (consisting of dynamic duo Lombardi and Upshall), and that could potentially be a big mistake.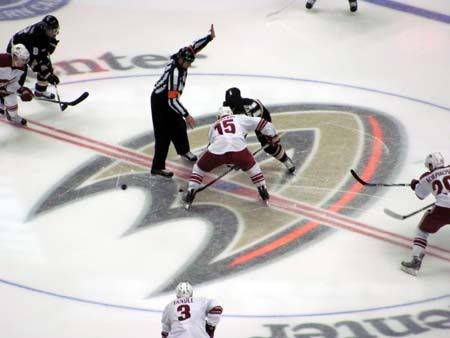 Faceoff at center ice on the Ducks "D"

Nevertheless, J.S. Giguere got the start again in this game, and looks quite excellent with his sharp saves.

We go into the first intermission without any points for either side.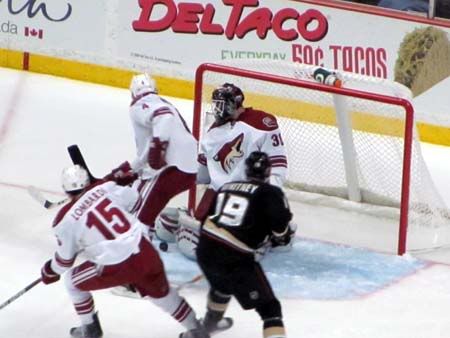 Ducks with some good offensive plays, keeping the Yotes on their toes

Ducks improve their game in the second, possessing the puck for extended periods of time. The forecheck looks strong. Phoenix loses a man on a hooking penalty call, and Anaheim's lethal power play takes advantage. It's Ryan Getzlaf with the goal, Teemu Selanne and Scott Niedermayer get the assists.

Speaking of Teemu, that second line is really coming together. You can literally see the chemistry smoking on the ice!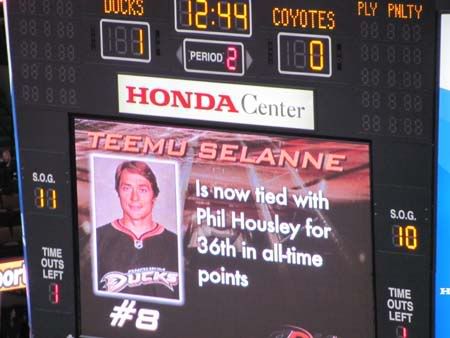 How old is that Finnish Flash again? 29?

The zebras are liberal with their penalty calls tonight, with both teams taking turns in the sin bin. However, there are no goals during the second period, and we go into the third leading 1-0, but with 53 seconds of penalty time left to kill.

The Coyotes came back for the third, but our Ducks took a little too long to get back into the game. Not sure if they lost their focus or if they were tired, but it looked like a team that had checked out 20 minutes too early.

One of Anaheim's best defensive highlights occurs when James Wisniewski decides to try his hand between the pipes for a spell. Jiggy is out of position after a puck bounces straight into the air off of him. As it falls back to the painted ice behind our netminder, Wiz is seen flying through the crease to bat the puck safely away. Amazing play, and the fans scream their approval as the replay is shown in glorious slow motion on the big screen.

Jiggy continues with some great saves, but so does ex-Duck Ilya Bryzgalov at the opposite end. Lack of a tight defense forces Jiggy to make some sprawling saves that leave him horribly out of position for rebound bids. It's just a matter of time before the Yotes tie things up.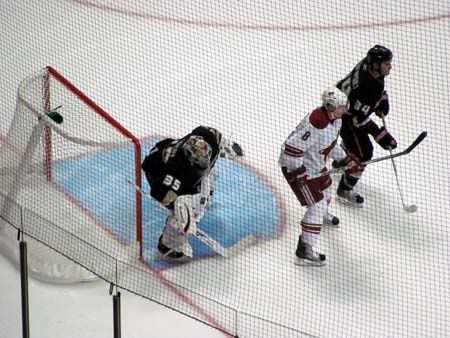 Hey Wiz, don't let guys like Upshall camp out in your goalie's crease!

Running on that momentum, the Yotes continue to come on strong. Unfortunately, the extended space between our Ducks defense and the Yotes top lines that I noticed in the first period comes back to bite us. Lombardi does some skillful skating through the crease, leaving a puck behind Jiggy as the dust settles.



Captains Niedermayer and Doan battling for the puck

Anaheim ends up taking a questionable penalty five minutes later as Teemu and Yotes' Upshall exchange words after a play. Somehow Teemu gets a 2-minute roughing penalty and Upshall skates away with nothing. Tough call for the Ducks, but they manage to kill it and build on that momentum to bring the equalizer with less than two minutes left in regulation.

Corey Perry gets the puck to Nick Boynton who fires at the net from inside the blue line. My boy Bobby Ryan gets his stick on it to tip it in. HUGE goal for the Ducks, and another assist for Perry who has now officially broken Teemu's record for longest franchise point streak.

We take this baby into overtime.

But only a little over one minute into overtime before the Yotes manage to strike first, and steal the two points. It'll be an overtime loss, and a single point, for our Ducks who have one game remaining in this seven-game homestand.