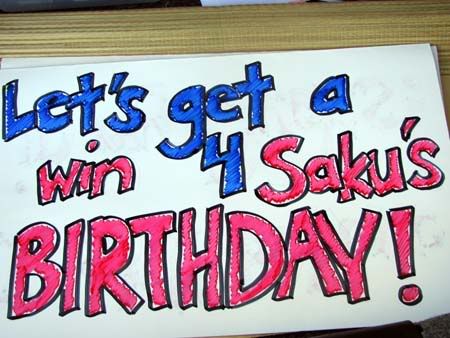 How about it, Ducks?

Based on prior track records for the Calgary Flames here at the Ponda, you'd think our boys would have a good chance at nabbing two points. But this is hockey, and these are our Anaheim Ducks. So you never know.

Yours truly watched Flames captain (and all-around great guy) Jerome Iginla net a hat-trick against the Los Angeles Kings during their last game, and I'm understandably worried. The Flames are playing Miikka Kiprusoff (another personal favorite) in net, while our Ducks will put their faith in J.S. Giguere. Not to take anything away from my Ducks, but I have to give credit where credit is due. Kipper is a huge goaltender, arguably the best in the league currently. To say it'll be tough to get pucks past him is an understatement.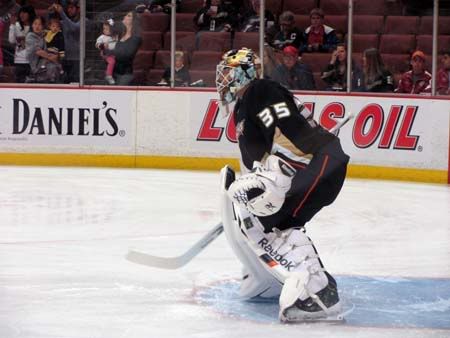 New headgear for Jiggs

One thing is certain, it was set to be a great game from the very start, as most games between Ducks and Flames tend to be.

Our hometown heroes came out looking good. Lots of grinding in the corners put pucks on Ducks' sticks, I'm liking how our boys are winning a majority of their battles along the boards. Strong forechecks and aggressive play sets the stage early on for this game.

An already physical start got even more physical as big George Parros drops gloves with monster Brian McGrattan. This guy is scary. But the fight's a good one, and fans are treated to a relatively equal exchange of punches.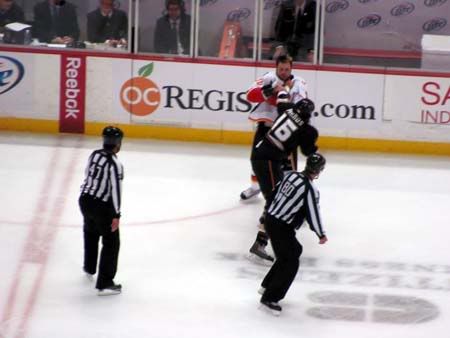 Parros and McGrattan doin' the tango

I'm happy to note that Jiggy is holding his own nicely between the pipes. Of course, it definitely helps when the rest of your team, especially your defense, decides to suit up at the same time you do. But confidence is contagious on the rink, and Jiggy is a big piece of that tonight.

Our boys are on the penalty kill first, with a hooking call on Kyle Calder, and soon after that again, with an unfortunately questionable hooking call on my boy Bobby Ryan. Since Jiggy is the one in net, Ducks penalty killers take a different approach. Hanging back towards the middle of the ice, they allow Jiggy a clean look at the puck at all times. It's been reported that Jiggy prefers his mates stay out of the way through long bids on goal from the offense.

Some goalies want all shots blocked as best as possible, others prefer clean, deflection-less paths between puck and glove.

We do a good job on the penalty kill, but the Flames still net the first goal of the game as ex-Duck Glencross neatly evades d-man Nicky Boynton and challenges Jiggy one-on-one. The puck pops the water bottle and the Flames take the early lead.

But our big line answers back. Ryan Getzlaf pressures the puck away from behind the Flames' net, right to Corey Perry waiting in the slot. He fires the puck towards Kipper, who blocks the shot but leaves a rebound in the crease that Bobby is able to knock into a nearly open net.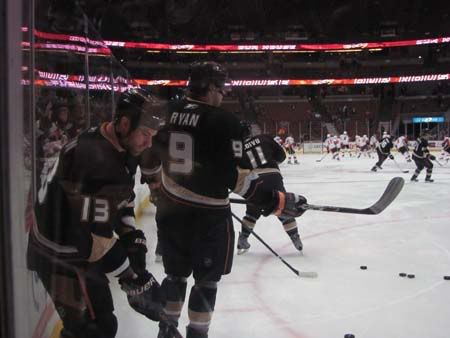 Another goal for the Bobby Ryan goal tally

And again, a Ryan Whitney slap shot from the point (assisted by James Wisniewski from down the blue line) makes it through to the Flames' net. It rebounds off Kipper's shoulder, and Getzlaf is there when it lands to hammer it home.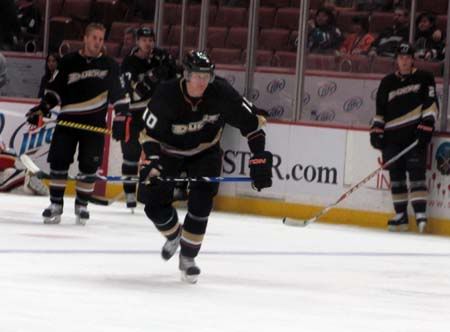 That assist for Perry gives him a 15-game point streak, second longest in franchise history

Joffrey Lupul is still out with back spasms, so coach Carlyle has kept Evgeny Artyukhin on the second line with Teemu Selanne and Saku Koivu. There are some coordination issues still needing to be worked out, guys needing to connect passes and match strides, but those get better with practice. I'm still liking the potential of this second line combo.

The game goes without a goal all the way until the final 18 seconds of the third period. Playing 6-on-5, Iginla comes up big for the equalizer. On one hand, I'm happy our boys all but shut him down for most of the game. On the other, it's just heartbreaking to watch the regulation win slip through our boys' fingers with 18 seconds to go.

The ensuing five minutes of OT go at a draw, and we move to the shootout. Ducks shooters are Perry, Getzy, and Selanne. I still believe Bobby should get the shootout opportunity over Getzy, if anything, because Bobby puts 500% more shots on goal than Getzy does. But tonight, it's Selanne that comes up big with a Finnish finish.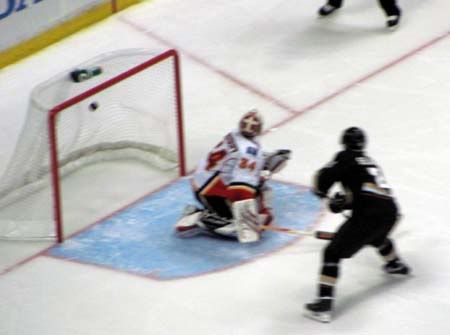 Blurry, but this is the Finnish Flash with the game-winning biscuit in the basket

Win or loss, our boys should be proud of their play tonight. Even better, they have something to show for it in the standings. Two points for our hometown heroes, and yet another reason for the Flames to loathe the Ponda.



Ducks celebrate a win with Jiggy