Judging by the throngs of vocal Shark fans at the Ponda tonight, I'll say that the Sharks-Ducks rivalry is alive and kicking. Lots of empty seats at the Ponda, but lots of noise. Probably one of the noisiest games I've been to this season. Every time chants of "Let's go Sharks" started up, we Duck fans would drown them out with "Let's go Ducks."

Annoying, but I suppose that's the price you pay for living in such a great area: Tons of the opponent's fans in your arena.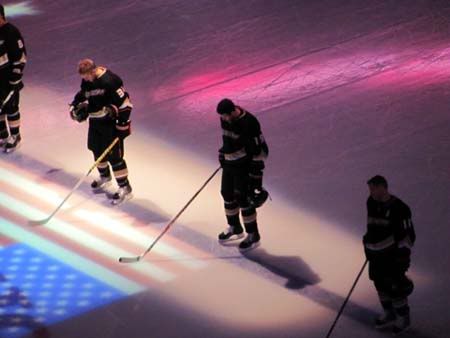 Left to right, James Wisniewski, Ryan Whitney, and Saku Koivu in the starting lineup

Yours truly was incredibly happy to see James Wisniewski and Saku Koivu back out on the ice tonight. Ryan Carter is still out with a fractured foot, and looks to be out now for another four weeks.

The first period opened with some good pressure from our boys. They attacked the crease mercilessly, and put some great shots on Evgeni Nabokov. I'm liking the gritty play by our hometown heroes, and having Wiz back out there with his physical, self-sacrificing play is priceless.

Before there's any points on the board, George Parros goes fist to fist with Frazer McLaren after a big hit on newbee MacGregor Sharp (whose name reminds me of the farmer in those childhood Peter Rabbit tales). It's a good fight for Parros, and a well-earned 5 minutes in the sin bin.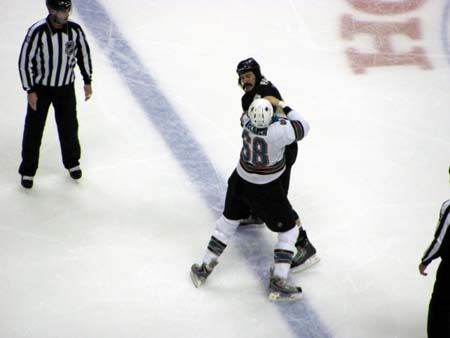 Big George got some good ones in there

Again, I want to point out some excellent play by Nick Boynton at the blue line. Nicky was out there again, blocking shots and keeping Sharks on the perimeter. Petteri Nokeleinen is also worth mentioning, getting his stick into those passing lanes, intercepting passes and otherwise being a nuisance to the opposing team.

The Ducks start off the second period on the power play as my boy Bobby Ryan was tripped up behind the net at the end of the first. Wiz gets our boys on the board first, with a slap shot from the point. Naby had no traffic in front of him, it was a soft goal that should have been stopped.



Ducks celebrate Wiz's first goal of the season

But we'll take it! Ducks 1-0. Sweet goal for Wiz and an assist to Saku... gifts for our boys coming back from injuries.

An interesting new line combo for our Finnish duo, big guy Evgeny Artyukhin joins Saku and Teemu Selanne on the second line. He does have the speed, and I like the fact that Tuuk is a big physical player, a good compliment for our smaller Finns. Maybe Tuuk can add some grit to this line too, as Selanne has needed to step up his physical play in the corners to battle for pucks and Saku still worries me with the way he seems to get thrown around like a ragdoll on the ice.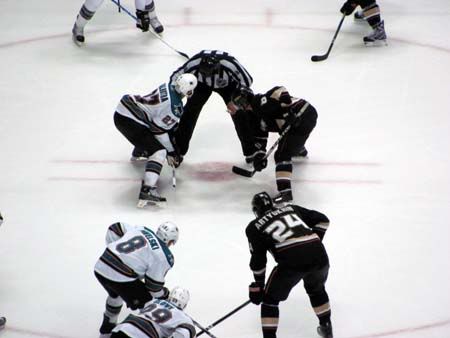 Evgeny Artyukhin: "You hit Finn, I hit you."

Looking forward to seeing what this line manages to do.

Kudos to the Ducks for staying disciplined through such a physical game. Penalties were at a minimum, although there was a dumb crosschecking penalty to Ryan Whitney. Sharks spent more time in the box than our Ducks. On this unfortunate penalty, the Sharks would pull ahead with their second goal of the night.

Whitney redeemed himself, however, with the second Duck goal. Our Ducks were blessed by over a minute of 5-on-3. After a smash of bodies goes down in front of the Shark net and leaves both Bobby and Naby down on the ice, the puck squirts back to Whitney who unleashes a one-timer top shelf over both Bobby, who's practically curled up in the fetal position awaiting a potential puck hit, and Naby. Great shot, and crucial considering it evens things up for our boys as we go into the second intermission.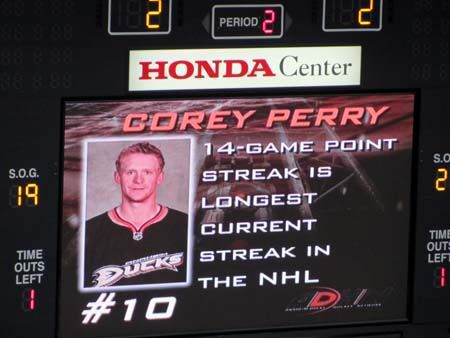 Perry is red-hot right now

Sharks would pull a lead with a third goal seconds after their power play expires. During that penalty kill, Todd Marchant had one killer of a chance to pull the Ducks into a lead with a shorthanded goal. He had Naby down and just couldn't angle that puck into the net.

The defeated attempt seemed to take the air out of our Ducks' sails. The rest of the period had a very lackluster feel, Ducks not skating enough in the offensive zone, Sharks content to defend. It was frustrating to watch, and even more frustrating to hear with all of those screaming Sharks fans in the Ponda.



Guppies swimming in formation

Our boys played well. I liked seeing all the shots taken by our blueliners at this game, hope the trend continues. Both of our goals came from d-men. I just wish our boys could have been rewarded with at least one point...

Hopefully better luck against Calgary on Monday!