The theme for this season's "Meet the Team" event was Tuesday Fight Night.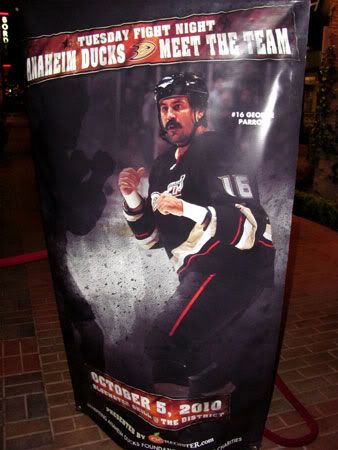 It was advertised as an opportunity to challenge your favorite Ducks players to a game of wii boxing, with cocktails and dinner at the Bluewater Grill as the background. At first, I wasn't too sure about attending the event. I mean, the price tag wasn't small (but it went to charity), and if the theme was going to be videogames, how much time would you really get to talk to the players?

I was doubtful but in the end, I'm so glad I went!

As we entered, staffers for the Anaheim Ducks Foundation gave VIP guests special wristbands and asked us if we wanted to enter our names to challenge a Duck. I shrugged. Never played the game before, but hey, whatever. I wrote my name on a ticket, dropped it into the box, and forgot about it.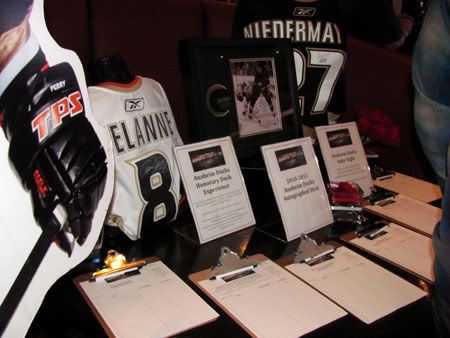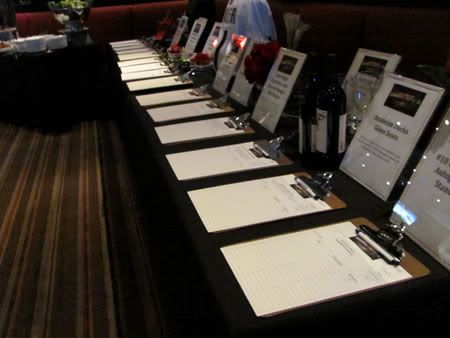 Special prizes and opportunities up for silent auction

There were elegant spreads of food set up inside the restaurant including an all-inclusive salad bar, seafood bar with oyster shooters and jumbo shrimp cocktail, and a drink bar with a listing of complementary spirits. Towards the back of the restaurant, a set up of four television screens with wii consoles was roped off within a makeshift boxing ring.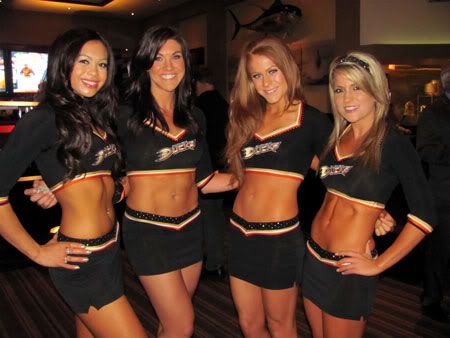 Ice girls pose for a group shot

The players clustered in the very rear of the restaurant, in a VIP area. Fans gathered here to talk to the players, take pictures, and get autographs. There was another television setup back here too, with a UFC game that the boys were challenging each other to.

I whipped out my camera and went to work.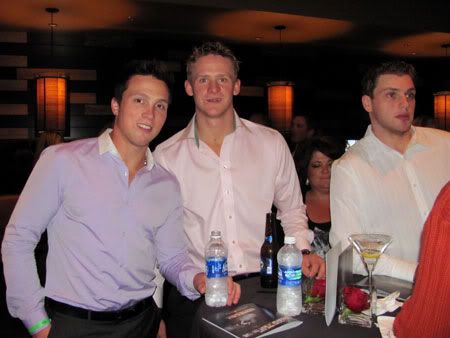 Matt Beleskey, Corey Perry, and Bobby Ryan (who wasn't paying attention)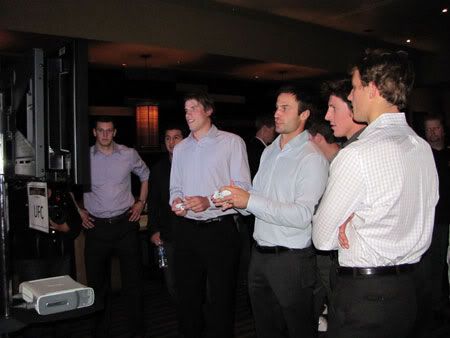 Troy Bodie and Kyle Chipchura trying to wrestle each other while Brendan Mikkleson, Ryan Carter, and Cam Fowler watch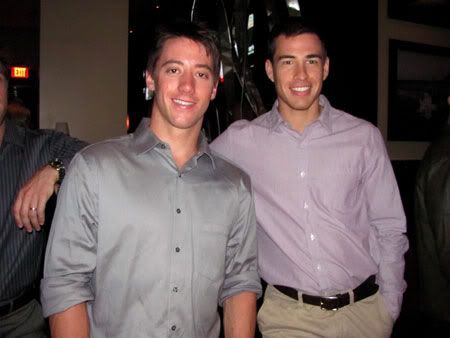 Dan Sexton and Curtis McElhinney

After about an hour of mingling, Kent French started the night up with introductions and a brief rundown of how the night was going to go in regards to the wii boxing.



Frenchie explaining the rules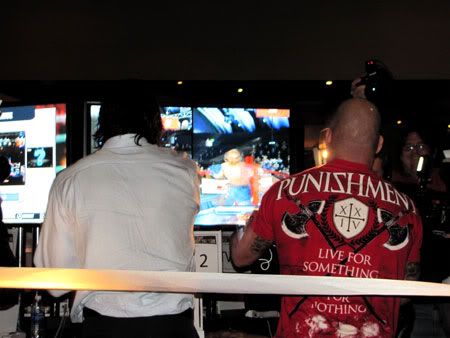 George Parros and UFC champ Tito Ortiz would start the festivities off with a one-on-one round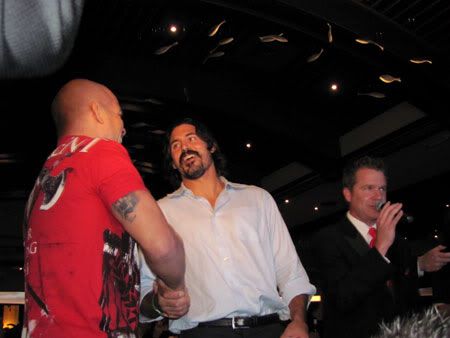 The match would end as a draw

The rest of the matches would be done tournament style, with various Duck players challenging guests whose names were being drawn from the box. Winners of each match in the first round would go one to challenge each other in the second round, and so on until an ultimate champion was crowned.

Four Ducks players (Bobby Ryan, Teemu Selanne, George Parros, and Ryan Getzlaf) would not fight until the third round, when matches against them would be auctioned off to the highest bidder. Winners of these rounds would play winners going into the fourth round.

I froze when I heard my name called, and I waited to hear which Duck player I'd be fighting. Luca Sbisa. I'd just spoken to Luca earlier that night, when I showed him his rookie card. I went up to the "ring" and got a crash course on how to use the wii controllers.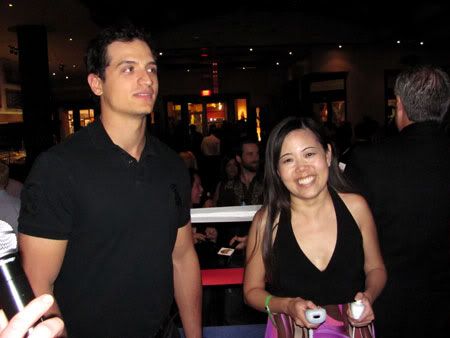 Luca: Hey, I thought you said you don't play.
Me: I don't. This will be my first time!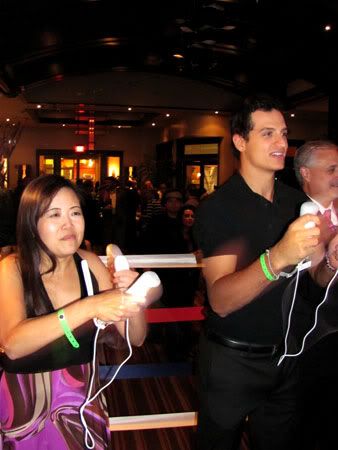 It was a valiant fight, but in the end, I took down Sbisa!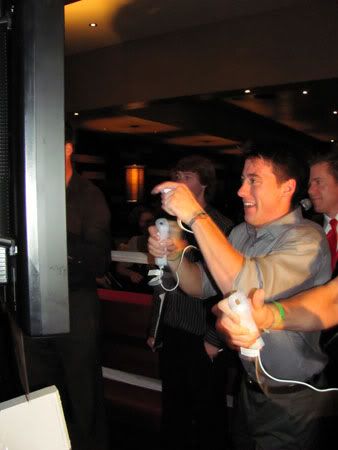 Dan Sexton's fists were a blur as he pummeled his opponent

I went to grab some food before the second round started. The players were talkative, it seems the game environment brought everyone out of their shells. Bobby told me he was going to be an auctioned fight even though he had no idea how to play the game; Lubomir Visnovksy explained that he wasn't a video game kind of guy, "If I have spare time, I want to go outside or do something not in front of the tv!"; and Curtis McElhinney agreed with me that he missed the days of two-button video game controllers.



My second round opponent was none other than Kyle Chipchura who, according to the guys, practices this game at home

He beat me. Afterwards, he explained what the stats on the finishing screen meant. He pointed out that I actually threw 120-something punches and landed more of them than he had on me, "but somehow I won anyway," he said. "My punches were probably just taps," I laughed.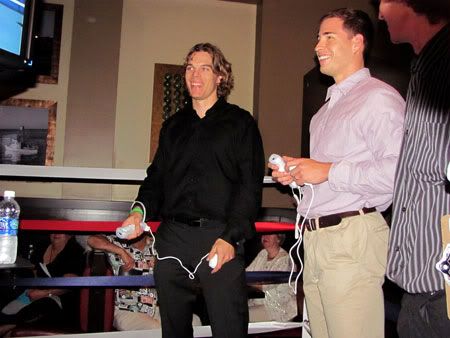 Round 2 also matched up goalies Jonas Hiller and Curtis "2-button" McElhinney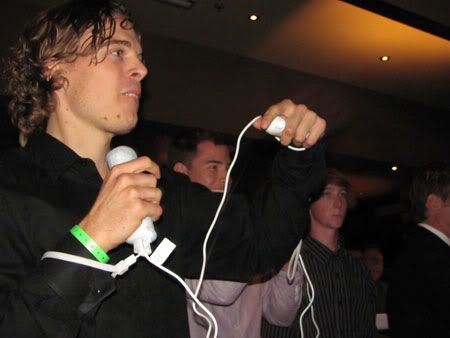 Hiller trying to land some big hits, but inevitably losing to McElhinney

Next came the auctioned fights.



Bobby Ryan vs his highest bidder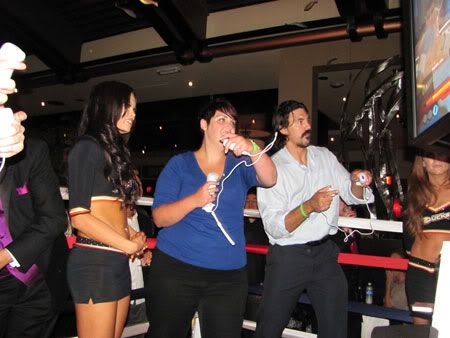 George Parros vs his highest bidder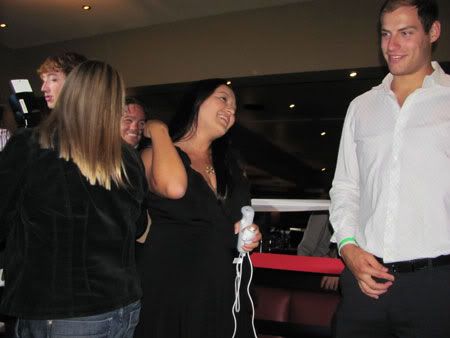 Ryan Getzlaf lost to his highest bidder...



... as did Teemu Selanne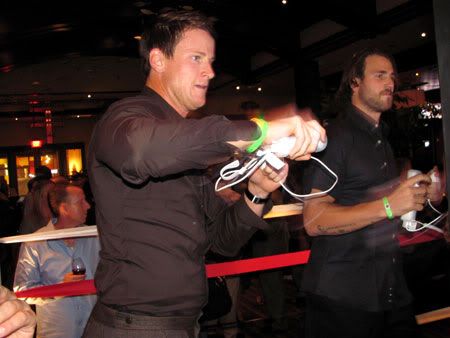 Andy Sutton, who fought and won against Aaron Voros, had to be given a towel for breaking more than just a little sweat. "I'll never be able to wear these pants again," he remarked



Bobby Ryan vs Kyle Chipchura

In the end, Chipchura came up the ultimate champion. But I think everyone who attended this amazing event came up a winner. All of the guys looked like they had a great time. I can't speak for every guest, but it was definitely a unique way to hang out with your favorite Duck players. Kudos to the Anaheim Ducks Foundation for a smashing success!



At least I can say I lost to the champ!