It was a gloomy day in Irvine, but grey clouds and a bleary sky couldn't keep Ducks fans away from the 949 Roller Hockey Center. The Rinks Tour Speaker Series was something that the Anaheim Ducks started last season. Featuring Ducks players, the tour travels to various local hockey inline and ice rinks, giving hockey youth an opportunity to listen to players discuss various hockey topics, followed by a Q&A session, and photograph/autograph opportunity.

I don't play hockey, but I wasn't alone as a hockey fan just wanting to hear what Bobby Ryan and Kyle Chipchura had to say.



Waiting for the boys to arrive



Yay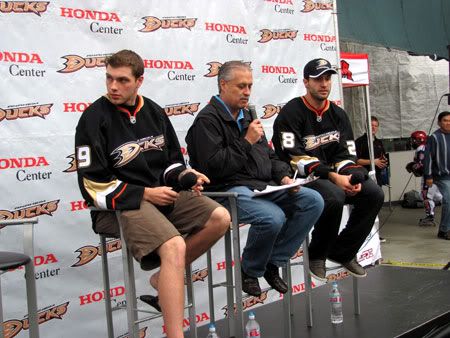 Bobby realizing his mic doesn't work



Steve Carroll mediating and asking questions

(Writer's note: dialogue is grossly approximated. I didn't have a recorder to allow me to transcribe.)



Q: When did you start playing hockey?
Bobby: As soon as I could walk, age three-and-a-half.
Chippy: Four.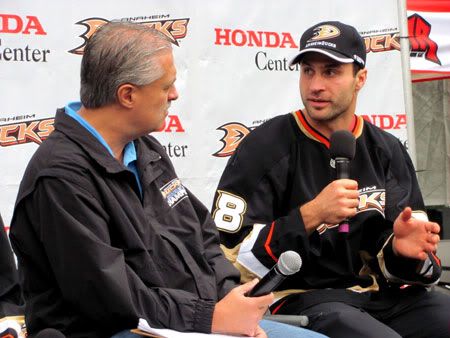 Chippy talked about the differences between playing hockey in Montreal, where hockey is a religion, and Southern California

I've said it before, and I'll say it agagin. Most people in SoCali wouldn't recognize a hockey puck if they saw one.



Q: Who's the hardest goalie to score on?
Chippy: Martin Brodeur



Bobby: Brodeur is hard, but I've scored on him. Luongo for me.
Fan: And you got the game-winning goal on him last night!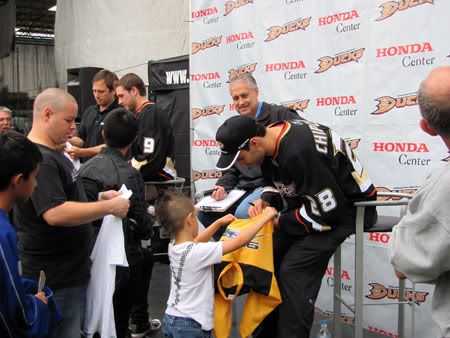 After the session, fans could get pictures and autographs

Stay tuned to the Ducks official website for more information on future Rinks Tour stops: http://ducks.nhl.com/club/news.htm?id=540335