If you haven't already come across John Meyer and his internet project to adopt an NHL team, where have you been?

Seriously though, John has been featured on NHL.com and has had mentions on other various internet sports pages. Basically, he's asking hockey fans to pick a team for him to follow. Their votes are tallied via Twitter tweets, facebook likes, blog comments, and YouTube messages from now until the end of the year. His official "favorite" team will be determined as the new year begins.

Yours truly was fortuitously invited to partake in John's adventure by offering up an article describing what it means to be an Anaheim Ducks fan. I mean, all team performance inconsistencies aside, we Duck fans know why we love our team and why we'll put up with the emotional rollercoaster our beloved puts us through every season, but why should a hockey newbee consider joining our ranks?

The following is the cross-post of what I contributed to John's site:

Why be an Anaheim Ducks fan?
--by Ducks54


"I don't know why you like watching that sport, it's so violent!"
I was sitting in my parents' living room, taking advantage of their 55-inch flatscreen HDTV. After all, my Anaheim Ducks don't look quite as good at my house, on my fuzzy 27-inch CRT, even when they're kicking the butts of their latest opponent. My mother's random anti-hockey comments are a small price to pay.
Being a hockey fan in Southern California is already hard enough. We're used to having to scour the internet for news about our favorite teams and players. The usual sports shows never cover hockey, unless Patrick Kane beats up another cabbie. We put up with ridicule from our friends whose cars are plastered with Lakers and Chargers stickers. Southern California boasts warm, sunny weather even during the winter months... much of which its residents would rather be taking part in, instead of spending a beautiful evening indoors at a chilly ice hockey rink.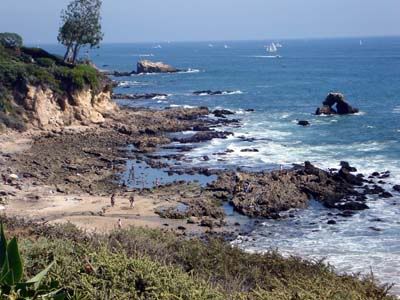 If this was your backyard, you might think twice about heading to the rink too!
The market is small here. Overshadowed by Hollywood actors/actresses, larger-than-life celebrity athletes, and unrealistic image stereotypes, hockey doesn't get a lot of attention. Neither do its players, both young and veteran.
But you see, I believe it's this lack of overt attention that creates a wonderful dynamic between the Anaheim Ducks organization and its fans. The players don't get recognized on the street... they can walk around in public and live otherwise ordinary lives. I've often said people in Southern California don't recognize a hockey
puck
, more or less a hockey
player
.
Those people who DO happen to recognize a player, are usually rewarded by a very humble and grateful athlete, whose warm grin is genuine and appreciative. I can't speak for all Southern Californian hockey teams and players, but my Ducks have been nothing but the most classy of guys in person. I believe they realize that their fans could be doing a number of different things besides following hockey. We could be spending our money on a plethora of other hobbies and interests besides hockey games. The fact that we are here and we support our boys means more to them than it would to other teams.
"Anaheim Ducks GOOOAAAALLLL!!!"
Our Ducks have given us a lot for our patronage. There's a bit of an East Coast bias within the NHL, so even the more experienced non-Californian hockey fan might not know much about what our Ducks have achieved. We've enjoyed playoff games for the last four consecutive seasons, including a visit by Lord Stanley's Holy Grail. We've been blessed to have some of the best NHL athletes to ever play the sport skate regularly on our home ice. Teemu Selanne, Scott Niedermayer, Chris Pronger... future Hall of Famers that have changed the face of the sport. We've enjoyed the contributions that the Anaheim Ducks organization has made to local charities and communities, including programs to grow the sport amongst Southern Californian youth. But primarily, we've been given the opportunity to become fans of the best game around.
We've been given a team to believe in, for a sport we've come to love.
Becoming a Ducks fan is like being welcomed into a large family of people who realize how special the sport and its players are. Your friends and family might find it odd that you've grown enamored with such an unlikely hobby, but your Ducks family understands! We've gathered in groups online, at watch parties, and at games to make the hockey experience that much more special. I have to say I've met some life-friends through my Ducks, people whose friendships extend well beyond the rink. I've discovered that not all athletes are egotistical, arrogant celebrity types. I know what it feels like to root for the underdog, and to gloat at the naysayers when they've been proven wrong. I'm an Anaheim Ducks fan, and proud of it!
Here's where you, fellow Duck fans, come in. Go to John's site and vote for your Anaheim Ducks. Post a comment
here
. Or tweet @johntmeyer and tell him in 140 characters or less why he should be a Ducks fan. We're in first place right now, and that feels pretty darn good. (Ducks fans know why)
You can even tell him Ducks54 sent ya.
Go Ducks!!