"ILYAAAAAAAAAA!!!!!!!!"

Ah, the sounds of a hockey game. The fan in front of me was busy heckling Coyotes' goalie Ilya Bryzgalov before puck drop. Not that a little heckling ever hurt anyone, but Bryz has had quite a run with the Yotes this season. He's up in the top five in the league as far as goalies go, and as an ex-Duck, I couldn't be happier for him.

Well, maybe I could be if we still had him in a Ducks sweater.

No matter, I love our goalies plenty. It was going to be Jonas Hiller in net, and that's comforting considering Hiller's record against the Coyotes. But tonight, everyone was going to have to step up. Ducks need every two points they can scrape together, especially against fellow Pacific Division foes.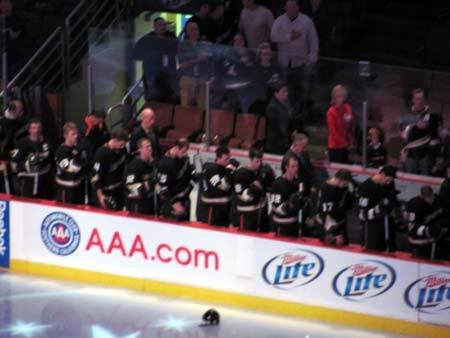 Hiller was caught smiling during the anthem. Perhaps he saw Kyle Chipchurra's helmet hit the ice

I'm happy to see our boys skating well in the first, with a number of shots on goal, however nothing getting past Bryz despite back-to-back power plays. The Coyotes are looking just a bit sharper than our Ducks, fighting just a bit harder for those pucks, but they too can't capitalize on their power plays.

There's a change to the Coyote big line. Matthew Lombardi and Scottie Upshall are still there, but the third forward position is now being filled by Shane Doan. As if there was any way of making that deadly line even deadlier!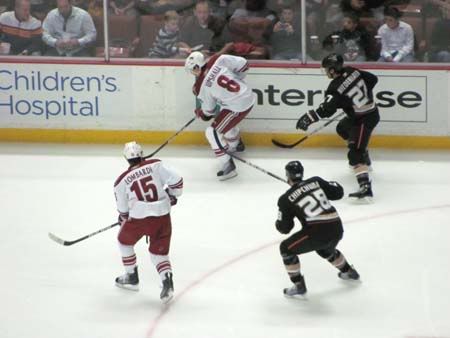 Captain Scott Niedermayer and Chipchurra attempting to shut down Lombardi and Upshall

The first goal of the game goes to Anaheim, as Mike Brown is able to be Johnny-On-the-Spot for a Petteri Nokeleinen bid that's saved by Bryz's blocker. The rebound lands in the slot and Mikey is there to chip it over the goalie's leg pads.



Mikey with the first goal

Something that has bothered me about our hometown heroes' play, and still bothers me. Why do our Ducks take so much time clearing the puck? The penalty kill has picked up tremendously, but when we aren't on the PK, I notice guys continually shooting behind the home net. Why? WHY??

Going into the second, Hiller has come up phenomenally, keeping the game 1-0. But eventually, Doan slams one home and evens up the score.

Less than a minute later, Chimichanga receives a feed from Matt Belesky at the point, and he beats Bryz point-blank with a nice backhander.



The boys celebrate Chimi's first as a Duck

By the way, big props to Belesky, who is looking awesome in this game. He's got some big physical play with strong hits and forechecks. Keep it up, Matt!

Then, the Yotes' Ed Jovanovski gets a penalty for holding. Our boys achieve some sweet tape-to-tape passing, eventually getting the puck to Getzy on the left wing, who walks it in and fires, beating Bryz short-side.

Ducks take their 3-1 lead into the second intermission.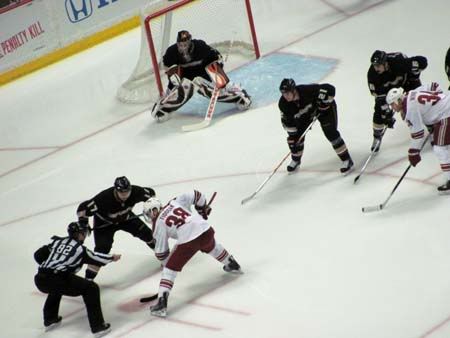 If anyone thought Dan Sexton's skills were just a flash in the pan, they haven't actually seen this boy skate. He has a way of finding open ice. And he does it with such speed that he's almost always able to get a shot off. His shots on goal numbers are amazing, and his pucks are like homing rockets... never missing by much.
Early in the third, Ducks make a crucial mistake. A turnover in the defensive zone ends up behind Hiller, and the Yotes close the gap to one goal.

Not that we've let up offensively, Bryz has just stepped up and made a number of awesome saves of his own. It's like a battle of the goalies!

But then, the Yotes start getting desperate and start taking penalties. Jovo in the box once, twice, three times...

And on that third time, it would be my boy Bobby Ryan who would net a goal with only 20 seconds left in regulation, a beautiful tip-in from in front of the crease.



Jovo, #55, should've been awarded one of the Ducks three stars, two of his penalties led to power play goals for our boys

It's a great game for Ducks fans, without a single point going to the losing Pacific Division team. Wish we'd see more of these!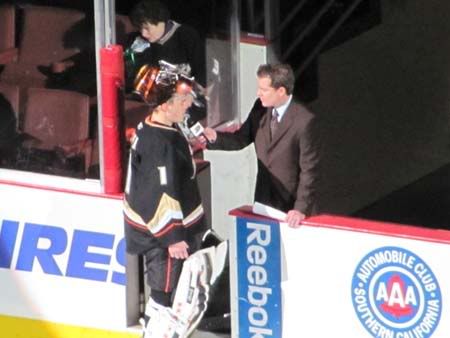 Well-deserved, Hiller gets the first star of the game