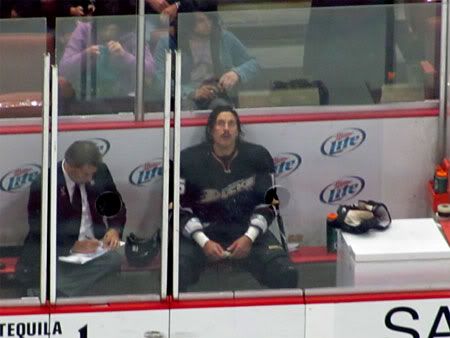 Not just another day at the office for George

This was a great game. Period.

And not because there were big names involved or because it was a special giveaway night at the Ponda. Most people might have passed on tonight's game because it was a random Wednesday night, against a random East Conference team that doesn't generate a huge following.

But for those Duck faithful who came out, we were treated to a fun, raucous game capped off with a Ducks win. You really had to be there.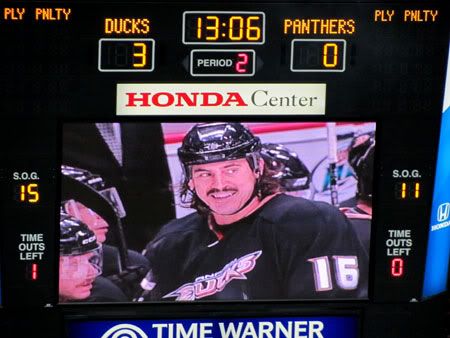 Man of the hour, George Parros, grinning big in his new role of goal scorer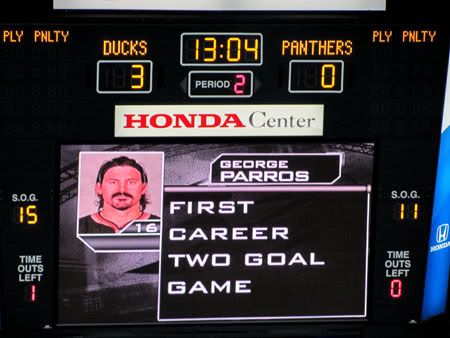 The Ducks enforcer scored two goals in tonight's contest, with a tussle against Darcy Hordichuk thrown in between

Padded with some nice goals from our big line, we Duck fans didn't have to sweat it out too badly. I mean, if anyone knows how quickly and painfully a lead can be lost, it's Duck fans.



High-fives at the bench after Getzlaf's goal

But with the last 15 minutes or so of the game, the minimal crowd at the Ponda got louder and louder. People screamed every time Parros took the ice. Murmurs of "Hatty" and "One more for Georgie" buzzed through the air.

Best of all, you could tell the big man and everyone on the Ducks bench were absolutely loving it. So glad Georgie could do this one at home, where the home fans could really make it special for him.



Bobby Ryan sealed the deal with an empty netter dug out from underneath the Panther defender

In the end, there would be no hatty for George, but there would be two points for the Ducks.



The boys celebrate the victory with Jonas Hiller