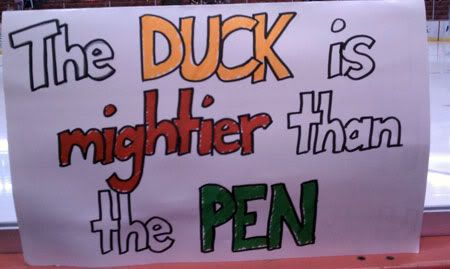 At least for tonight, I certainly hoped so!

I understand that the 2009 Stanley Cup champions, the Pittsburgh Penguins, would be playing only one West Coast game this season. Unfortunately for Duck fans, it was at our Ponda.

Not that we don't appreciate having Sidney Crosby and Evgeni Malkin in our building, quite the contrary. Personally, I was looking forward to seeing Malkin on the ice live, as he had suffered an injury prior to last season's contest and didn't swim with the rest of the Pens at the Ponda. But since we'd be the only West Coast stop on the itinerary, every friggin' Penguin fan in California showed up at the game.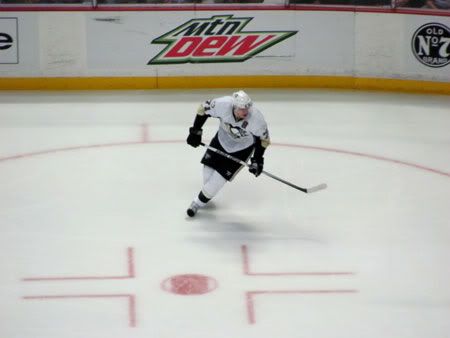 Evgeni Malkin, one half of Pittsburgh's dynamic duo



Lubomir Visnovsky playfully teasing fans during warmups

I honestly believe we Duck fans were outnumbered. It definitely sounded like it; the cheering post-Pen goal seemed to be much louder than the cheering post-Duck goal.

Thankfully, there were fewer Pen goals than Duck goals.

On the bright side, our boys showed up ready to rock. They gave us something to cheer for, we could be damn proud of the team that took the ice that night.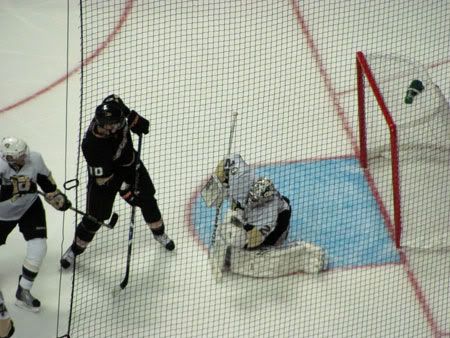 Corey Perry trying to deflect a shot past goaltender Marc-Andre Fleury

With the first period ending with zeros on the scoreboard and SOG slightly favoring the Ducks (7-5), you could feel the tension in the air. I knew that whoever scored that first goal was going to blow this game wide open for his team.

Who else would that player be but Bobby Ryan?

Opening the floodgates, Bobby's goal was followed by one from Ryan Getzlaf and one more from Saku Koivu before the end of the second.



The boys celebrate after Getzy's goal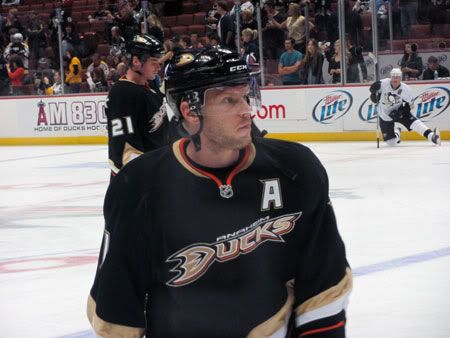 Saku ended a scoring drought after having started the season with two goals in as many games



Teemu Selanne assisted on Saku's goal

Non-expert game observations:
- It's good to see Cam Fowler back out there again. A testament to his skills, we could say he's one of our top defensemen. Although, that's not exactly a compliment to our other defensemen...
- The game was a very physical one overall, but Bobby in particular dished out some major hits. Check out this one for the highlight reel. The clip was shown repeatedly on the jumbotron, and we fans ate it up.



- This was Teemu Selanne's 1200th NHL game. The Finnish Flash looked spectacular, doing everything except getting a goal. Personally, I would have loved to see his efforts rewarded.
- I was also hoping for more rookie magic. Nick Bonino and Kyle Palmieri were back out on their line with veteran Todd Marchant.




- I've always liked Palmieri and was excited to see him pot his first NHL goal in the previous Ducks game. It would have been nice to see him get his second before Matt Beleskey and Dan Sexton come back from IR.
- Jonas Hiller was sensational tonight. He left a number of rebounds, but his mates were good about cleaning those up. I still believe we rely a little too heavily on Hiller night after night, but as long as he's still looking strong out there, hopefully we have time to improve.



Sidney Crosby, the other half of that dynamic duo

Pens would get on the board twice at the hands of Captain Sid, but our Ducks clung to their lead through the third period. There was so much energy in that final period. Players pushed themselves to the limit, fans held their breath between bouts of screaming.

Heck, it was like playoff hockey! Our boys fought hard and they EARNED their win, the first consecutive win this season. And it was worth being there for every thrilling moment.



Ducks celebrate their hard-fought win with Jonas Hiller

Let's get number three, boys, this Sunday against the Nashville Predators.