Walking through the Ponda parking lot before tonight's contest between the Ducks and the Lightning, I felt a different energy in the air. Something seemed off. Maybe it was the fact that it had been almost two weeks since we'd seen our boys here at home. Maybe it was the fact that our boys haven't seen a win since they left.

Actually, I think it was the ominous silence that engulfed the sparse hockey audience as they entered the Ponda. This didn't look or sound like nearly enough crowd one hour before puck drop.



Way too many empty seats at the Ponda for my liking

It was the sound of a hockey team needing to string a few wins together, needing to claw their way up from dead last in their conference. It was the sound of faith desperately needing renewal, and fans asking their team to come through.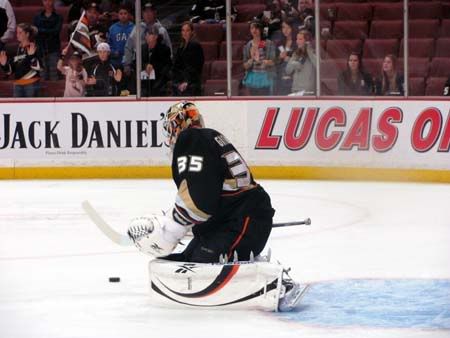 "One game, one win, your whole perspective can change and you move forward with confidence."--J.S. Giguere

Our hometown heroes started the game off with good speed and energy. The Lightning answered in similar fashion. There were some new jerseys on the ice. With Saku Koivu and Ryan Carter officially placed on the Injured Reserve, ex-King Kyle Calder played alongside Joffrey Lupul and Teemu Selanne, and MacGregor Sharp saw his first NHL ice on the energy line with Mike Brown and George Parros.

Yours truly didn't note any remarkable play involving the new line additions, and is still feeling the loss of Saku and Carts. Neither guy puts up huge points on the scoreboard, but they do those little things that help energize other guys to get points. We need them back!

First goal of the game went to Anaheim, right as a power play expired. A pressured Corey Perry sends the puck up along the left wing to Ryan Getzlaf who, seeing a relatively open Teemu Selanne across the slot, quickly passes it between the feet of a defender and Teemu converts it past Lightning netminder Mike Smith.



That assist will extend Perry's point streak to a league-high 13 games

Minutes after the first goal, James Wisniewski would take a slap shot off the top of the foot. Hobbling back to the Ducks' bench, fans watched Wiz as he grimaced and writhed in pain. Wiz never did return to the ice, but luckily, the foot isn't broken.

Ducks would take a 2-0 lead to the locker room after the first period. The same pieces would be in play for the second goal. Perry, once again sending the puck up along the left wing, this time to Teemu who lifts it through the slot in a beautiful aerial pass to Getzlaf in front of the crease. Getzy pops that puck deftly over Smith's left leg pad.

Wiz's absence requires our remaining defensemen to take up some extra minutes. One guy really stood out tonight. Nick Boynton proved himself very useful, especially on the penalty kill. Nicky pushed Lightning forwards to the perimeter, stripped pucks away and into the corners, and blocked a number of shots. I'm really liking him paired up with the Captain as well.



Nick Boynton, becoming an asset



Trying to change the momentum of the game, Zenon Kenopka picks a fight with Mike Brown

Another moment of breathholding sent our boys on a 4-minute power play. My boy Bobby Ryan would take a high stick to the right eye, leaving enough blood to warrant the double minor. Unable to capitalize on the first power play, Bobby himself would make good on the second, catching a pass from Lupul. Going one on one with Smith, Bobby lifts it short-side. Ducks are looking at a nice 3-0 lead.

Shortly thereafter, I'm not sure what happened, but Jonas Hiller disappeared to the bathroom or something and didn't tell anyone. A minute later, the scoreboard read 3-2, and Steve Stamkos would net himself the highlight reel goal of the night by batting in his own rebound from his back as he careened past the crease.

Luckily, Hiller returns and continues an otherwise spotless display of stellar netminding.

Unlike games past, our boys did a good job at trying to keep the penalties to a minimum. Didn't see quite as many dumb penalties. There was, however, a considerable lack of energy from our boys during the third period. Why they can't show up for a full 60 minutes is beyond me. The Lightning would tie things up and force the game into overtime.

Luckily, the nailbiting would continue for only about a minute more, thanks to an ill-timed cross-checking penalty against the Lightning. Known to excel in short-man scenarios, Scotty Niedermayer would come up big in this 4-against-3, slapping in the game winner from the blue line and giving his team two much needed points.

Additional nods to Bobby for generating a number of penalties from the Lightning; Brendan Mikkleson for playing with more confidence than I've seen him thus far; and Petteri Nokeleinen for some excellent rushes and shots on goal.



Ducks celebrate a much-needed win

Good job, boys. Enjoy your win and get ready to do it again this Saturday, against your old friends, the San Jose Sharks.