You could have just called this game, "Bobby, Bobby, Bobby!" and I'm not just saying that because he's my Bobby Ryan. But Bobby, with the help of rookie Dan Sexton, led our Ducks to a 3-2 win at the Ponda against the Phoenix Coyotes for their debut preseason game last night. Bobby scored all three goals, Sexton drew assists on the first two, and the third was done in the shootout. Joffrey Lupul, back at the Ponda for the first time in a Ducks sweater since being traded for Chris Pronger three years ago, would get another puck past Yotes' netminder Jason LaBarbera.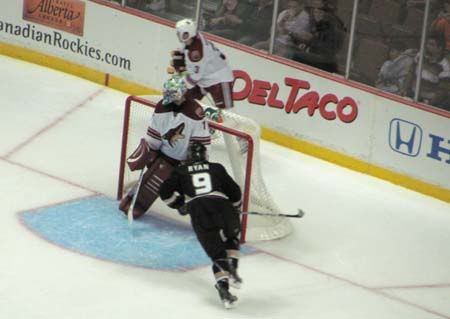 Can I get some more Bobby Ryan?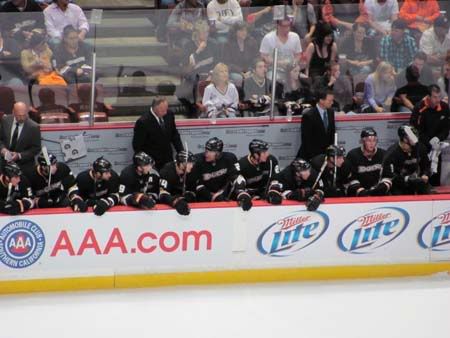 Ducks at the home bench



Coyotes at the visitor's bench

A win was a great way to mark the end of a long off-season for Duck fans. Considering how many of these fans had shown up for rookie camp and training camp, the above average attendance for a preseason game was no surprise. It isn't just the players who've been itching to get back into hockey mode.

Yours truly had never before been to a preseason game, so I'm going by word of mouth, but there were enough fans in the stands to get rousing cheers of "Let's go Ducks!" and "Bobby! Bobby! Bobby!" circulating at various times during the game.

I was more than ready to see my Bobby back out on Ponda ice. But I also wanted to get a glimpse of Timo Pielmeier, who had looked awesome between the pipes in training camp. Timo didn't disappoint. He let in only one goal for his 1.5 periods between the pipes, and kept both Coyotes' shootout attempts from scoring.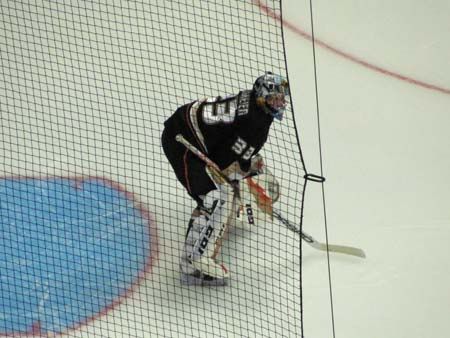 "Timo" sounds a lot like "Teemu", and "Pielmeier" is just too long to yell at games. I'll have to find an alternate nickname for him.

And of course, no slight to Jonas Hiller, who I was also excited to see back in the Ponda crease. Hiller had last been there during the incredible game six of the Ducks vs. Red Wings playoff series, and he'd done everything except stand on his head to push his team to a game seven back at The Joe.



Hillsy, Sheldon Brookbank, and Phoenix Coyotes' Daniel Winnik

A few more observations of interest:
- Steve Eminger, who had looked good in training camp, also showed his stuff against the Yotes.
- Evgeny Artyukhin is quickly becoming a favorite of mine. I love watching the big man out on the ice. You'd be surprised how fast he actually is. He even found himself on a two-man breakaway, but wasn't able to complete the pass and shoot on the net.
- Peter Holland, the Ducks first round draft pick earlier in the year, looked very promising.
- A hint to coach Randy Carlyle: How about putting Danny [Sexton] and Bobby on a line for tertiary scoring?
- Mike Brown came back with a vengeance. He delivered hit after delicious hit, garnering cheers from the crowd every time.
- Troy Bodie dropped gloves for the first of two fights for the night (the other engaged Sheldon Brookbank), and did very well holding his own.
- Luca Sbisa continues to impress. He has the grit of a true Duck with awesome puck-moving capabilities. And to think, he's only 19 and destined to get even better.



Ducks celebrate their first preseason win with Timo Pielmeier

Our Ducks are looking good! I'm hoping Teemu, Saku, and Scotty and the boys can put us 2 for 2 tonight against the Vancouver Canucks. Let's go Ducks!!