"Hey Pavel, you better tell him! You're gonna get it too!"--Corey Perry

The above is one of my favorite quotes ever caught on tape, during a game against the Detroit Red Wings in which Perry was mic'ed up. And indeed, it held true in tonight's contest between our hometown heroes and those nasty Wings as Pavel Datsyuk was made a non-factor.

Just for clarification, I don't hate the Red Wings. They've got plenty of talented players who do good things for the sport. Rather, it's the throngs of obnoxious Red Wing FANS that show up at the Ponda whenever this team is in town.



Wayyy too many red jerseys for my taste...

Who I am happy to see back on the ice is Ryan Getzlaf. Getzy does a lot of everything, but I'm sure there's also a huge psychological effect on the rest of the team just having their big offensive leader back. You could feel the momentum swing as the game started up.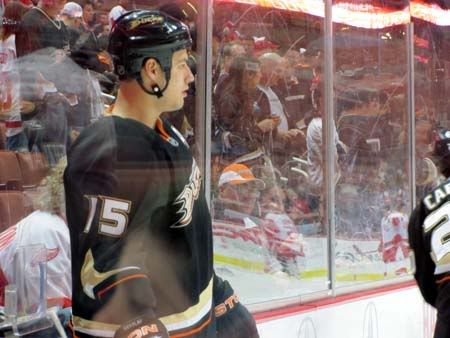 Sight for sore eyes: Getzy's back!

The Red Wings came out of the gates, guns ablazing. Ducks defense allowed too much space between themselves and the Wings' offense, and I was not happy with the lack of pressure on the puck. What happened to our forechecking skills?

Early on, Getzy took a dumb penalty in the neutral zone. Slashing, I believe it was. During the ensuing penalty kill, Saku Koivu capitalized on a Bertuzzi turnover and he raced down the ice with Rafalski on his heels. Excellent stick handling and puck protection by Saku led to a shot on Detroit netminder Jimmy Howard. Veteran wisdom kept Saku on the inside of Rafalski, just long enough to whack at the rebound off Howard, and send it into the net.



A beautiful short-hander gives Saku his 9th for the season, 200th for his NHL career, and a turning point for his team

After that goal and the remainder of Getzlaf's penalty was killed off, our boys came with a vengeance. The big line, now consisting of Getzy, Corey Perry, and rookie Matt Belesky (who I've already been impressed with), got one, two, three shots on goal... and one goes in.

It was a perfect setup, with Brett Festerling quickly passing the puck along the blue line to Sheldon Brookbank, who one-times it toward the net. The puck narrowly missed the post and then rebounded off the boards straight back out to Belesky, who pushed it between Howard's foot and the goalpost short-side.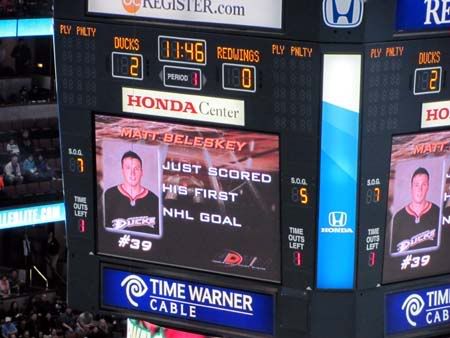 Ironic that Matt's first NHL goal would follow almost exactly two minutes after Saku's 200th

Yours truly is extremely happy to see this young man get his due with a goal. Take every advantage that you're on a line with Getz and Pears, Matt... plenty to learn from these boys.

From then on, our hometown heroes continued to play well. There was great puck possession, dominance in the faceoff circle, and successful battles fought in the corners. Ducks stayed physical and the hits kept coming. In short, our boys looked like a new team. Controlled, confident, dangerous.



Let's round out a good period with a tussle between Troy Bodie (who's already sporting a shiner courtesy of Blackhawks' Dustin Byfuglien) and Doug Janik

And the best part about going into the first intermission 2-0 on these Wings?? The fact that the otherwise obnoxious Wing fans at the Ponda have had the wind taken out of their sails.



Another phenomenal game for Jonas Hiller, who would get a nice W to show for it

There were no goals scored by either team during the second period, our boys came less aggressively, but still held strong defensively. Yours truly got to move closer to the ice courtesy of some awesome Duck friends who let me know there were a few open seats near them. The game is seriously faster when you're closer to the ice. You can appreciate the speed and the angles that our boys have to deal with, and how physical the game really is, especially against two gritty teams. It's harder to watch the game as a whole, but it's an incredible experience in its own way.

Kudos to Todd Marchant for putting in a most valiant effort tonight. He was out there, forcing turnovers, stealing pucks, and heading a strong PK unit. Every time something favorable happened with the puck, Marchant was in the middle of it.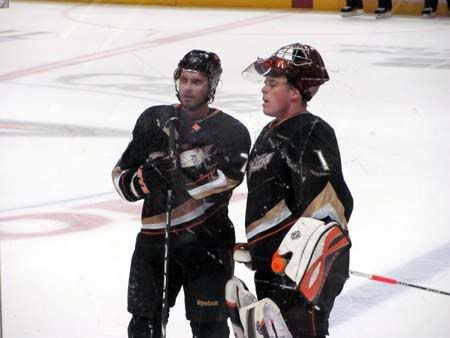 Hiller: "Hey dude, thanks for getting my stick back to me."
Eminger: "No problem, bro." (or something like that, I'm sure)

You knew the Wings would give everything they had going into the third. Anaheim had some great scoring chances, but Howard locked down hard. The Detroit offensive was seriously lacking (not helped by the holes in their roster... but then, a lot of teams have holes right now), however they managed to get one past Hiller behind a nice big screen of Holmstrom's Butt.

But Getzy would help Perry put an end to his point drought nearly two and a half minutes later when he deftly stole the puck away from Rafalski on the doorstep and passed it between Lidstrom's feet to Perry, who popped it in behind Howard. Oh yes, Perry missed Getzy!

With the two-goal lead and about five minutes left in regulation, our boys continued to do a good job defensively, and made it their business to effectively clear the zone. Why they have such a hard time doing this in some/most games is beyond me.

Another fight before the end of the game, my boy Bobby Ryan would take a hit to the face by Wings' Lebda. He took offense but could not get Lebda to fight. Bertuzzi, however, was all over it. Bobby was quickly taken down to the ice as Bertuzzi's jersey came off faster than a virgin's dress on prom night, affording my boy absolutely no grip for leverage.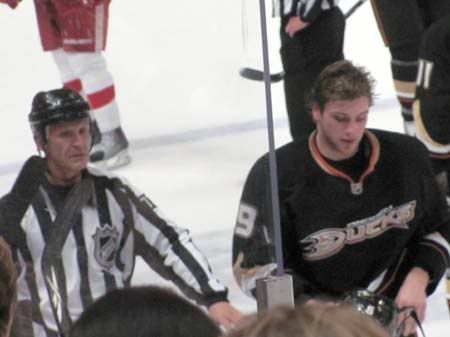 Bobby being escorted after his tussle

Adding sweet insult to injury, Kyle Chipchurra would seal the deal with an empty netter that was chipped across the length of the ice.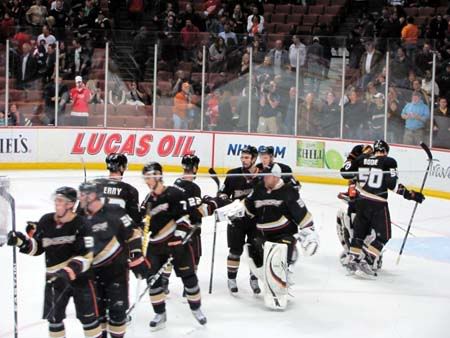 Ducks celebrate a glorious win 4-1, well-deserved



And Saku gets the first star of the game, also well-deserved

I'm hoping this is the team that shows up for Thursday's game against the Blues! Whaddya say, Ducks?

p.s.--My dear Ducks friend and Twitter pal Suz Broughton got to host Ducks TV this game. Check it out!