Tonight's game is huge. It's the last home game until February for our hometown heroes, kicking off a six-game road trip. Of course, every game is another opportunity to get another two points in the standings, but yours truly tends to breathe a little easier when the opponent is an Eastern Conference team.

It's debatable whether the Eastern Conference is weaker this season than the Western, I've heard arguments favoring either side, but at least, when our opponent isn't a conference rival, winning in OT doesn't adversely affect the standings. Personally, I can't stand that a team losing in OT still gets a point. A loss should be a loss.

But it's not, which seems to be one of the big reasons why the Western Conference standings are so tight. I feel that time rather than ability is going to be the major factor in determining playoff berths this season in the West. After the last game of the season is played, whoever happens to be in that top eight will go on. Add another game, and those bottom seeds could look completely different.

But I digress... there's a game tonight.

Our Ducks showed up huge in the first period, absolutely blasting out of the gates. By the middle of the first, Ducks were up 4-0.

Yes, you read that right.



Absolutely unbelieveable!

Credit goes to Ryan Getzlaf, Evgeny Artyukhin, Mike Brown, and my boy Bobby Ryan, in succession. The game started to get really chippy, as it definitely would have if the tables had been turned. Frustrated, the Sabres took undisciplined penalties and made a number of sloppy turnovers during that first period.

I'm glad our boys capitalized, because a team like the Buffalo Sabres aren't going to keep that up for long.



While the fourth Ducks goal was being reviewed, Sabres switched out goalie Lalime for league save percentage leader Ryan Miller

One on hand, yours truly was thrilled to see Miller (who, incidentally, looks a lot like his brother Drew) live on Ponda ice, I also didn't want to see our Team USA number one goaltender worked too hard. It was supposed to be his night off. Of course then, I also knew Duck goals were going to be in very short supply for the rest of this game.

The second period was, unfortunately, not unlike other second periods for our Ducks. Our forechecking presence was all but gone. I think it followed our D out of the rink. Jonas Hiller was also notably out of sorts. Even his good saves would be followed by an unconfident glance towards the net behind him. Sabres clawed their way back with three unanswered goals in the second.

It never fails to surprise me just how huge the attendance always is by the opponent's fans at the Ponda.

Ducks put things together for a better showing in the third, where Troy Bodie would net his second NHL goal. How crazy, to get your second career goal, and the game winner, against none other than Ryan Miller. Major bragging rights there!

Hiller also tightened up the netminding and came up big in the third. Sabres would get one more goal after pulling Miller for the man advantage in the last 60 seconds on regulation, but they couldn't find the equalizer before the final horn.



Our Ducks would extend the home winning streak to eight games, and leave for their road trip on the right foot

Let's check out some pictures!



Bobby's tip-in goal against Lalime, which was deemed good after a lengthy league review for high-sticking. It wasn't actually his stick that touched that puck



Definitely deserving of a game star, Tuuk earned points on an awesome assist to Mikey's tip-in goal, as well as his own goal. It's a pleasure watching this big man skate!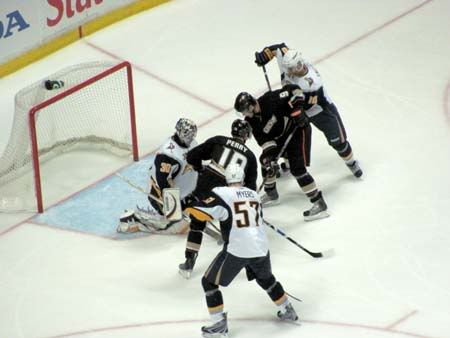 Bobby and Corey Perry sniffing for loose change around Miller



Sabres' Kaleta reacts to a love tap from Nick Boynton in the first



USA! USA! Miller will be teammates with Bobby in less than a month



Dan Sexton jumps over a puck mere nanoseconds before it's gloved by Miller