Have I mentioned how much I HATE watching Ducks games at the Staples Center??

Sitting hours in bumper to bumper traffic, trying to find parking on the dirty streets of LA, getting heckled by scores of ignorant Kings fans on my way to the arena... and then, even once inside the arena, there's more heckling, annoying anti-Ducks cartoons and other nonsense on the Kings' jumbotron, and drunk fans getting in my face.

Then, if we lose, multiply all that torture 10-fold.

It's just not my idea of a good time.

However, when there's a big group of Ducks fans planning to invade the Staples Center, and I can be surrounded by a lot of my fellow fans, I'm a little more open to the idea of going there for a game.



A big group of nearly 100 Ducks fans came in for this one

Of course, there are drawbacks to being in a large group like this, but there are perks too.

Included in the "package," the group got the opportunity to stand on the ice before the game. At first, I thought this to mean we'd get a chance to mill about on the ice, sit in the penalty boxes and benches, and otherwise get some good photo opportunities. Not quite. We walked out on a carpet, took a group picture, and walked back.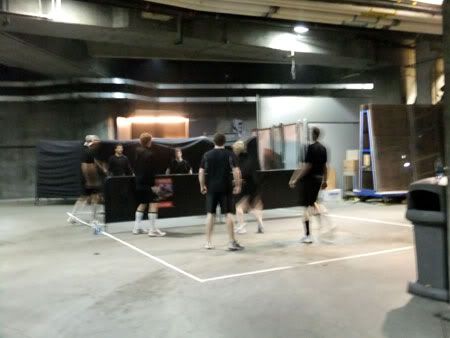 We did, however, catching a glimpse of our boys warming up with a rousing game of kickball

We were allowed to bring signs for our team at warmups, but apparently, Staples crew members were also allowed to tell us our signs were too big. The sign I'd made (of the same size I've always made for games) boasted "Stanley Cups: Ducks = 1, Kings = 0" was deemed "too big" and I was forced to either cut it in half or have it trashed. Not to mention others had signs even bigger than mine and were able to get them in, including some anti-Duck signs with dirty four-letter words that rhyme with "duck."

Not cool, Staples Center. Not cool.

Our seats were allllll the way up in the rafters against the concrete wall. I don't think we were heard by anyone but the people around us, but I didn't mind because I couldn't hear them.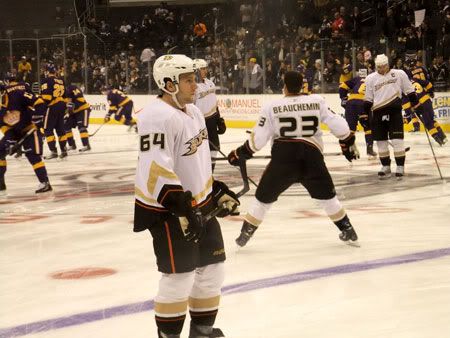 I loved hearing the crowd roar with McMillan's goal

We screamed like crazy when rookie Brendan McMillan put us on the board first with a beautiful breakaway. Happily, we held onto the lead all the way up through the first and second periods until captain Dustin Brown got the Kings an equalizer halfway through third.

The game became a typical nailbiter as we waited to see if anyone else would score in regulation. Going into overtime, I was beginning to feel nauseous. But luckily, Corey Perry saved us all. The crowd roared, we screamed and random high-fives were shared.

It was a tremendous win for our boys, another two points for the playoff race, and an incredibly comfortable walk back to our cars.

Particularly satisfying was hearing a young boy walking with his parents, who were both clad in Kings jerseys, "Mommy, can you buy me a Ducks jersey?"

Win.