Even though the Anaheim Ducks' home record against the Calgary Flames at the Ponda is very favorable, you never want to take anything for granted. Especially in a Western Conference playoff race that's this tight.

The Ducks need every point they can get.



Calgary Flames goalkeeper Miikka Kiprusoff

Normally, I see this guy in goal for the Flames and I figure our Ducks' work is cut out for them. Kipper is one of the best.

But even the best have bad days.



Duck, Duck, Goalie

After only the first 6 minutes of play, the Ducks had lit the lamp three times. Ryan Getzlaf started the onslaught with a wrister top shelf, followed by Corey Perry netting one on the power play. Francois Beauchemin would finish with a slap shot from the blue line.



Not even close, Kipper. Can you see the puck right behind the goal line??

That was the end of Kipper's night. Enter backup Henrik Karlsson.

I was as elated as any other Ducks fan at this point. Heck, our boys played a hard game last night in the Kings' barn that went into OT... it was a gift that we'd jump out early with a 3-goal lead. However, I feared this would make our boys unfocused and sloppy, thinking they had the Flames pegged.

Unfortunately, I was right. It took only 20 minutes to unravel that lead. By the end of the second, the Flames had bounced back, and Karlsson had effectively kept his net clean. The score was now tied 3-3.

A Ducks game is never a Ducks game without nervous nailbiting. Seven minutes into the third period, Flames captain Jerome Iginla puts his team in the lead. Ducks spend the next 10 trying to find that equalizer. I'm sure I'm not the only fan wishing Kipper would return to the crease.

Can you believe we actually had a three-goal lead at one point in this game??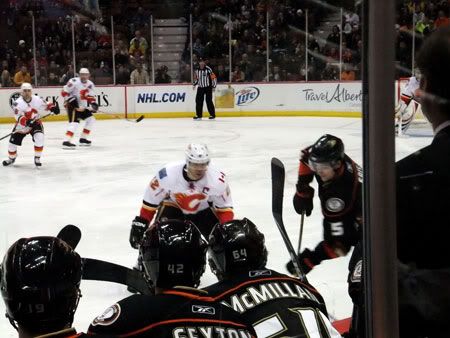 Luca Sbisa fending off Iginla

At the moment of truth, two minutes before the end of regulation, goaltender Dan Ellis is pulled for the extra attacker. Teemu Selanne, whose name must translate into "Clutch" in Finnish, tips in a Getzlaf feed.

Twice in two days, Ducks head into 4-on-4 overtime.

And again, another deja vu moment. Bobby Ryan gets tripped up in a breakaway attempt and is awarded a penalty shot.



Bobby had better luck with his penalty shot against the Red Wings' Jimmy Howard

Unfortunately, Bobby wouldn't end the game with a winner in OT. That title would go instead to Perry who has a Toni Lydman one-timer deflect off of him and under Karlsson. The Ponda erupts in yells and screams.

DUCKS WIN AGAIN IN OT!!



Probably just as relieved as us fans, the Ducks pounced on Perry in celebration



A few words from Perry in the post-game interview, as first star of the game