I have a coworker whose father's season seats are two rows behind the Anaheim Ducks bench. Earlier in the season, the coworker brought a list to work of games that were available for us to buy her father's season seats to, and I'd chosen one thinking, "Well, it'll be an awesome opportunity to get some really great pictures..."

So I bought a pair to one game.

Six months later, that game had finally arrived.

Going into this one, I wasn't too sure how I was going to feel. Our boys are fragile having tenuously broken a 5-game losing streak, missing their starting goaltender in Jonas Hiller, and having Saku Koivu still out with groin issues. The Western Conference is a veritable logjam, with less than five points separating 4th from 11th place.

And the Detroit Red Wings are hot right now. Two nights prior, they beat the pants off the Los Angeles Kings in a 7-4 contest. Ducks fans were happy to see the Kings beat, but it scared the bejeezus out of us to know we were, most likely, the Wings' next victim.

I told my seat partner, "We'll have awesome seats, but don't expect to see a win tonight." That was going to be my mindset for the game.



Holy seats, Batman!



I wonder what Teemu Selanne thinks about during the national anthem

The seats were indeed, awesome. If you've never been this close to the glass before, I can tell you that you get a real appreciation for the speed of the game at this distance. The players look huge, and the action is breathtaking. The hits sound harder and you can hear the players yell at one another on the ice. In terms of watching the game, you get to see the plays up close, but a lot of the action in the corners is lost.

Especially if you're short.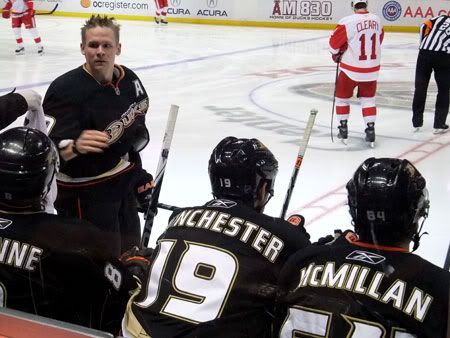 Corey Perry: "Can I tell Datsyuk he's gonna get it?"

I spent the better part of the first period just taking pictures. Our Ducks came out strong and hard, hopefully they could keep that up. For a team on the road, the Red Wings also came out hard. But then again, what else do you expect from them?



Luca Sbisa finishes a big hit

Both teams had good chances at goals, but luck and good goaltending kept pucks out of each net through the first.



Doin' work for the Ducks during Jonas Hiller's absence, Dan Ellis



Coach Carlyle reviewing plays during a TV timeout

The score was 0-0 going into the 1st intermission.

Before the second started up, I was still snapping shots of the players trickling out onto the ice. Bobby Ryan stood facing the glass, chatting with a few other players who were sitting on the bench. He caught my gaze and winked. Dan Sexton also gave me a smile as he took his seat on the bench.




At that point I'd pretty much decided, win or lose, my night had been made.



The Red Wings only goal that night, courtesy of number 13, Pavel Datsyuk

Five minutes into the second, Datsyuk breaks the stalemate on a power play. Speaking of power plays, the Wings ended up getting nine opportunities tonight to our Ducks' four. Lopsided much?

Try as they might, the Ducks couldn't find that equalizer during the next 15 minutes of play. But not for a lack of chances! Bobby, Teemu Selanne, Cam Fowler, and Corey Perry all had opportunities. Wings' goaltender Jimmy Howard came up big each time.



Captain Ryan Getzlaf in the faceoff



Go defense: Lubomir Visnovsky, Cam Fowler, and (sitting) Toni Lydman

Our defense also came up big. Despite constant pressure from the Wings (honestly, neither team had a lacking period this game), Ducks defense was good. I noticed the younger guys making offensive-minded plays. Fowler taking slap shots from the blue line, Sbisa launching a perfect cross-ice bid from Selanne towards the net, Lydman keeping distances between himself and the Wing offense small and not letting anyone get a shot lined up... it was intense.

This, folks, was playoff hockey.




Early in the third, a surprise shot from Jason Blake near the blue line goes over Howard's shoulder and into the net. Ducks tie it up, 1-1.



Blake with the equalizer

Play continued back and forth, both Howard and Dan Ellis acting the stone wall. If Ellis is trying to prove his worth to his new team, I've gotta say he's putting up a great argument.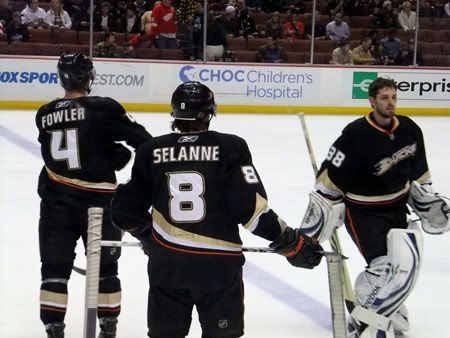 I also have to give tremendous kudos to our penalty kill. They were completely resilient in eight of those nine Red Wing power plays, including a heart-pounding 3-on-5 and a 'too many men on the ice' Duck penalty with only 15 seconds left in regulation.



Do or die, Ducks

Talk about a heart attack. Ducks go into the 4-on-4 overtime period with only three men on the ice. Somehow, somehow, we get through that penalty intact. I notice Ryan Getzlaf dawdling with the puck in the defensive zone. The clock reads 2:55 left in overtime. C'mon boys... don't waste time!

Suddenly, he whips a perfect stretch pass out to Bobby who's leaving the neutral zone. On a breakaway, Ruslan Salei takes a hooking penalty as he gets his stick blade caught in Bobby's skate. Bobby goes down and, to the roar of the crowd, is awarded a penalty shot.



This special moment brought to you by numbers 15 and 9

Everyone had to stand for this one. Bobby's first NHL career penalty shot. I'm sure I wasn't alone, my heart pounding in my chest, watching him head down the ice towards Howard. I couldn't see exactly what was happening, but you didn't have to see. The roar of the crowd as the puck flew past Howard and into the net was all that was needed. Bobby also yelled in celebration and slammed himself into the glass right before he was mobbed by his teammates from the bench.



Ducks celebrating Bobby's penalty shot goal, winning the game



Bobby being interviewed as the game's First Star

This one would go down as Bobby's first career OT winner and only the fourth penalty shot overtime goal in club history.

A lot of screaming was done that night. That and high-fiving strangers, dancing in the stands and parking lot, and watching fans clad in red hurry from the premises.

It was beautiful. And if you were there for this game, you witnessed a little piece of Anaheim Ducks history.