,While our hometown heroes were making a monumental comeback in Philadelphia, yours truly and fellow Ducks Twitter pal @vegasjeff had completed a 6-hour trek through the desert to sunny Glendale Arizona, home of the Phoenix Coyotes.

Yes, I know this is an Anaheim Ducks blog, but I'm all about promoting our wonderful sport in general, and even more so because I'm a little soft towards our controversial ice boys in the desert. Besides, a good promotion is a good promotion, and $25 lower bowl seats + t-shirt at Jobing.com Arena for their "Welcome Back Whiteout" is no laughing matter.

The Whiteout home opener versus the Columbus Blue Jackets had sold out days ago. There were limited standing room tickets available, but you'd be hard pressed to get your hands on them. Before the game, the area outside the arena was busy with a live band, radio and television coverage, and tons of fans dressed in Coyote jerseys. It was actually quite impressive.



Festivities abound celebrating the Coyotes home opener

Entering the arena, each ticketholder was given a white "Welcome Back Whiteout" Coyote t-shirt. The effect of all those white shirts in the stands was breathtaking. I'd love to see our Ducks do something similar someday.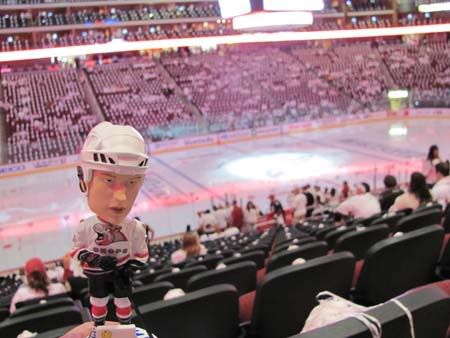 Bobbyhead's wearing his white and eagerly waiting for puck drop!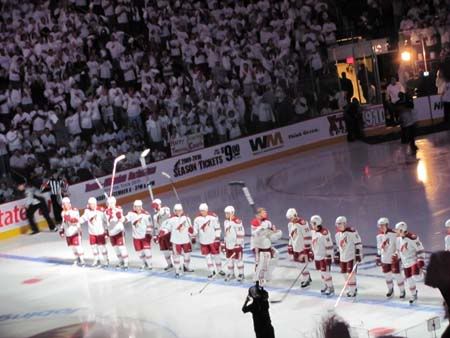 Introducing your 2009-10 Phoenix Coyotes




For what it's worth, the Coyotes played a good game, but they just couldn't buy a goal. They hit posts, crossbars, and had a goal waved off... it wasn't going to be. Ex-Duck Ilya Bryzgalov looked sharp in net but the Yotes would get shutout in their home opener, 0-2.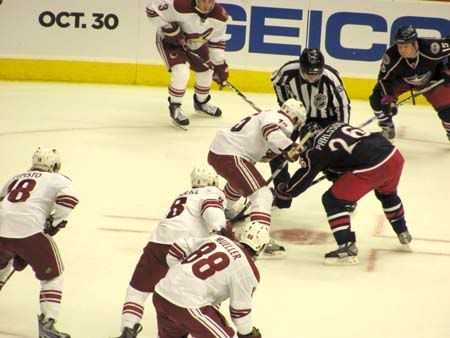 My personal favorite, Matthew Lombardi at the faceoff dot with none other than ex-Duck Samuel Pahlsson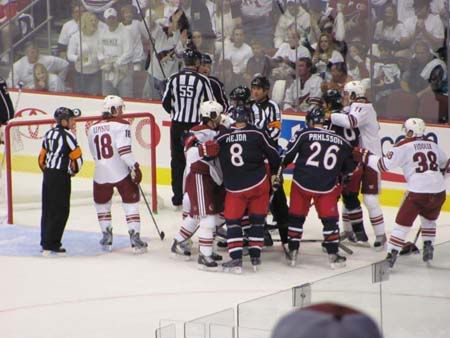 Yotes and Jackets mixin' it up after the whistle

I also have to give a nod to the Coyotes fans in attendance. They packed the stands, they cheered, they were constantly on their feet with rallying cries of "Let's go Yotes!" These were true hockey fans, and they had hope for their boys even down to the last second. You could feel the energy in the air. To anyone who had any doubts, hockey DOES have a strong fan base in the desert.



Such an incredible crowd!



Bobbyhead showed his support for the desert dogs too. Next time, he wants the opportunity to howl after a Yote goal... unless he's playing, of course.