My apologies for being behind with the blog here, but yours truly has been out of town! More on that later. I guess, based on our hometown heroes' performance of late, they might as well have been out of town too.

Thanks to extra tickets courtesy of a Ducks Twitter pal, yours truly was able to attend last night's contest against the previously winless Toronto Maple Leafs. It would be a homecoming for ex-Duck D-man Francois Beauchemin, ex-Duck goalie coach Francois Allaire, and ex-Duck GM Brian Burke. Personally, I wanted to see the video tribute our Ducks had planned for Frankie Beauch, and honestly, I could have left the game satisfied after that tribute.

Looking back, it wouldn't have been a bad idea.

For the record, I will never leave a Duck game early. No matter how badly I'll want to gouge out my eyeballs and throw them at the ice, I will not leave my boys before the final horn. Last night was a true test of such sentiments.

Having not been witness to our last couple of games, I'm not sure if the complete mess I saw before me has been par for the course for our boys, or if there was an entire breakdown of professional hockey play as we know it. At times, it was like watching a peewee hockey game, without the cute little roly-poly goalies.

This behemoth is what I stared at blocking the Leaf net: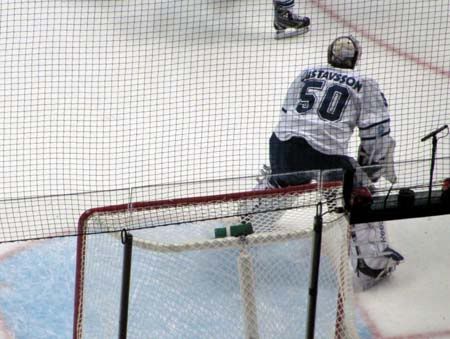 Jonas Gustavsson, aka "Holy sh!t, look at the size of that goalie!"

Maybe our boys were completely freaked out by him too, I don't know. I can't even begin to explain what happened last night, but when mild-mannered Scott Niedermayer ends up in the sin bin twice (once for roughing, mind you), Corey Perry gets a double penalty for roughing which, by the way, is not in the rule book, and other non-box-residents such as Saku Koivu and Bobby Ryan find their way behind the penalty glass... you know that it is a very bad, bad game.



One of few highlights, George Parros taking out heavyweight Leaf Colton Orr

Ducks did manage to score. Petteri Nokelainen would get the first goal of the night, and his first this season, with a beautiful slap shot from the point. My boy Bobby would finally get his second goal of the season, a wrister punched top shelf, complete with uber-elated celebration afterwards, and Perry would pop a Brendan Mikkleson deflection to make it three for the night compared to Toronto's six.

Otherwise, much of the game looked like the majority of my photos:



Wha, is that Niedermayer at the bottom of that heap??



The Captain AGAIN??




This was no hockey game, ladies and gentlemen. This was one team getting under the skin of another team and completely picking them apart from the inside out. Our Ducks reacted like a tormented little brother who has suddenly had enough and decides to break out in a 60-minute temper-tantrum. Some questionable calls by the refs certainly didn't help, but c'mon. Bad calls? Not like our Ducks haven't had their share of those.

Ducks need a time out. Go stand in the corner and think about what you've done. You can come back out when you're ready to play like a good hockey team. I'll check on you Friday...