As mentioned in the previous entry, yours truly spent a few days in New York, specifically Manhattan. While I was away, our Ducks played home games against the Dallas Stars on the 21st and the Columbus Blue Jackets on the 24th. Both games were losses, 2-4 and 4-6 respectively, but I'll comment positively that we weren't shut out.

Notables on the Dallas game, which I was able to watch after the fact:

Ryan Getzlaf's first goal this season was a fancy display of deft puck handling, with a quick shot between Marty Turco's arm and blocker. Getzy wasn't the only one happy to see him finally get one up on that scoreboard.

James Wisniewski returned after a shoulder injury. Thank god Wiz is back on the ice. We can't afford to be down any defensemen this season, more or less one as pivotal as Wiz. He was looking good too, completing hits and sweeping pucks out of the slot.

Jonas Hiller (and J.S. Giguere) need to stay within their paint. Something discouraging that was pointed out to me by one of my more goalie-oriented Duck pals, our netminders are handling the puck a lot more this season... and the effects haven't been favorable. Our goalies are getting caught repeatedly on the wrong side of the net, gift-wrapping soft goals for the opponent. I don't know if it's an ill-effect of a Pete Peeters lesson or what, but it needs to stop. When he was actually in his crease, Hiller did a great job with the saves.

My boy Bobby Ryan trading places with Joffrey Lupul. Not a fan of coach Randy Carlyle's constant switching up of the lines, I do like the new line combinations of Perry-Getzlaf-Lupul and Selanne-Koivu-Ryan. Ducks' second goal came off a pinball pass from Perry to Lupul in the slot. One can only hope Carlyle will keep these boys on these lines long enough to actually gel a bit.

It didn't look like a bad game, honestly. Our boys still lack that confidence that allows them to be the aggressors on the ice, but I thought they did a good job creating scoring chances for themselves.

The night after the Dallas game, Ducks Joffrey Lupul and Ryan Carter appeared at the Huntington Beach Inline for the first of the season's Rink tours. For coverage of the event, click here.

I wasn't able to watch the Blue Jacket game at all, but highlights included two goals from Lupul, one from Captain Scott Niedermayer, and one from Selanne. Jiggy was doing a good job between the pipes until a too-quick save aggravated his previous groin problem. Hiller took over for the remaining minutes. You'd think that, with four goals, you'd win the game. Not so when your opponent gets six.

While in Manhattan, I couldn't pass up a visit to the NHL Store. Conveniently located a few quick steps from the Rockefeller Plaza, I spent nearly two hours at this mecca of all things pro hockey.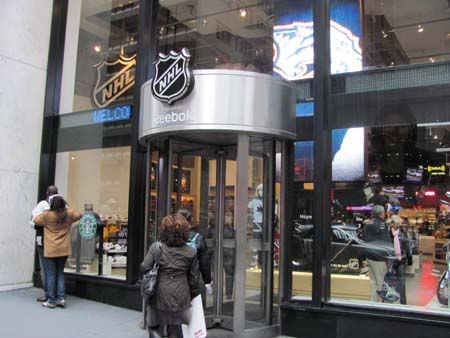 Hockey goodness in the heart of the Big Apple



Yay, Ducks gear right in the front display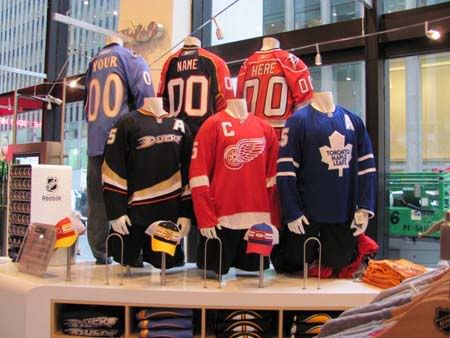 While there was limited representation of West Coast teams (as I had expected), pre-customized player jerseys were a steal should you find your favorite player in the racks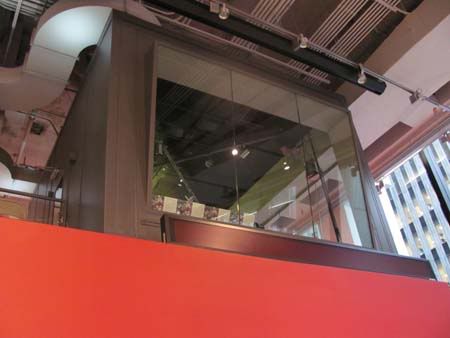 Home of the NHL Live radio show every weekday afternoon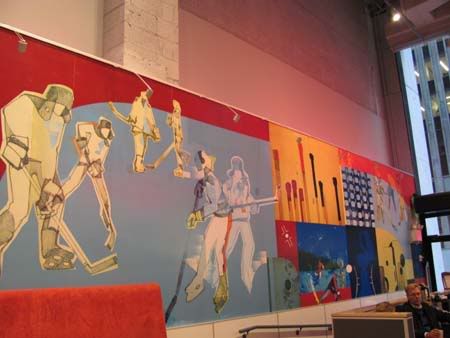 The store also boasts the only NHL-themed Starbucks... which really came down to a wall with hockey-type paintings

If you're a hockey fan, no trip to Manhattan is complete without a visit to the NHL Store. Make sure you put aside an hour or two!