Our hometown heroes start off a long home stretch tonight in their game against the Minnesota Wild. Yours truly is hoping they take back those two points they so ungracefully lost last week. With Wild forwards Sykora and Clutterbuck out of the lineup with injuries, I think our Ducks have a good chance of winning this one.

In the meantime, I will mention that our Ducks finished off their 4-game road trip with an afternoon scuffle against the New York Rangers. A completely unremarkable game, our boys were tired and lifeless much through the first period. They picked up a bit in the second and third, but couldn't generate any offense. To his credit, J.S. Giguere was on his game, practically standing on his head to keep Ranger pucks out of his net for the first two periods. He kept the final score from becoming something along the lines of 0-13.

Ducks were shutout 0-3, with the Rangers scoring three times in the third period, before heading back to the West Coast.

Overall, the road trip generated a total 5 points. Not too shabby. Let's hope they can improve on last season's lackluster home stats.

In other news, Ducks winger Joffrey Lupul has been brought on to write a blog for the Ducks official site. Lupes has a candid style of writing which makes his blog a fun read. There's a link to a form that allows fans to send questions and comments to Lupes; he'll answer the best questions in upcoming posts. The link to his blog, "In the Loops" is in the sidebar.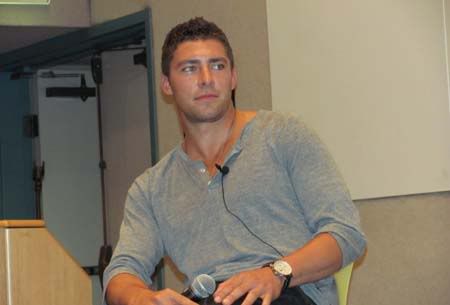 Joffrey Lupul shares the puck experience from a player's point of view