After spending the first two games of the season abroad in Europe, our Ducks got a few days of rest and relaxation to get over any jet lag before tonight's home opener against the San Jose Sharks. As is customary with home openers, the Ducks rolled out a "Blue Carpet" so that the fans could welcome back their boys in Hollywood star fashion.

Hey, we're a Southern California hockey team, okay?

Unfortunately, I was working the job that pays the bills, so I couldn't get any pictures from the Blue Carpet, but I did get a few from the game itself.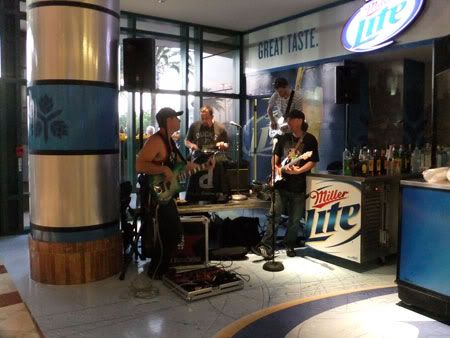 There was live music pre-game (I forget the name of the band)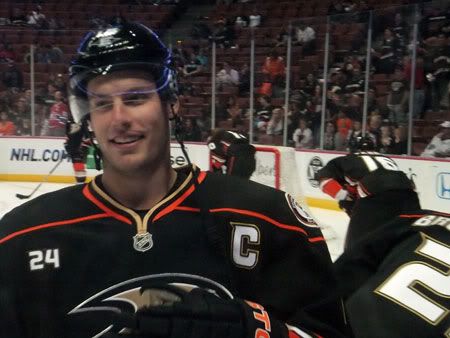 Big smiles from Captain Ryan Getzlaf during warmups. Heck, everyone was happy to be back!



Notice the "24" patch being worn by all the Ducks in tribute to fallen former Duck Ruslan Salei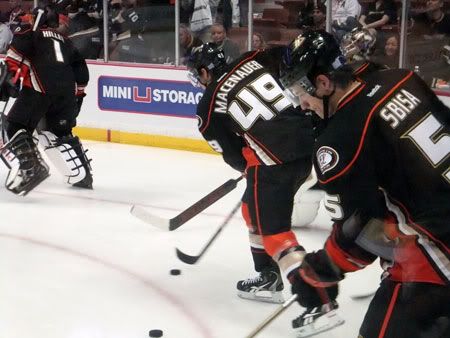 Rookie Maxime Macenauer would be the only player to tally a goal in tonight's contest

Keep an eye on this kid. I've liked Maxie since last season, when he was the last of the rookies to be sent down to minors. The boy is very good in the faceoff dot.



What a relief! This would be Toni Lydman's first game back since shoulder surgery during the off-season

The Ducks had a rousing opening video thanking the fans and welcoming us back to the Ponda for a new season of Ducks hockey. The opening ceremony involved the boys entering the rink through the zamboni tunnel, backlit by smoke and red lighting.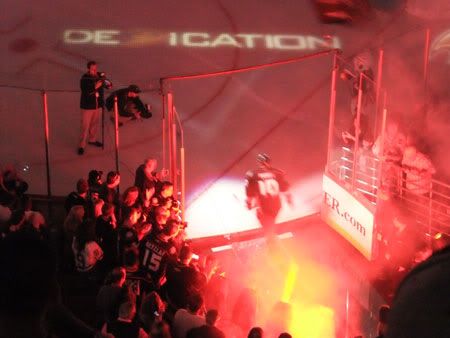 MVP Corey Perry was welcomed onto the rink by a standing ovation

The game itself was awesome. I still believe the rivalry between the Sharks and the Ducks makes both teams play all the harder. You really do get the best performances from both. And Hiller? Have no fear, Hiller the Shark Killer is back. He earned his first shutout of the season, 20th in his career.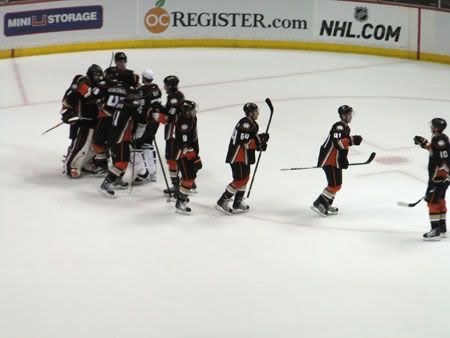 The boys celebrate a win with Hiller, number one star of the game

Our D looked a complete 180 from this time last season. With most of the guys returning, it definitely shows that they are all comfortable playing together again.

The offense is taking a bit longer to gel, but with two strong scoring lines, and possibly three... it's only a matter of time.

The Sharks fans in attendance (I heard there were busloads of them that came in for this game) were extremely loud. For once, we Duck fans showed them up. I've honestly never heard the Ponda that loud before during a non-playoff game. It was awesome!!

Ducks hockey is back!!