In the race for the 2009 Stanley Cup, it looks like the Pens have leveled the playing field. The Red Wing defense, for what I could tell, was uncharacteristically tired and sloppy, allowing way too many turnovers.

For a second, I couldn't believe I was watching the Wings. The Pens mopped the ice with them, and trounced them in a 4-2 victory. And, my ex-Duck Chris Kunitz point count now reads 1.

So now, both teams have won their home games and the finals become a three-game series. Go Pens!

But Game 4 of the Stanley Cup finals was not the highlight of my day. Nosiree. What I'd been looking forward to for the last couple of days was the Joe DiPenta 2nd annual lasagna dinner/fundraiser.

Just another prime example of how generous and how committed to the community our Ducks are, former Ducks d-man Joe DiPenta and his wife Jessica served up the family's lasagna recipe at the Anaheim White House to fans, humanitarians, and anyone else interested in supporting the cause. Seats went for $55 each with proceeds going to fund a program that the restaurant's founder developed which feeds hundreds of low-income-family children. This year, Joe would be joined by my favorite Duck, Bobby Ryan.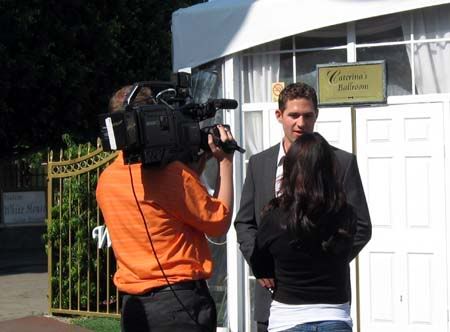 Joe DiPenta with a few words for the camera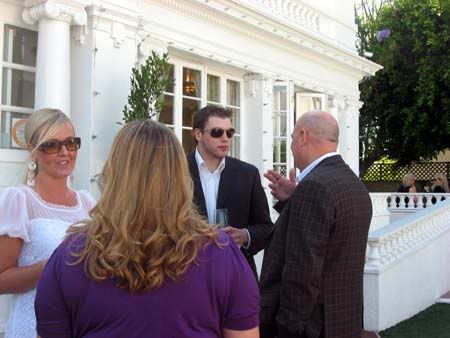 Bobby Ryan and restaurant owner Bruno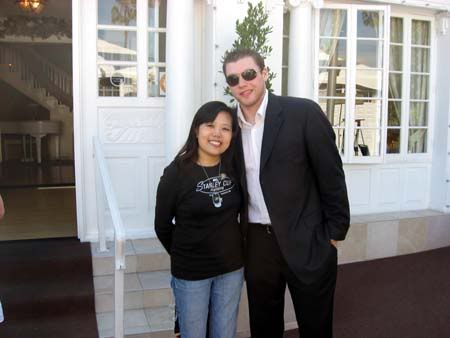 Yours truly and Bobby Ryan (obviously, I'm the short one)

The crew from The Element was in attendance as well, and Skylar pulled me aside to get some words on camera. We'll see if and when that bit shows up on The Element program.



The Element reporting reactions to the infamous lasagna



Joe DiPenta, yours truly, and Bobby Ryan

What a great event. Hockey players are some of the most down to earth guys you'll ever meet. I think they are the most grounded of sports professionals. A lot of them are just farm boys from Canada, they don a pair of skates as early as the age of three or four and they are basically raised on the ice. They tend to come from good families because the parents need to be super-involved, taking the kids to early morning practices and investing in all of the gear and equipment. As teenagers, the boys are often sent to live with host homes so that they can be closer to minor league ice rinks and training programs. They get room and board from strangers, so they tend to be really polite and humble.

Hockey doesn't come with the same fame as say, basketball. A good player doesn't get nearly as much money as other pro athletes and, especially in SoCali, they don't get recognized on the street. They are just average joes, big guys who are skilled in balance and coordination that make them agile on the ice. Meeting Bobby, and knowing he's so talented in the game, and only 22 years of age... the boy has a huge, successful career ahead of him. When you find out just how nice and good-natured he is, you just want him to have that success even more.

You feel like he deserves it.