Two words, people: JONAS HILLER



Somebody get this boy a steak dinner!

This game, along with its two points, came courtesy of none other than our Shark Killer. Oh, and Bobby Ryan helped by scoring the game's only goal.

Needless to say, it was an incredible game, with playoff-style hockey being played by both teams for all three periods. Our Anaheim Ducks came out full blast for this one, and I'm glad they did because there were wayyyy too many Sharks fans at the Ponda for comfort.

I mean, I suspected it would be bad... a weekend game against a hated division rival whose fans are just itching to visit Southern California. Hey, I don't blame them. We've got Disneyland just down the street. What does San Jose have??

Exactly.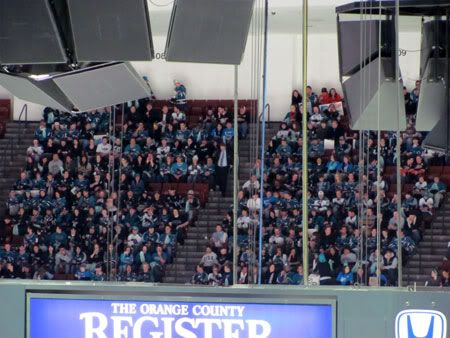 Sections 408 and 409 aka, "The Sardine Can"

These fans were loud as they stomped through the halls of the Ponda pregame. Chanting, "Ducks suck" and "Let's go Sharks" it was pretty annoying. We Duck fans agreed: Our boys had no choice but to win this one and send those fans back on their long bus ride to NorCal crying.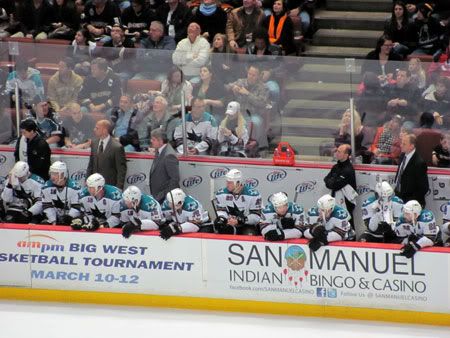 Shark sushi bento box?

To credit Ducks fans, I think we did a pretty good job cheering and keeping the momentum going for our boys. The crowd was loud and in it from the beginning. I'm sure our boys could feel it. They played very well, keeping excellent pressure on the Sharks during the first period.

Exhausted but satisfied, they went to the locker room for the first intermission with a pair of donuts on the scoreboard.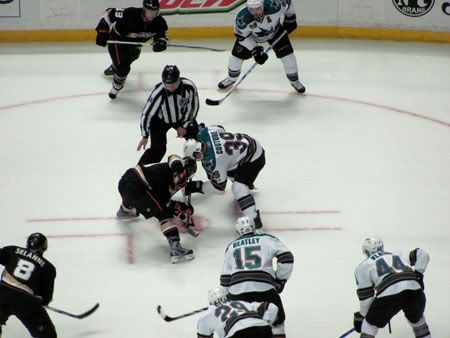 Hiller even managed to keep rookie sensation Logan Couture #39 off the board

Honestly, I was holding my breath through every one of Hiller's saves. He was on fire, catching or blocking puck after puck with his usual Swiss flair, but that doesn't mean the Sharks didn't try to challenge him. The Ducks put not nearly as many shots on the Sharks goaltender, but they were able to string together some good line rushes themselves.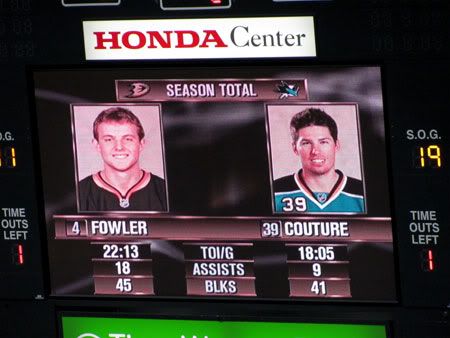 Ducks' star rookie vs Sharks' star rookie

Finally, relief! Over 14 minutes into the 2nd, Bobby Ryan, with the patience of Job, wove the puck around the crease and was able to shoot it past the mess of bodies for the game's first and only goal. I'm not sure if goaltender interference could have been called, but Antti Niemi kept silent.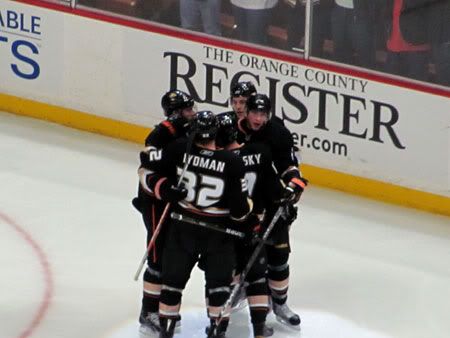 Ducks mobbing Bobby after his goal

I have to show my boy a little love here and say he has definitely stepped up his game in Ryan Getzlaf's absence. That's his third goal in two games. Ride that hot streak, Bobby!

The rest of the game fed off of pure adrenaline, fan frenzy, and the awesomeness that is Jonas Hiller.




The Ducks penalty kill was put to the test. Two of three were played almost entirely in the Ducks' zone, the full two minutes added to the TOI totals of all penalty killers involved. Kudos to Todd Marchant and Toni Lydman for being simply amazing.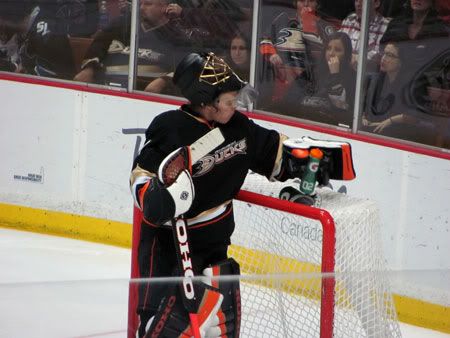 Hiller's secret weapon: spinach instead of gatorade. j/k

As the clock wound down, the Sharks started to get desperate and take a few penalties of their own. Saku Koivu was seen down in the slot after a play, big Joe Thornton sitting on top of him and crosschecking repeatedly. Luckily, the refs saw it too.



That's right, take a seat

No goals would be scored during the two Ducks powerplays, but taking those four minutes off the clock proved fatal.

The Chokes Sharks failed to equalize, Shark fans bolted from the stands, and Hiller got his shutout... and first star of the game.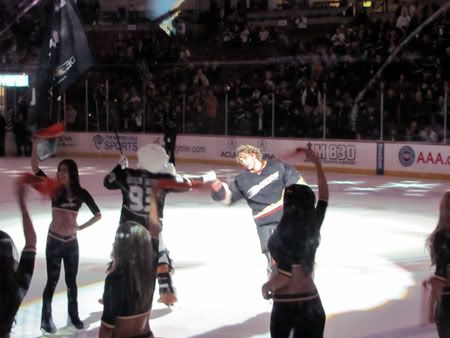 A fist bump from Wild Wing



Congrats, Hiller, you deserve it!