Author's note: Scroll down to the end of this post for an announcement from USC Hockey

Finishing off the January homestand, I was hoping tonight's contest against the Edmonton Oilers would go better than the last time they were here.

We don't even want to think about that game.

The festivities started with a nice tribute to analyst Brian Hayward for broadcasting his 1000th game.

With Ryan Getzlaf still out, I'm liking the combination of Matt Beleskey and Corey Perry on that top line centered by Bobby Ryan.



Top line doing just fine

Energized, and hopefully determined to not repeat the heinousness that was the previous night's game (a dreadful 2-5 loss to the Phoenix Coyotes), the Ducks have good speed and forechecking tonight. They are rewarded with two goals before the end of the first, including Luca Sbisa's 2nd NHL career goal, and yet another milestone for Teemu Selanne.



Huge moment for number 8

Things get hairy in the 2nd period. There are a couple of Ducks penalties, and a bad moment for goaltender Curtis McElhinney in which he receives a cut to the face/neck off Maxim Lapierre's skate. Jonas Hiller, who was supposed to be resting for this game, is called upon to take over.

Further bids on net by the Ducks are somehow blocked and denied, but our boys keep trying. A few minutes after he'd left, McElhinney (plus stitches to the neck) returns to his net amongst cheers and whistles from the crowd.



Selanne does it again, 2nd goal of the night as he tips in a feed from Lubomir Visnovsky

Maybe the 3-0 score angered the hockey gods, or just the Edmonton Oilers. In a span of less than 30 seconds, they manage to get two past McElhinney.

Ducks go into the 2nd intermission clinging to a one-goal lead.



Corey Perry snow-shower

The 3rd period was stressful enough to give me and every other Ducks fan an ulcer. Oilers poured it on. Ducks struggled to get another goal. Both goaltenders stood on their heads. As the final minutes ticked off the clock, Ducks found themselves in a horrible 6 on 3 situation for 20 seconds. Two Ducks in the box, and an Oilers goalie on the bench, there were far too many Oilers in our end.



Moment of truth penalty kill

Somehow, SOMEHOW, Ducks pull this one from away. Kudos to Todd Marchant and Andy Sutton on our penalty kill, and to McElhinney too, for being able to stand up tall in those final moments despite the injury and despite letting in two quick goals.



With two goals and practically everyone on the Ducks bench feeding him for the hattie, Teemu Selanne got the first star of the night

For those of you hockey fans that might have seen the USC Hockey rig outside of the Ponda at the Ducks/Oilers game...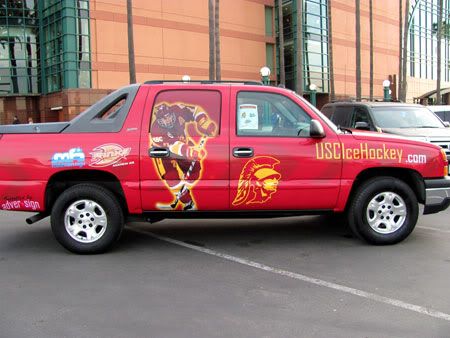 - Yes, USC has a hockey team!
- Yes, they play locally at Anaheim Ice!
- Yes, there is a game coming up, this Saturday against UCLA, 7:30pm!
- And YES, you should put on your Ducks gear and come!!!



You can use these coupons. Tell 'em Ducks54 sent ya