Following a tremendous 6-0 beatdown of the Colombus Blue Jackets, Anaheim Duck fans gathered at the Ponda the morning after for a more friendly beatdown... one of teammates at the inaugural Skills Showdown.

Lines began forming about an hour before the doors were scheduled to open for season ticket holders. The general public would be let in an hour and fifteen minutes later, after the players went through a typical practice and morning skate on the Ponda ice.

I had a hard time choosing a seat. I mean, where do you sit when you could sit ANYWHERE in the Ponda?? A glass seat seems the obvious choice, but I also wanted to be able to see all the action in every corner of the ice. Not to mention, when you want good pictures, you take into account the quality of the glass in front of you. Did I want to face the penalty boxes or the player benches?

Decisions, decisions!

Before we get into the main event, let's check out some pics from practice.



The different jersey colors represent different offensive lines and defensive pairings



Brian Hayward giving us onlookers inside info on what the plays and drills mean during practice by asking Dave Farrish the questions we all wanted to ask

Every now and then we'd see a player break off from the others to do a quick set of pushups on the ice. Apparently, if a defenseman gets scored on, he has to do pushups.



Kyle Chipchura and Paul Mara



Bobby Ryan and Corey Perry on the same offensive line, hence they are both wearing white. Although, Corey's orange socks do stand out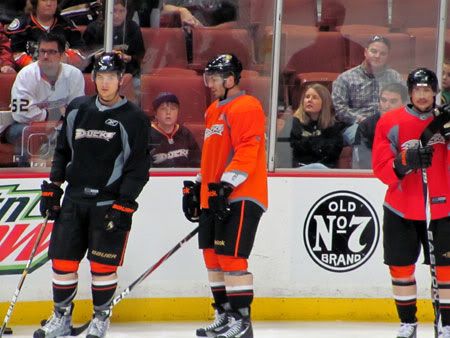 Luca Sbisa, Maxim Lapierre, and Teemu Selanne



A big smile from Teemu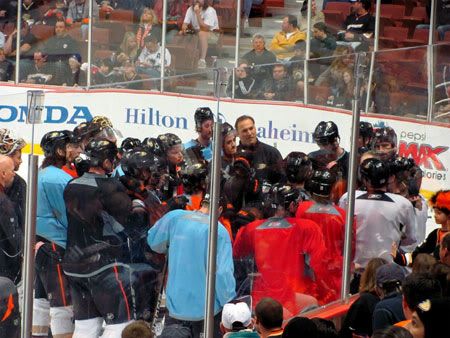 The post-practice rundown



After practice, Ducks GM Bob Murray joined emcees Steve Carroll and Kent French for a few questions and answers

And then the real fun began.

The players were divided into two teams, captained by the eldest Ducks, Todd Marchant (White) and Teemu Selanne (Black). The teams would compete in six categories, scoring goals for various achievements. Each team also had five youth players whose skills would contribute to the scoreboard. At the end of the six events, the team with the most goals wins.



The White Team consisted of Todd Marchant, Andy Sutton, Bobby Ryan, Jason Blake, Brandon McMillan, Cam Fowler, George Parros, Joffrey Lupul, Saku Koivu, Sheldon Brookbank, Toni Lydman, and Curtis McElhinney



The Black Team consisted of Teemu Selanne, Matt Beleskey, Andreas Lilja, Corey Perry, Lubo Visnovsky, Maxim Lapierre, Paul Mara, Kyle Chipchura, Dan Sexton, Luca Sbisa, Aaron Voros, and Jonas Hiller



Tim Marchant joined in on the commentary

First event, the Break Away Relay.

In this event, team goalies would try to keep the opposing team's players from scoring on a breakaway in sets of three players, two attempts each. Each goal would obviously count as a goal for that team.



Chippy, Lappy, and Lilja for the Black Team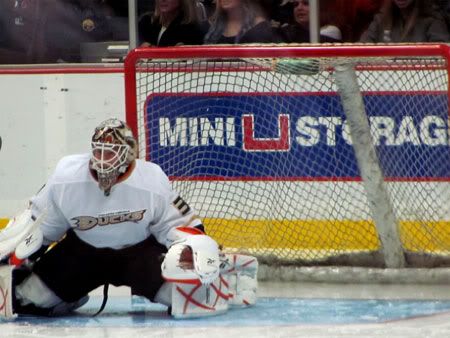 McElhinney prepares himself for the onslaught



Lydman and McMillan for the White Team



Sbisa and Beleskey for the Black Team



Voros, Parros, and Brookbank for the White Team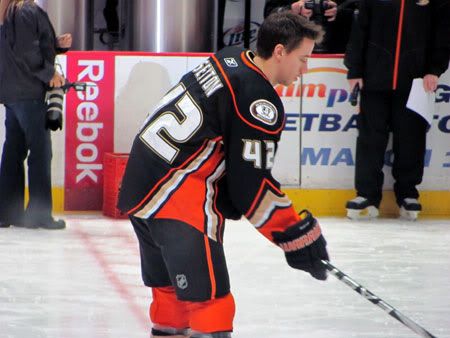 Sexton...



... Selanne and Perry for the Black Team



And finally, Lupul, Bobby, and Fowler for the White Team

The only guys who managed to score were Lupul and Voros for the White Team, and Sbisa for the Black. Nice job, defensemen!



Hazy interviewing White Team scorers Voros and Lupul.
Voros: Well, I missed on my first attempt. But then I asked myself, 'What would Todd Marchant do?'
Lupul: I have a lot of moves I can beat Jonas Hiller with!

I'm glad the boys were having just as much fun with this as we were!

Second event, the Power Play.

Teams would attack the crease with three "forwards" (a forward could also be a defenseman) versus one opposing defenseman and a goalie to see how many goals could be scored in 60 seconds.

The first round pitted Team White's Lydman and McElhinney against Selanne, Chippy, and Sexton. Team Black followed with Lilja and Hiller defending against Marchant, Koivu, and Sutton.

The second round saw Team White's Fowler and McElhinney defend against Perry, Sbisa, and Mara. Team Black finished with Lilja (again) and Hiller against Voros, Blake, and Parros.



Hiller and Lilja, the defending duo

Each threesome got two goals in their one-minute windows. In other words, a tie. Personally, I felt kinda bad for the goalies at this point!

Third event, the Control Relay.




With this one, cones were set up on the ice. Players had to deftly skate the puck around the cones. Three players from each team would do a relay, followed up by a 1-on-1 challenge between two final players. Captains probably chose their representative players based on a mixture of speed, puck-handling, and old-fashioned hazing.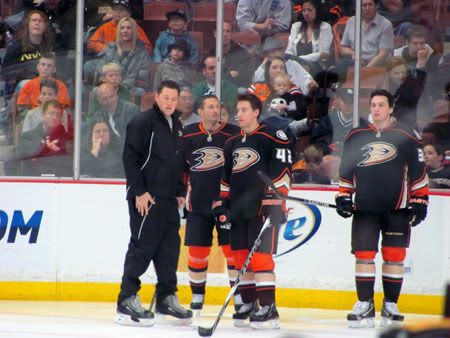 Black's relay team of Visnovsky, Sexton, and Beleskey

Unfortunately, Lubo lost the puck! I believe that might have been a disqualification for Team Black.



White's WINNING relay team of Fowler, McMillan, and Voros

For the 1-on-1, it was the Black Team's revenge as Chippy beat out Lydman.

Fourth event, the Fastest Skater.

Plain and simple, who can do a lap around the Ponda ice the fastest? Team captains chose two players each. Their choices made me suspect a royal rookie hazing here!

- Sbisa: 14.478 seconds
- Sexton: 14.011 seconds (to his credit, Sexton got a bad start)
- Fowler: 13.945 seconds
- McMillan: 14.237 seconds



Fowler, waiting for the whistle before his WINNING sprint



Fowler had to catch his breath afterwards: "Marchant chose me for all the skating competitions, so I'm pretty tired!"

Fifth event, Shooting Accuracy.

Each goal net was fitted with four styrofoam targets, one in each corner. Players had eight shots to get as many targets as possible. The one who could get the most targets in the least number of shots won.



Blake giving Bobby and Lupul accuracy tips

Here's how they did. For Team Black,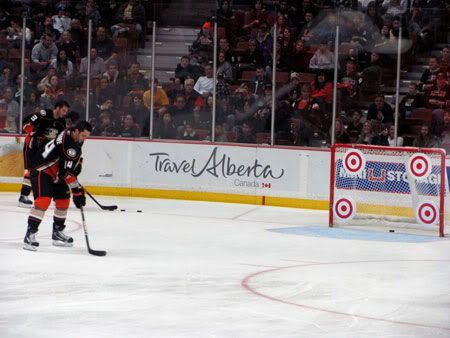 Lappy got 2 with 8 shots



Perry got 4 with 5 shots



And Selanne got 4 with 6 shots

For Team White,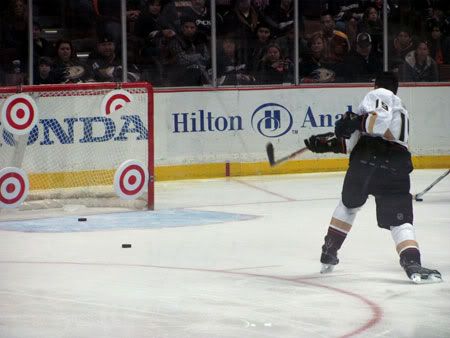 Lupul got 1 with 8 shots



Bobby got 4 with 6 shots



But Georgie got all 4 with 4 shots! He was rushed by his Team White teammates and treated to a rousing standing ovation by the crowd at the Ponda

Sixth event, Hardest Shot.

Three players from each team would skate to the puck, wind up, and fire their hardest slapshots. Two tries each. Fastest shot into the net wins.



Sutton's hardest shot clocked in second place at 99.8mph



Sbisa's wasn't too shabby either at 99.6mph for third

But the winner was Paul Mara with 100.7mph!



Final score, 14 to 12 Black

In the end, Team Black would come up the ultimate champion. They would take home the prize and the locker room bragging rights. Personally, I think we all went home as winners. It was a fun event that I hope the Ducks decide to make an annual occurrence.



Selanne, Team Black captain, being awarded the Skills Showdown trophy: a big porcelain pig in overalls (??)



Group shot!

Next up, take down the guppies Sunday night!