This was the Anaheim Ducks annual Fan Appreciation Game but, more importantly, it was the game that, if won in regulation, would allow the Ducks to clinch a playoff berth.

Either way, it was going to be a big game made even bigger considering the opponents were none other than hated rivals the Los Angeles Kings.

Still out with a lower body injury, Ray Emergy would sit this one out as a healthy scratch. Jonas Hiller was announced as the backup to Dan Ellis.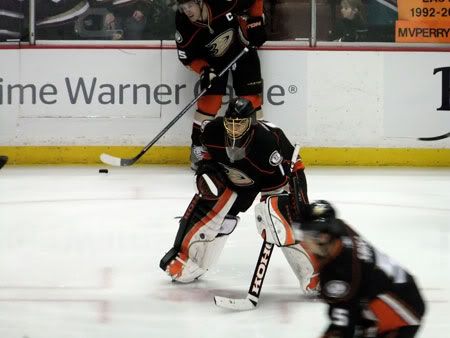 As exciting as it was to see Hiller, I really prayed that Ellis would be on his game tonight. Hiller did NOT look sharp during warmups



Serious expressions on the faces of our Ducks. There was a lot riding on this game

In the early minutes of the game, both teams took their time feeling one another out. With Jonathan Quick in goal for the Kings, I suspected it would be harder rather than easier to get pucks into the net.

The Kings would score first, making the score 1-0 as we entered the first intermission.



Ryan Getzlaf's bid goes wide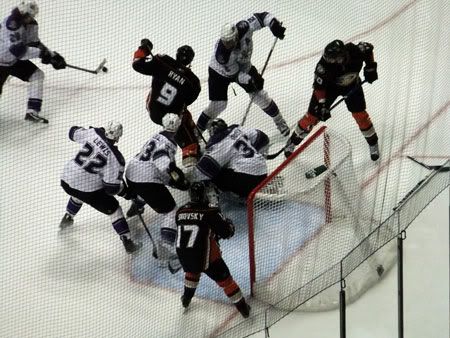 RPG line attempting to crash the crease and get traffic to the net

Honestly, I feel that our boys play better when they're trying to come up from behind. Call it that extra bit of motivation, they just seem to be that much hungrier.

At about the game's halfway mark, they would be rewarded.



The Ponda erupting with a goal by the great eight



Just another record set in another typical night for the Finnish Flash

The score at the end of the 2nd is 1-1. 20-minute hockey game, folks.



I wonder which section won the thunder sticks??

The tempo of the 3rd was fast and feverish. Both teams pushed themselves to break the tie. I was particularly happy with how loud the crowd was. Definitely felt like playoff atmosphere.




And then, with a little over fourteen minutes to go, the Flash decides this team isn't going to get any help reaching playoffs (Dallas just won over the Colorado Avalanche, keeping them in the race), so he took matters into his own hands.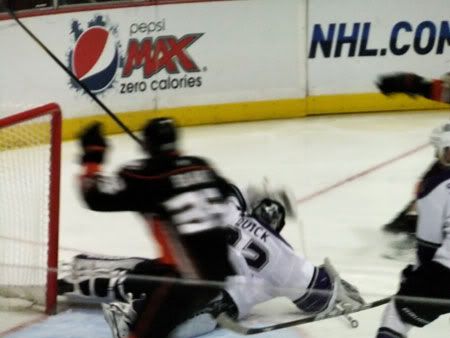 Off an amazing feed from Saku Koivu, Selanne gets one behind a falling Quick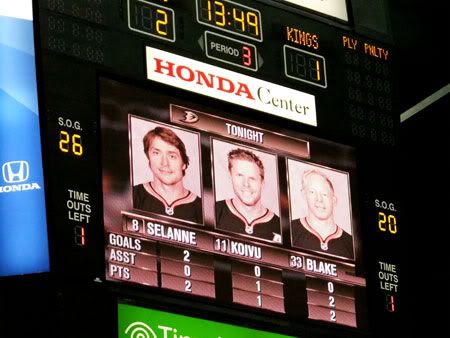 The Masterton line, getting work done

The crowd is on their feet, screaming. Ducks have pushed ahead 2-1. If only our boys can just hang on! Fourteen minutes have never felt so long.

Thanks to the heroics of Ellis in goal, and a defense that has had a season to finely tune itself, our boys get the job done. Ducks win 2-1 but more importantly, ensure themselves a spot in the top eight.



We're going to playoffs!!