It's a special time of year, folks. A time that brings out the best in fans and teams alike.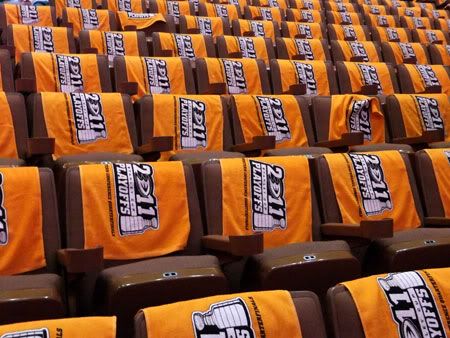 It's a time that brings the orange towels back to the Ponda

It's playoffs!!




And it feels all the more special because we didn't have a post-season last year. Our Anaheim Ducks screamed into the playoffs like a runaway train barreling down the tracks, not slowing until it had attained the 4th seed.

The 4th seed and home ice! As the final games of the season wound down, Dallas would fall out of playoff contention, both the Kings and the Coyotes would slip a notch or two from their seeds, and Chicago would conveniently squeeze into 8th.

The Ducks would face the Nashville Predators in round one.

Personally, I would have preferred a series against the Chicago Blackhawks over Nashville. Not because I think the Hawks would have been easy to beat, but rather, I don't like how well Pred's goaltender Pekka Rinne has managed to stymie our boys this season. The Preds have a rock-solid defense this season. If they manage to score a few goals early on, their defense collapses around their goaltender and they easily defend that lead to a victory.



My biggest Predator: Pekka Rinne

Frustration isn't something our boys handle well, and with the questions still surrounding our goaltending situation, this wasn't going to be an easy series.

Either way, it is what it is. No reason why we can't enjoy the post-season for as long as we're in it!

Games 1 and 2 would be played at home, and the Ponda rolled out the playoff carpet for the fans.



Eats and seats in the Playoff Spot outside the Ponda to get grub, beer, and watch ongoing playoff games before our game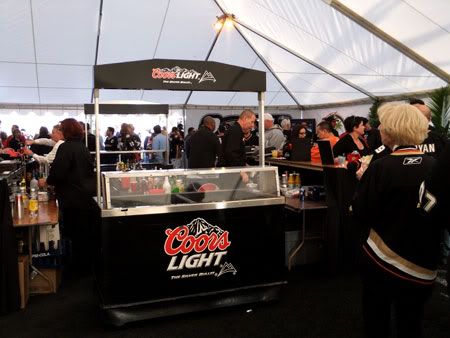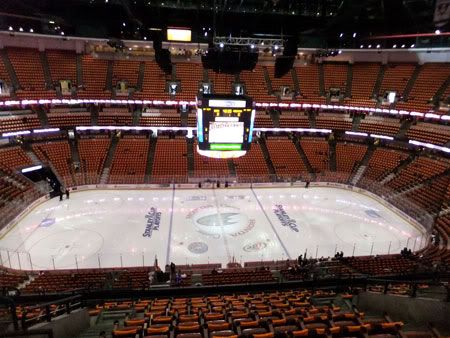 Inside the Ponda, playoff towels on every seat set the atmosphere

Expectations ran high for Game 1. Our boys were on a winning streak, hopefully they could keep the momentum going. There was an exceptionally emotional opening video which gave me chills and misty eyes at the same time. Win or lose, just being at a playoff game is awesome in and of itself.



Would the big line continue to dominate?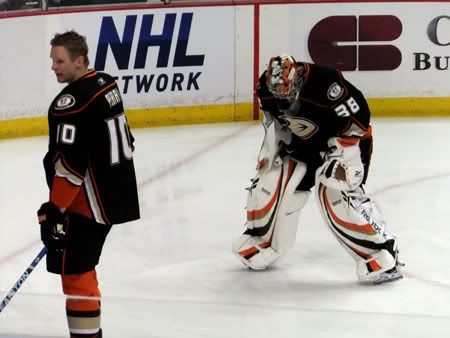 Dan Ellis would start in net, would he be able to hold down the fort?

Well... if you were there for Game 1, I don't need to tell you how disappointing that turned out to be. Our Ducks just couldn't get it together. Passes weren't connecting, play looked sloppy and disjointed, puck possession was non-existent, and the passion... the drive... it just wasn't there.

The Preds, to give them credit, came out with guns ablazing. Delivering hard hits and putting tons of pressure on the puck, they backed our Ducks into a corner. Even the power play was nullified. The first two periods would see them putting three unanswered goals on the board.

I don't want to be one to complain about the officiating, but honestly, it didn't help. Our boys got frustrated with ticky-tack calls and non-calls, and that only led to sloppy penalties.

Ellis made some great saves in the beginning, but having no support can wear a goaltender down. I think his confidence was shaken as pucks began to get by him. After the fourth Pred goal during the third period, Ellis was pulled for Ray Emery.

Emery managed to stop the bleeding, but by the middle of the third, the Preds had pretty much stopped pushing. Teemu Selanne, bless his heart, got the Ducks on the board with about 8 minutes left in the third.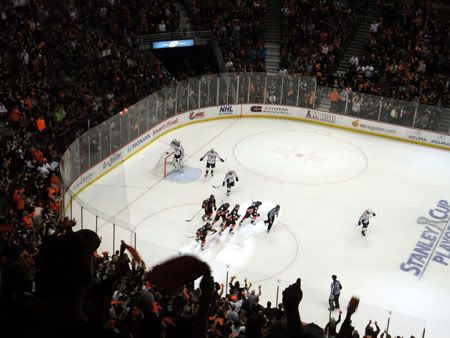 This towel-waving opportunity brought to you by Teemu Selanne

But that would be it for this game. As discouraging and frustrating as it may be, I simply cannot justify leaving before a game is over. Come on people, you're supposed to be fans, this is your team.



Hard to believe it was a sold-out crowd at the beginning of the game...

Luckily a series isn't lost with the first game.